Au Pied de Cochon is a Parisian institution, whose neon lights haven't been switched off since 1947. A plethora of famous names have warmed the red seats over the years: Maria Callas, Gainsbourg, Robert Doisneau, Joséphine Baker, Ursula Andress, Grace Kelly...
As the name suggests, it serves every part of the pig you can think of, around the clock. Favourite haunt of hungry late-night drinkers, there's something fortifying in the old-style brasserie décor as well as the hearty dishes. Among imitation leather banquettes, Belle Epoque lamps and paintings, white tablecloths and waiters in penguin suits, kitsch little details show a sense of humour – where else can you push a gilt pig's foot to get to the toilets, or dunk a pink meringue piglet in your coffee?

The menu covers traditional brasserie cooking – seafood, onion soup, steak tartare and crêpes flambées – but its raison d'être is the fat and flesh of the pig, the star of the show. Stuffed trotters, head cassoulet, smoked belly, tail, ear and brawn... hardly a light supper, but a genuine thrill for fans of eating 'nose to tail'.

In June 2017 this Parisian institution celebrates its 70th birthday - years on the restaurant still prides itself on using local producers and offering traditionally prepared meals for tourists and Parisians alike. There's never been a more fitting time to relive the magic.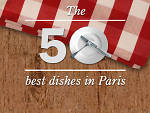 This restaurant serves one of Time Out's 50 best dishes in Paris. Click here to see the full list.