A brilliant little burger joint, which takes the traditional American burger and gives it the French terroir treatment. Nowhere's been left out, with regional specialities from all over France wedged between delicious sesame seed buns from the bakery next door. There's fourme cheese from Ambert, tomme cheese from Savoie, Saint-Nectaire cheese, Charolais and Blonde d'Aquitaine beef and more.

The menu lists five house burgers, but you can also build your own. Choose from beef, chicken, lamb and veal and then add cheese, grilled vegetables, streaky bacon, sauces, herbs or spices. You order at the counter and then try and find a seat, which isn't always easy – but if all else fails you can get it to go. Chips (known here as 'fernandines') come with, and the concept even extends to the drinks and desserts, with homemade soda, organic lemonade, and traditional puddings.

Quick and friendly service comes from moustachioed men in checked shirts, all part of why Big Fernand has shot to the top of Paris's burger ranks. The only slight quibble is the price – about €15 without dessert. The quality of the ingredients is high, but the portions aren't huge and it feels a little much to pay for what is still fast food.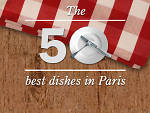 This restaurant serves one of Time Out's 50 best dishes in Paris. Click here to see the full list.