If dining in the same room as a theatre director, a former politician, a Goncourt prizewinning writer and a recipient of the Légion d'Honneur doesn't put you off, you'll fit right in at La Gauloise. This time-honoured restaurant is chic, calm and welcoming, long regulated by the etiquette of the Parisian bourgeoisie (Mitterand was a longstanding customer). It's done out in immaculate taste (long dark wood bar, plaster mouldings, red velvet banquettes), with an eye to discretion (well-spaced tables throughout multiple rooms), impeccable savoir-faire (the chef straight out of the glittering stable of Alain Ducasse) and great training (service is perfect and courteous in the face of every challenge).

The cooking has kept up with the times, but never goes too far, focusing on seasonal dishes from a traditional repertoire: soft-boiled eggs, a legendary pot-au-feu, Aubrac beef, sole meunière, corn-fed poultry with ceps, soufflés and profiteroles. Everything here is done with style. Special jury mention goes to the very well-priced desserts, in particular the imposing Paris-Brest (one serves two) that's somehow incredibly light.

It's worth noting that the owner grew up among cattle farmers in the Aveyron, and that the beef often comes from the family farm. Also, thanks to set menus at under €30, the clientele isn't just dignitaries, but a sprinkling of youth as well.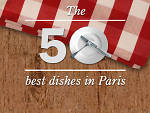 This restaurant serves one of Time Out's 50 best dishes in Paris. Click here to see the full list.