The Meat at La Pulpéria comes with a capital M, served in a noisy, welcoming little dining room and whipped up in white-tiled kitchen by talented Argentinean chef Fernando Di Tomaso and his South American team. The menu changes daily, but on our visit it all began with crunchy calf's sweetbreads accompanied by a few girolles mushrooms and a cep sauce, and a pretty cod ceviche surrounded with fine slices of sweet potato, avocado purée and a splash of lemon juice. Each flavour sung out, while perfectly complementing the others on the plate.

Then the mains (vegetarians look away now). A bloody, magnificent churrasco cut of beef, just recently arrived from its native pampas, served with rissole potatoes and garlicky, spicy chimichurri sauce. There was also the pluma ibérique, a piece of pork wrapped in a very fine layer of well-flavoured fat and pan-fried then grilled, producing a delicious dish, so tender in the middle that it almost seemed not to be pork. Both dishes were generous, precise and seriously good.

The prices might seem a bit high at first (starters from €10 to €12, mains €25 to €30, desserts around €10), but for the quality of the products and the cooking, it's really very reasonable. The portions are huge, too; we were left mournfully contemplating the splendid cheese board, incapable of fitting in anything resembling a dessert, not even the promising dulce de leche.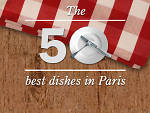 This restaurant serves one of Time Out's 50 best dishes in Paris. Click here to see the full list.