Hailed as the oldest restaurant in Paris, La Tour d'Argent opened in 1582 and was a favourite of English King Henry IV amongst many other nobles and celebrities worldwide.
This Paris institution is regaining its lustre following the death of aged owner Claude Terrail in 2006. In the kitchen, Breton-born Stéphane Haissant has brought a welcome creative touch to the menu, bringing in unique dishes such as a giant langoustine dabbed with kumquat purée and surrounded by lightly scented coffee foam. But he also shows restraint, as in duck (the house speciality) with cherry sauce and a broad bean flan. Following in his father's footsteps, Terrail's soft-spoken son André now does the rounds, making sure that the diners are happy.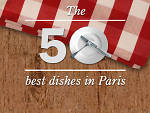 This restaurant serves one of Time Out's 50 best dishes in Paris. Click here to see the full list.