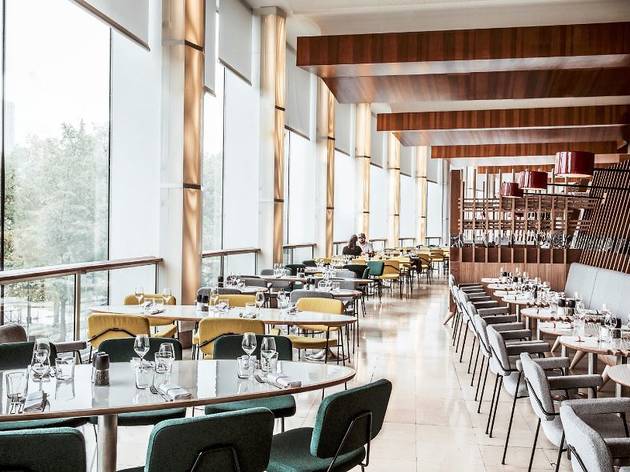 1/5
Valentine Dubois // Agence MELCHIOR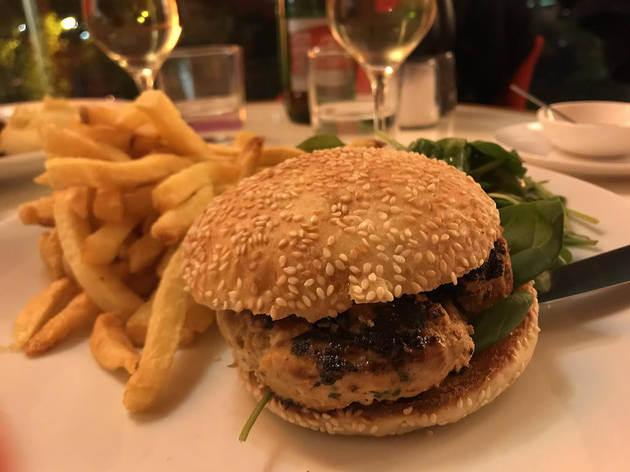 2/5
3/5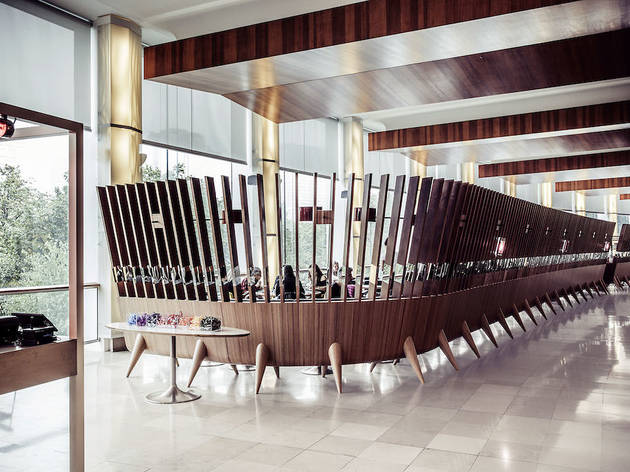 4/5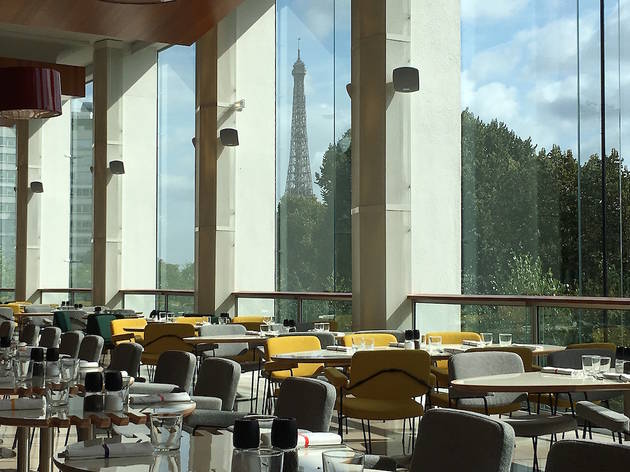 5/5
After their ten-year tenure in Palais de Tokyo as Tokyo Eat, restaurateur Eric Wapler and chef Thierry Bassard join forces to create radioeat, a new restaurant in concert hall and recording studio - Maison de la Radio. The home of Radio France, this futuristic building has a place in the heart of many Parisians. For its numerous concerts, taped radio emissions and auditorium with a 5,320-pipe organ. So, with such a loyal following, it's hard to imagine that they never had anywhere to feed hungry music fans. Until radioeat…
Designed by Stéphane Maupin, the restaurant sweeps along the curve of the first floor window. Overlooking the Seine with a full frontal of the Eiffel Tower, there are few places as picturesque for a dinner. The wooden panels that shield the restaurant from the rest of the floor resemble a piano - just so you don't forget where you are.
The cliental is mix in age but eclectic and cultured - wandering in before or after a concert, which is both the goal and beauty of radioeat. It was a little quiet on this particular Wednesday night, but perhaps normal given the westerly location and that it is new-on-the-block. However, it is very open to non-concert goers. You just might be a bit solo during event hours.
The menu is a large and varied, to the point where you wonder where they're going with it... Steamed raviolis, tempura of prawns; grated fresh figs with honey, goats cheese and rocket; beetroot houmous. The octopus carpaccio (17€), along with a quinoa bio with kale, shallots and grains (13€), and a plate of jambon para negra (13€) were fine options. The carpaccio over oiled, but the quality of the produce good enough.

Main courses continued in a Franco-Asian vein with exotic options like caramel chicken and pineapple, cashew nuts and rice (18€); or miso soup with kombu and fried vegetables (13€); and black plaice with grilled cauliflower, vegetable coconut cream and lemon zest (22€).
The veal shank cooked for 24-hours with golden purée (24€) was sublimely tender, the lengthy cooking time was no lie. The novel prawn burger (23€) with baby spinach and handcut fries was another delightful surprise. Packed with flavour (garlic, chives and chili) and juice, every bite was a plunge into the West Indies. So, despite the meandering menu, given the quality of what we tried, you'd probably be pleased with most of the dishes.
Dessert comprised several rich and heavy options like a Charlotte chocolate cake with custard (10€) and tapioca with coconut milk (6€). Nothing super inspiring.
Overall, prices are at the higher end (wine, however, starts real low at 4€). We recommend that if you're on more of a budget, plump for a main meal and leave the same same starters and desserts.
Once you're done eating, head to Le Belair bar on the second floor for a post-drink cocktail and a boogie if you're feeling in the mood.
Where radioeat delivers is how well it blends into the fabric of the institution. Now, the hard part will be getting Parisians all the way out to the 16th...
Venue name:
radioeat
Contact:
Address:
116 Avenue du Président Kennedy,
Paris
75016

Opening hours:
Mon-Sat, 12pm-3pm & 7.30pm-11.30pm. Sundays 12pm-4pm & 7.30pm-10.30pm
Transport:
Metro: Ranelagh or Passy. RER: Gare D'Avenue du Pdt Kennedy
Price:
Starters from 8€, mains from 13€ and desserts from 6€. Lunch menu on Mon to Fri.