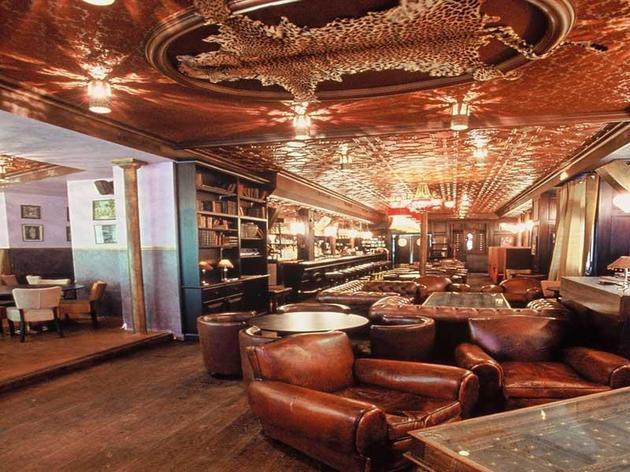 The content on this page is provided by a Time Out partner.
Sir Winston is one of the oldest English pubs in Paris, ensconced just around the corner from the Arc de Triomphe. Though the Champs Elysees professionals who pack this chicly eccentric bar are too young to recall the place's namesake, they clearly appreciate the delicious colonial-style refit: deep leather Chesterfields in the Indian smoke lounge, cigar smoke in the red-walled smoking room, and a leopard skin rug in the darkwood bar. Sir Winston's faux-fur covered basement booths are the kind of place James Bond would take a date at 3am for martinis and seduction to the sound of chill-out tunes. There are outside pavement café tables to sip hot chocolate and look cool at, too. And the fine food is Indian-based.
Venue name:
Sir Winston
Contact:
Address:
5 rue Presbourg
16e
Paris


You may be interested in:
Average User Rating
1.5 / 5
Rating Breakdown
5 star:

0

4 star:

0

3 star:

0

2 star:

1

1 star:

1
Here is the simple truth; NEVER EVER go to Sir Winston in Paris. Stay away!
The good the bad and the downright atrocious is that this bar definitely has some upsides; location (smack dead next to l'arc de triomphe), interior design (a fine taste of Victorian and more recent British design) and general atmosphere (a cute house cat and a funny little DJ booth)
These pluses however do not outweigh the negatives; pricing (hamburger a 19 Eur.) service level, food quality but most importantly the utter lack of human respect and downright contempt for the paying customer.
Last August my bride to be and myself made the mistake to frequent this establishment. This after a glowing review on "TimeOut Paris". and our visit at the nearby and very impressive Arc de triomphe. This said review did not correspond with reality at all though as from the getgo of entrance we were frowned upon. We were rudely directed to a dark niche for us to sit; eventhough there were plenty of free tables with a window view.
The thick goggle eye glasses wearing Parisian student wannabe waiter was quite underwhelmed by my attempts to speak French and my attempts at ordering in said language. He literally threw down only one drinks menu on our table, despite our clear request to have diner for two persons. My fiancee who went to the restroom (which had no running water...) came back and wondered about the fact she had no menu to choose from.
In all honesty we should have gotten up and walked out by this time, but my girlfriend and myself were and are eager to see the positives in all our restaurant visits and decided to give these people another chance.
The service then unfortunately went from bad to worse as we ordered a burger each and some prawns as fingerfood. Some sighing and some mumbled grunts were our only feedback and as a result we received only one burger and some (luke warm) dumpling like things.
The one hamburger we then shared must be said was not too bad; but for a 19 Eur. burger one would expected something more as offered. Bottles of Corona beer came at 9 Eur. a piece so all in all this was neither an enjoyable nor a cheap event.
In the end we received an unwelcome grunt to signal we could pay the cheque and hurry the f*ck on out their pub. Meanwhile locals who entered the pub were greeted with hugs, handshakes and kisses, which can all be understood, but the level off discontempt the waiter showed for us tourists was an all time low and one we both in all our travels have never experienced before. This was Paris' infamous arrogance come to life and showing it's most ugly face right there at Sir Winston.
Personel like the student wannabe we had serving us in the most pompous and arrogant way possible should be well reminded who is paying their monthly pay-check in the first place. It is not their boss or other colleagues. It is us the paying customer and when we are treated like sh*t the food tastes the same; and in the end this will result in us staying away and the student goggle wearing wannabee can look elswhere for an income.
In a recap; worst service ever seen. Prices ridiculous. Don't go.
décor amusant, personnel pas très agréable, souvent bondé, ambiance plutôt sympa, parfois un peu trop prétentieux.