Fashionable Paris has swooned for burger vans, hot dogs and tacos, but perhaps the best of the street food was always here; in a Kurdish sandwich shop.

Hidden away in the heart of Strasbourg Saint-Denis, Urfa Dürüm is a tiny wood-panelled venue where you are greeted at the entrance by the owner, flour and rolling pin in hand, busily preparing the flatbread dough. Further inside, meat grills in the stone oven. On the chalkboard menu, there are two choices of house speciality: Lahmacun or Dürüm.

Lahmacun is a small wrap prepared like a pizza with minced meat, tomatoes and onions, and rolled up with salad, red onions and a squeeze of lemon. Crunchy and delicious, it's hard to beat at just €2. You can have the famous Kurdish sandwich Dürüm with steak, chicken, lamb's liver (€6) or straight up lamb (€7.50). Just a few minutes' wait and it arrives perfectly cooked, wrapped in its flatbread, piping hot and accompanied by tomatoes, red onions, rocket, parsley and lettuce. No chips, mayo or harissa – this is to be eaten as it is. Since it's all superb, there's no need of any further extras.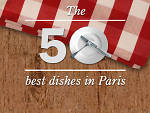 This restaurant serves one of Time Out's 50 best dishes in Paris. Click here to see the full list.