Heads up! We're working hard to be accurate – but these are unusual times, so please always check before heading out.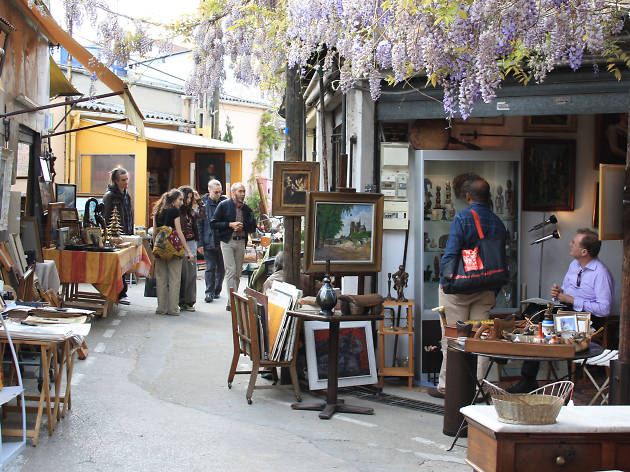 The best flea markets in Paris
Looking for one-of-a-kind antiques and bric-à-brac? You'll find bargains galore at the very best flea markets in Paris
It's funny how perceptions can change when you're rambling through a flea market. Items that wouldn't even catch your eye in another setting – a quaint set of doll's house table and chairs, say, or a battered dial phone, or some crumbling polaroids from the '60s – can quite easily become objects of desire when laid out by charmingly eccentric stallholders. One man's junk really is another man's joy in these bazaars of the bizarre. And while there has been an inevitable influx of generic tourist stands selling the same 'Chat Noir' T-shirts, these three storied flea markets in Paris remain an invaluable resource for second-hand trinkets and time-worn curios. Looking for a souvenir? You could do much worse than in these sprawling cities-within-a-city.
RECOMMENDED: Full guide to the best shops in Paris
Best flea markets in Paris
Less famous than its older brother up north in St-Ouen, Montreuil's flea market is where real folk riffle for antiques nowadays, mostly because it's off the beaten tourist track (so you can still find the occasional treasure). You'll find pretty much everything, from vintage clothes and toys to old cutlery, 1940s light-fittings, furniture and antique glassware. Just be patient: you have to walk past stands selling arrays of junk before you get to the little square where the best dealers are (at the end of the alley alongside the periphérique).
Welcoming 3,000 traders and up to 180,000 visitors each weekend, the Marché aux Puces de St-Ouen is generally thought to be the biggest 'flea market' in the world. If that conjures up images of a sprawling field filled with broken bed frames and sofas with the stuffing coming out, you're in for a surprise. The fleas left long ago, and since 1885 what started as a rag-and-bone shantytown outside the city limits has been organised into a series of enclosed villages, some entirely covered and others with open-air streets and covered boutiques for the antiques dealers.
Smaller and arguably more friendly than St-Ouen, the market at Vanves is appreciated for its more manageable size. Some dealers swear by the mish-mash of stands at this weekend market, spread out over two avenues. It might not be the best place for furniture or antiques, but there's much to please the casual browser, especially if you're after a wacky souvenir (or three). Comb through the racks of Hermès scarves and flapper dresses, scour the boxes of perfume bottles and vintage toys, and explore crates of vinyls and gorgeous French linens. There are chocolate moulds here, 1950s sewing accessories there – just make sure you arrive early for the best finds.
Still got time to rummage?
If you're looking for a classy, time-worn curio to remind you of Paris across oceans and continents, you could do worse than a trip to one of its many brilliant flea markets. And for exquisitely fresh grub – admittedly slightly less transportable – there are also innumerable excellent food markets in Paris that can deliver.