Shopping in République and Oberkampf
The best of the boutiques in a buzzing neighbourhood that just keeps getting better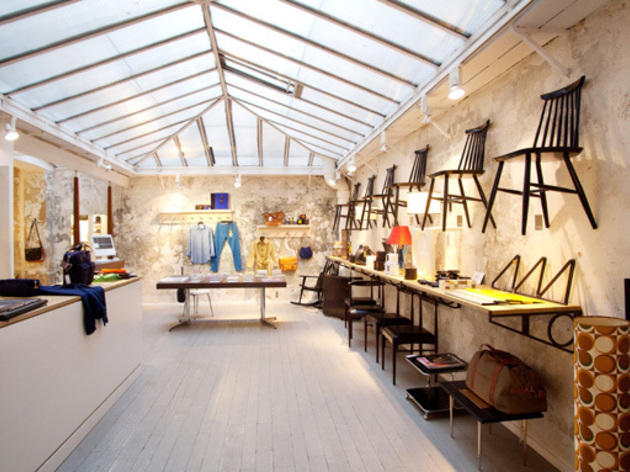 The streets around the Rue Oberkampf and the Place de la République offer some of Paris's best shopping for vintage clothing, offbeat boutiques and high-end food shops. Discover our pick of great local shopping destinations below.
The best shopping around République and Oberkampf
Fargo, with its wooden windows and neon lights wouldn't look out of place in San Francisco. It's got a USA feel inside too (despites being a stone's throw from the Canal Saint-Martin), with collections that cover 'country' music and all its forms (rock, pop, folk and new-wave)...
Read more
It might look swanky, but Bis, opened in Boulevard du Temple in early 2012, offers reasonably priced used clothing in a chic and contemporary setting (despite its airy, New York loft style interior, this is a second hand store)...
Read more
The idea of a commerical centre might not appeal to fans of concept boutiques, but don't speak too soon – Centre Commerical in the Rue de Marseille (alongside APC, Maje and Claudie Pierlot) will thrill fans of quality fashion...
Read more
Adored by fans of fashion and contemporary arts magazines, Ofr. bookshop stocks fanzines, arty postcards, boutique publications and fashion accessories. You can find everything from the latest issue of Love to the best street style shots of Facehunter, but Ofr. is also an independent publishing house...
Read more
Voted the 'best chocolatier in the world' by critic Mort Rosenblum, Jacques Génin's creations could previously only be tasted in top restaurants. But now his impressive boutique allows you to taste sur place or take a bag home...
Read more
The sort of shop you wished you could keep a jealously guarded secret – but Omaya vintage is well known. Opened by two brothers in 2010, it attracts its share of obsessive fahionistas...
Read more
Antoine et Lili's fuchsia-pink, custard-yellow and apple-green shopfronts are a new raver's dream. The bobo designer's clothes, often in wraparound styles, adapt to all sizes and shapes...
Read more
Get ready to travel back in time to a land where all your childhood heroes live on, including Astroboy, Goldorak, the Knights of the Zodiac, all the characters of 'Dragon Ball Z', the Gremlins and GI Joe...
Read more
A firm favourite among Parisian vintage lovers, who are drawn to the jolly red frontage and little iron chairs set out on the pavement. Once inside, it's hard to know where to start...
Read more