Heads up! We're working hard to be accurate – but these are unusual times, so please always check before heading out.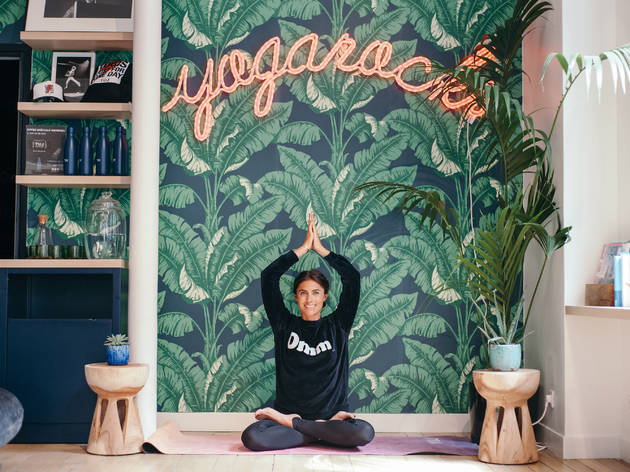 5 of the chicest Yoga studios in Paris
The key to yoga might lie in a good posture, but it doesn't hurt if you're doing it in a nice setting right?
Yoga is more en vogue than ever, and Paris has loads of options for practicing in style. From plush chill zones with design sofas and cold pressed juices, to candle-lit spaces to enhance zen.

Here are the most chic studios in Paris to fulfill your two loves: Yoga and design accents.
Stylish places for stylish yogis
Mirz-Yoga is a definition of an insider's secret - we only discovered it through a tip-off… A few streets away from Place des Fêtes metro, Mirz is tucked in a leafy courtyard which holds other small business. It's quiet and you feel both right at home and very far from all things Paris right away.
The interior is unassuming but clean and bright - stark white tiles, hanging pot plants, light-coloured wood. Between the yoga studio and the reception there's no official changing room (we did say it was stripped back) but it's all good natured bohemianism here.
From Hatha to Yin and Vinyasa, most breeds of yoga are catered to, including a type that made Mirz famous amongst yogis: R&B YOGA®. Created by Mirz founder Marine, these classes have become the studio's signature - in fact they're so popular it's recommended to anticipate these classes as they're not as regular as the others.
The most impressive part of Mirz is its attitude. There's no yogi pretension or unseen levels that you need to aspire to. Everyone is welcomed as they are, and free to practice in peace and serenity.
Mirz-Yoga
6 Rue Arthur Rozier, 75019 Paris
€15 first session, €20 thereafter, bundles from €90
Metro: Place des fêtes


Far from the tourist throngs of the Marais, Omm Studio is located in a sprawling, modern courtyard filled with residences, small businesses and an art gallery. Children play happily outside, and there's an instant calm when you step through the door.
With a beautiful aesthetic - light wood, peonies, Scandi design - you'll want to go if only for your pre or post yogic chill in the lounge area. Lessons include Vinyasa, Hatha, Yin and Jivamukti yoga, driven by a multitude of skilled teachers who have learned their practice from all over the world.
Omm caters to all levels, with dedicated sessions for beginners, intermediate and advanced.
If you're into Pilates and barre work, you can also enjoy these here too. There are often deals for unlimited sessions for certain months, so keep an eye out.
Omm Studio
12-14 rue Saint Gilles 75003
Cour de Venise // Halle d'activité E
Interphone: omm studio 0692
€15 first session, €23 thereafter
Metro: Chemin Vert
A neon sign - 'Please don't smile at yogis' - illuminates from the road, a peek through the glass shows what this place is all about. Cool, fresh, new - leave any preconceived notions of incense and tapestries at the door.

Hélène, an energetic woman of petite but sculpted proportions, was inspired to open Yuj Yoga after being inspired by classes she discovered in America. "I was never into the spirituality of yoga," she explains. A spin on hot yoga, Yuj studio is a flow-based practice akin to Ashtanga under infrared lights (heated to 25 degrees).
The studio is interstellar - painted black with strings of white fairy lights cascading down the back wall. The Yoga itself is rigorous and inventive (you won't hear a soundtrack of Eminem or Rihanna anywhere else) but with varying levels - you'll sweat out those toxins for sure.
Rehydrate afterwards with an infusion or citron-water in the beautiful boutique, and pick up an own-brand tee or yoga mat - so you can officially be part of the Yuj tribe.
Yuj Yoga
11 Rue Edmond Valentin, 75007 Paris
€30 per session
1 month unlimited subscription from €280
Metro: La Tour-Maubourg
One foot into The Yoga Factory, and we guarantee you'll want to move into this enormous duplex a hop from Filles du Calvaire metro. Shiny maple parquet, coloured stools, a vegetal wall and design magazines - it would make a charming living room.
There are four different levels to choose from, each lasting 60 minutes in a spacious room heated to 28°C. Beginners are set with Cool, Open, and Detox, and intermediate to advanced yogis can test their limits in Rise, Sparkle, and Fire. Cool off in the changing rooms then rehydrate with a coconut water in the chill section.
Yoga Factory's mantra is "I don't sweat, I sparkle". You'll 100% sweat, but the sparkle comes afterwards.
Celia Pernot
The Yoga Factory
21 Rue des Filles du Calvaire, 75003 Paris
€15 first session, €22 thereafter
Special reduced price packs, including ones for early morning risers, check here
Metro: Filles du Calvaire

Sebos
The iconic swimming pool in Boulogne (where the first bikini was unveiled, amongst other incredible stories) Piscine Molitor needs little introduction to Parisians or stylehunters.
The blue and yellow doors surrounding the famous blue basin conceal many different treasures: the hotel, a restaurant, art gallery, rooftop bar etc. February 2017 saw the most recent addition to the Molitor family: a yoga studio.
Sebos
A simple set-up amidst the spa's 5* services, the yoga room is a large space with printed wallpaper and multiple mirrors on the wall. Groups are intimate so you feel like you're getting a one-on-one session; the teacher also jumps in to explain the benefits of each posture or a bit of history about the practice.

Post-class, rehydrate with a zingy multicitrus infused water. Needless to say, there's nothing reprochable where the changing rooms are concerned. Clarins products, smart locker systems, individual (sleek) showers and miles of room.

Overall it's immersive, well guided, and like everything that Molitor does - perfectly designed.
Yoga Studio Molitor
Piscine Molitor, 8 Avenue de la Porte Molitor, 75016 Paris
€25 per session
Metro: Michel-Ange - Molitor
Check here for the full sports schedule including yoga, boxing, and various aqua sports