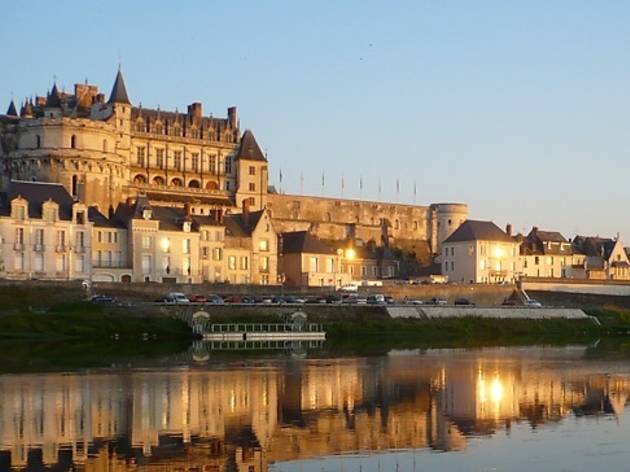 Time Out says
Friendly warning! We're working hard to be accurate. But these are unusual times, so please check that venues remain open.
At just a leisurely 20-minute drive east from Tours (D952), or 2-hours by TGV from Paris (from Montparnasse or Gare d'Austeritz) Amboise is a good place for a day or weekend trip to the Loire Valley. Overlooking the River Loire, it is a small town of narrow streets and quaint residences whose pretty contours are best appreciated when seen from the north bank of the river. You can easily spend a whole day here, sharing your time between two star sites: the imposing Château Royal d'Amboise (02.47.57.00.98), set on a rocky spur, where Louis XI and Charles VIII grew up away from the squalor of the town; and Leonardo da Vinci's former home, the Clos Lucé (02.47.57.00.73), an exquisitely restored manor-house, with landscaped gardens and a museum of da Vinci's inventions. It is the only Renaissance château built entirely from red brick and white tufa. It served as a retreat for Anne de Bretagne and then in 1516, François I invited the great master, da Vinci, to Amboise, giving him this house so that he could be "free to think, dream and work". He resided here for three years until his death in 1519.
Twelve kilometres southeast of Amboise is the Château de Chenonceau (02.47.23.90.07, accessible by car). Shrouded in aristocratic grace and spanning the River Cher, the castle is all about girl-power: Catherine Briçonnet (the first owner's wife) built the turreted pavilion and France's first ever straight staircase; Henri II's mistress Diane de Poitiers added the formal gardens and arched bridge, before his jealous wife, Catherine de Medici, evicted Diane (after Henri's death in 1559) and converted the bridge into an Italian-style gallery; and in the 18th-century, the owner Madame Dupin, a high-society tax-collector's wife, was so popular with the villagers that the château survived the Revolution unscathed. Its watery views, original ceilings, fireplaces, tapestries and paintings (many by 16th and 17th-century masters like Van Loo and Rubens) are all worth seeing ; the black and white bed-chamber where the bereaved wife of Henri III, Louise de Lorraine, spent most of her days is particularly haunting.
For more information on Amboise and its surrounding sites, consult the Tourist Information Website.
Details
| | |
| --- | --- |
| Address: | Amboise |
| Transport: | Amboise is a 20-minute drive east from Tours along the D952. Or catch a train from Paris Montparnasse or Gare d'Austeritz (2 hours). Trains are either direct or involve one change at Orléans or Tours. |
| Contact: | |