Canal Saint-Martin, Ourcq and Villette area guide
Discover the bohemian charms of northeast Paris with our guide to the best venues and things to do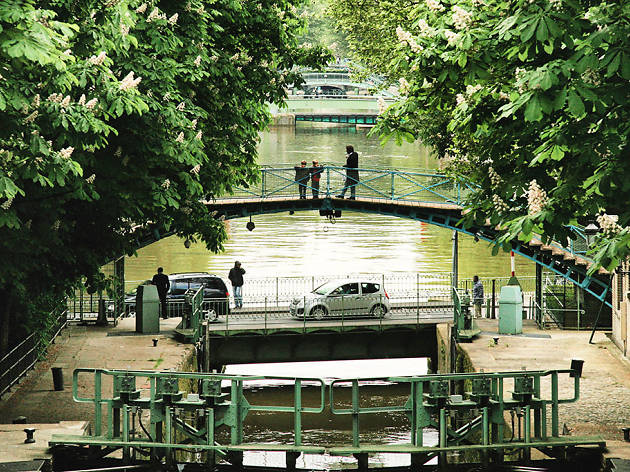 Hands up if you've seen Amélie, Jean-Pierre Jeunet's 2001 blockbuster. It was the Canal St-Martin's iron footbridges and tree-shaded quays that formed the backdrop for some of the film's most atmospheric scenes. Nowadays, this ever-gentrifying, 19th-century waterway draws a trendy crowd to its shabby-chic bars and appetising bistros – starting with Chez Prune, the main magnet for bobo bière-drinkers.
République, the point at which the Canal resurfaces after having travelled underground from Bastille, forms the frontier with the Marais. Its northern artery, the Rue du Faubourg du Temple, is scruffy and cosmopolitan; here's where you'll find cheap grocers and discount stores, hidden courtyards, and stalwarts of Paris nightlife such as Le Gibus and vintage dancehall La Java. It leads to Belleville's Chinese quarter and the place Sainte Marthe, which retains a provincial charm with its quirky boutiques and cafés.

Heading north along the Canal, the must-visit den of multidisciplinary artistic creation is Point Ephemère. From here the Canal widens into the Bassin de la Villette and Canal de l'Ourcq, famed for its twin Mk2 cinemas, retro-futurist 70s tower blocks and the watersports that take place during August's Paris Plages. It's near here that you'll find the 104, Paris's flagship cultural centre, set in the city's eerie old 19th-century funeral parlour.

Once you've crossed the quirky 1885 hydraulic lift bridge, pont de Crimée, you're in Parc de la Villette territory. Futuristic and cutting-edge, this is where you can visit major science and music museums, picnic on the lawns (especially during the summer open-air film festival) and take in concerts at big venues such as the Philharmonie de Paris, Cabaret Sauvage, Trabendo and the Zénith.
The best things to see and do in Canal Saint-Martin, Ourcq and Villette