Heads up! We're working hard to be accurate – but these are unusual times, so please always check before heading out.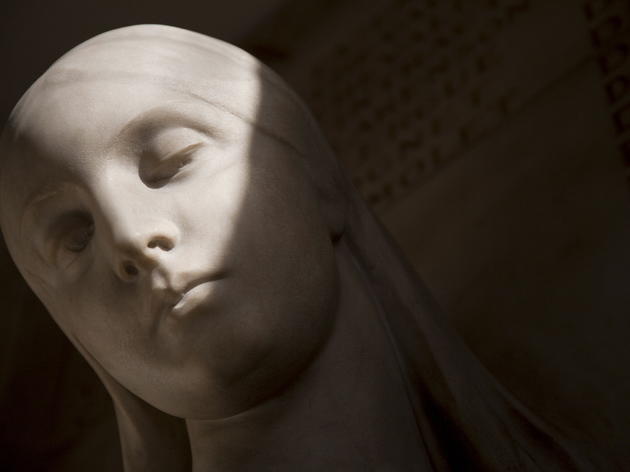 Paris walks: Dead famous
A walk past some grisly Parisian relics

View Time Out Paris walks: Dead famous in a larger map
Paris has some of history's most influential characters buried on its soil; the Père-Lachaise cemetery alone shelters hundreds of writers, artists and politicians. But these are the lucky ones. Other famous figures did not always get to their final resting place in one piece. This itinerary uncovers some of the city's more macabre relics... Start on the Place du Palais-Royal in the 1st arrondissement. Turn your back on the Louvre and walk into the Comédie Française (2 Rue de Richelieu). In the foyer, look out for an old armchair inside a glass cage. It is believed to be the one from which Molière delivered his last lines at a performance of Le Malade Imaginaire in 1673. He died shortly after the curtain fell.

In the same room, the statue of an old man regards theatregoers with a sarcastic smile. You may recognise Voltaire, the Enlightenment philosopher, immortalised here by sculptor Jean-Antoine Houdon. But this statue also serves as reliquary for the philosopher's brain, sealed inside its pedestal. After Voltaire's death in 1778, his brain and heart were put in boiling alcohol to solidify them. His brain finally ended up at the Comédie in 1924. In 1791, his heart was given to Napoleon III, who decided to keep it at the Imperial Library, now the Bibliothèque Nationale-Richelieu. So next, walk to the entrance of the Bibliothèque Nationale at 58 Rue 
de Richelieu, around the corner from the Comédie, and ask to see the salon d'honneur, an impressive oak-panelled room presided over by a statue of Voltaire identical to the one at the Comédie. The heart is enclosed in its wooden pedestal.

The next destination is on the Left Bank – and gives you an opportunity to test out the Vélib municipal bike scheme, if you don't fancy a really long walk. There is a borne (bike docking station) opposite the library, at 71 Rue de Richelieu. From here, head south, first going along the Rue des Petits Champs. Cycle across Place des Victoires and turn right into Rue du Louvre. Follow
 the traffic down to the river, and then turn left
 on to Quai du Louvre. Carry on to Pont au Change. Once on the island, keep going south, and turn left on to Quai du Marché Neuf. Go straight ahead until you're facing Notre-Dame cathedral. Drop your bike at the borne beside the square, on Rue d'Arcole. Next, head south across Pont au Double. On quai de Montebello, walk around the small park in front of you and take Rue de la Bûcherie. Find rue St-Jacques at the end
 of Rue de la Bûcherie and walk down to rue Soufflot. The columns of the Panthéon should be clear to see on your left. The crypt gathers the shrines of over 70 illustrious Frenchmen, including Victor Hugo, Alexandre Dumas and our old friend Voltaire, whose carcass – or what remains of it – can finally rest in peace here. A somewhat more sensational relic can be found in the Eglise St-Etienne-du-Mont, just around the corner from the Panthéon: a finger bone belonging to Sainte Geneviève, patron saint of Paris, in a glass reliquary next to her sarcophagus.

Now retrace your steps towards Boulevard St-Michel for a particularly creepy rendezvous. You can pick up a Vélib from the borne at 174 Rue St-Jacques, or cross the Jardin du Luxembourg. From Boulevard St-Michel, take Rue de Médicis, then Rue 
de Vaugirard. After passing the Sénat, turn right into rue Garancière, then left into Rue St-Sulpice. Carry on along Rue du Vieux Colombier until you reach Rue de Sèvres. Here, find the Chapelle des Lazaristes, identifiable by its tall green doors next to no.95 Rue de Sèvres, and climb up the stairs to the side of the altar. Here lies the fresh-looking corpse of Saint Vincent de Paul, patron saint of the poor. While his skeleton was preserved in its entirety, his face and hands were covered in wax and moulded to resemble the deceased, giving the disturbing impression that he passed away only minutes ago. Back out into the fresh air, pick up a Vélib at the borne on Rue Vaneau and head north.
Turn left into Rue de Babylone and then right into Boulevard des Invalides. Keep cycling towards the Seine, with the golden dome of Les Invalides on your left – it's the last resting place of Napoleon Bonaparte. The emperor could easily win the title of most scattered cadaver in history. While his heart and innards are in Austria, you will need to travel to New York to get near his penis, bought at auction by a urologist for $3,800 in 1977. Next, from Quai d'Orsay, cross the Pont Alexandre III and turn left on to Cours Albert I. At Place de l'Alma, take Avenue du Président Wilson on your right. Carry on to Place du Trocadéro. You can dispose of your bike at the Vélib borne on avenue d'Eylau, third right on the roundabout.

The Musée de l'Homme (17 Place
 du Trocadéro, 16th, currently closed for refurbishment) is home to philosopher René Descartes' skull. The rest of his body is buried on the Left Bank, at the Église de Saint-Germain-des-Prés, which makes the perfect start to another trek. For now, take a pew on the steps of the Trocadéro and enjoy one of the best views there is of the city. Chances are you've never felt more alive.
Want someone to guide you, and tell some gruesome stories along the way? Check out this great Ghost and Mystery Night Walking Tour of Paris.