Things to do in Opéra and Grands Boulevards
Discover the best historical sites and venues these lively central quartiers have to offer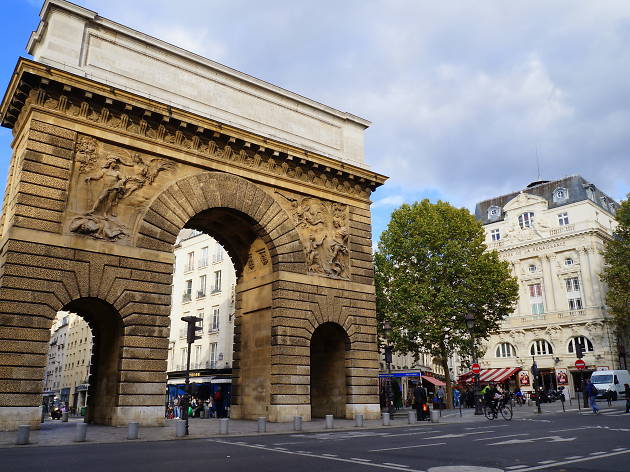 From slightly out-of-place arches to historical music halls to the unmissable Opéra Garnier, the buzzing Opéra and Grands Boulevards quartiers are brimming with popular tourist attractions and legendary entertainment venues. Discover our selection of the best local destinations – for both day and night-time – below.
The best things to do in Opéra and Grands Boulevards
Opened in 1932, this huge art deco cinema was designed by Auguste Bluysen and its fantasy Hispanic interiors by US designer John Eberson. With its wedding-cake exterior, fairy-tale interior and the largest auditorium in Europe (2,650 seats), this listed historical monument is one of the few cinemas to upstage whatever it screens. Its blockbuster programming (usually in French) is suited to its vast screen; it also hosts concerts and rowdy all-night compilation events...
Read more
A spiky aluminium-and-marble concoction is the unlikely location for France's second largest art market – though it is now rivalled by Sotheby's and Christie's. Inside, escalators take you up to a number of small salerooms, where everything from medieval manuscripts and antique furniture to oriental arts, modern paintings, posters, jewellery and fine wines might be up for sale...
Read more
This kitsch version of Madame Tussauds is a hit with kids, who can have their photo taken alongside waxworks of showbiz stars and personalities like football star Zinédine Zidane, Brad Pitt, George Clooney, the Queen and Barack Obama.Great historical moments, such as Neil Armstrong walking on the moon, are re-created in the 'snapshots of the 20th century' area...
Book now
Read more
These twin triumphal gates were erected in 1672 and 1674 at important entry points to the city as part of Colbert's strategy to glorify Paris and celebrate Louis XIV's victories on the Rhine. They are modelled on the triumphal arches of Ancient Rome. The Porte St-Denis is based on a perfect square with a single arch, bearing Latin inscriptions and decorated with military trophies and battle scenes. Porte St-Martin bears allegorical reliefs of Louis XIV's campaigns...
Read more
Jazz fans crowd into this hip, no-frills joint to natter, drink and boogie to the consistently excellent live music. Low key it may be but it's still worth looking out for the occasional A-lister - the likes of Spike Lee and Prince have been known to grace the New Morning with their presence as have Stan Getz, Chet Baker, Dizzy Gillespie, and Miles Davis. Even when there's no star draw things rarely lapse into MOR territory...
Read more
After a century at the Louvre, the Palais-Royal and rue Vivienne, in 1826 the Stock Exchange was transferred to the Bourse, a dignified testament to First Empire classicism designed at Napoleon's behest by Alexandre Brongniart. It was enlarged in 1906 to create a cruciform interior, where brokers buzzed around a central enclosure known as the corbeille ('basket' or 'trading floor')...
Read more
This Gothic turret (1409-11) is the remnant of the townhouse of Jean Sans Peur, duke of Burgundy. He was responsible for the assassination of his rival Louis d'Orléans, which sparked the Hundred Years' War and saw Burgundy become allied to the English crown. You can climb the tower, which has rooms leading off the stairway...
Read more
The Opéra Garnier is a mini-city unto itself, with a museum, gourmet restaurant, one of the world's lovliest theatres and even an underground lake (the inspiration for Gaston Leroux's 'Phantom of the Opera') now used for specialised underwater fireman training. Its location between department stores Galeries Lafayette and Printemps, the Louvre and the Japanese quarter by rue St-Anne, makes it one of the city's most visited monuments...
Read more
The building of a church on this site began in 1764, and in 1806 Napoleon sent instructions from Poland for Barthélémy Vignon to design a 'Temple of Glory' dedicated to his Grand Army. After the emperor's fall, construction slowed and the building, by now a church again, was finally consecrated in 1845. The exterior is ringed by huge, fluted Corinthian columns, with a double row at the front, and a frieze of the Last Judgement just above the portico...
Read more