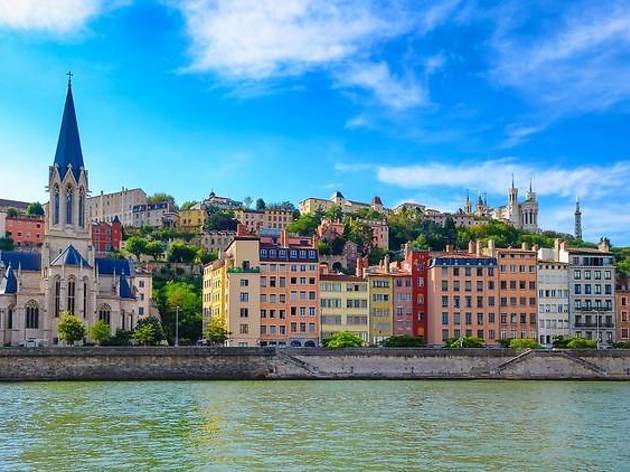 The Best Things To Do in Lyon This Summer
Restaurants, excursions, hidden gems… Our picks for 13 things to do this summer in Lyon.
Now that it's possible to knock about France again, Time Out is playing travel agent and cooking up a selection from the best spots in the country. Step one: head for one of the coolest and most vibrant cities in the Hexagon: Lyon. For this road trip chez les Gones, as the Lyonnais are fondly called, our editors (who visited the city themselves) will have you wandering between the Rhône and the Saône rivers in search of the crème de la crème of good times. From Hebrew restaurants in the Croix-Rousse district and cocktails bars on the peninsula (Presqu'île), to architectural wonders that defy superlatives and surrounding landscapes that offer a post-confinement bucolic break… For the duration of this special edition (and of a round-trip TGV ride), Time Out Paris becomes Time Out Lyon. And believe us: it wasn't easy to leave…
During your trip to Lyon, consider a Lyon City Card and benefit from unlimited access to the metro, tram and bus, free museums, and a basketful of good deals.
THE BEST BARS AND RESTAURANTS
THE BEST HOTELS
After shaking up the Sant-Ouen Flea Market, Cyril Aouizerate, co-founder of Mama Shelter, pulled back the sheets and unveiled his MOB Hotel in the trendy Confluence district. Sitting on the tip of the peninsula, a 5,000-square-metre building set behind a honeycomb façade, with a slew of activities to keep you entertained. Among them (all tested and approved): a pop-up store; a chill rooftop where you can play ping-pong and sip mocktails to American hip-hop (from Nas to Travis Scott); a busy schedule of Pilates, hatha yoga, and DJ sets; and a pop-up restaurant where you can indulge morning, noon, and night in a menu of organic offerings and stellar pizza. In the evening? The downstairs bar has us drinking excellent creative cocktails and organic wine between two boisterous games of table football. With all that, one could almost forget to mention the rooms: each replete with balcony (for us, a view of the banks of the Saône); big, cosy beds under scarlet theatre curtains; Italian showers; and concrete walls. All at insane prices (starting at €99). A must!
MOB Hotel - 55 Quai Rambaud, Lyon 69002