Heads up! We're working hard to be accurate – but these are unusual times, so please always check before heading out.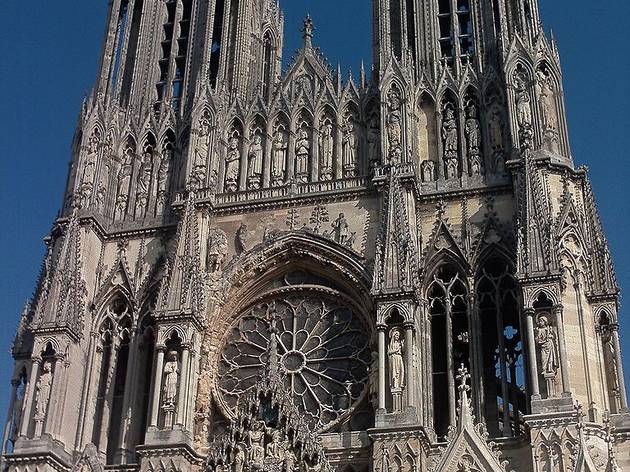 Reims
Spend a day in this Art Déco gem, amid museums, Gothic structures and chilly champagne cellars...
As home to several major champagne houses (mostly set around the Musée St-Rémi) and some excellent restaurants, the city of Reims (pronounced rahns) is definitely a place in which to free your inner epicurean. However it is also a magnet for architecture and history fans with noteworthy attractions that span the Roman times to the 1930s: France's awe-inspiring gothic cathedral, the Cathédrale Notre-Dame, where every single French king has been crowned since the 11th-century; the triumphal Corinthian arch known as the Porte de Mars (in the middle of the busy roundabout at the top of rue de Mars) and the wonderful Gallo-Roman Cryptoportique (grain galleries) built around 200AD (Place du Forum, 03.26.77.75.16) are just the tip of the ice-berg.
Art-Deco fans are in for a particular treat as unbeknownst to most visitors Reims offers a collection of Art-Deco structures unrivalled in France. After loosing 80% of its buildings during the First World, the city was rebuilt in the 20s and 30s. Today you can easily spend an hour or two tracking down over 33 edifices like the Carnigie library (2 place Carnigie, 03.26.77.81.41), characterized by its psychedelic green and white circular-patterned ceiling in the entrance hall; the first cubic house in Reims (1 rue des Tournelles); the imposing Post Office built entirely of reinforced concrete (2-4 rue Cérès); and the airy interior of the Grand Theatre, modelled on the Théâtre des Champs Elysées in Paris (1 rue de Vesle, 03.26.50.03.92). For maps consult the Reims Art Déco website or go to the Tourist Office (2 rue Guillaume de Machault, 08.92.70.13.51 0,34€/min).
Clovis, first king of the Franks, was baptised here in Reims in the original Cathédrale Notre-Dame de Reims (3 rue Guillaume de Machault, 03.26.47.55.34) in 5th-century AD by St Rémi. Thanks to painstaking restorations financed by John Rockefeller, after World War I bombings (like the rest of Reims it escaped World War II relatively unscathed), the present cathedral (begun in 1211) still has rich gothic decoration that includes thousands of well-preserved figures on the portals, including large angels that have earned it the nickname Cathedral of Angels. The jewel in the cathedral's crown however is the set of intense blue stained-glass windows designed by Chagall that depict biblical scenes like the Sacrifice of Abraham, the Cross, and Clovis's baptism.
The statues damaged during World War I are on show next door in the Palais du Tau, built in 1690 as the residence of the bishops of Reims. Also on display are holy relics including a talisman supposedly containing a relic of the True Cross that Charlemagne wore. (Place du Cardinal-Luçon, 03.26.47.81.79)
Another wonderful religious building is the Ancien Collège des Jésuites. Set about a pretty, secluded garden, this former Jesuits chapel (1 place Museux, 03.26.35.34.71), founded in 1606 and used as a hospital in the 18th century contains a 300 year old vine (brought from Palestine by one of the Jesuit fathers) that still bears fruit. The grand refectoire (refectory) is full of intricate 17th century wooden carvings that depict the lives of Saints Ignace de Loyola and François-Xavier and you can visit an atmospheric old library containing over 18000 books that were evacuated to Paris during WWI. If you're travelling with kids, try the on-site planetarium.
Art lovers should head to the Musée des Beaux Arts (8 rue Chanzy, 03.26.35.36.00). Set in the former 18th-century Abbaye St-Denis, this is of the best fine arts museums outside of Paris; a chronological organization of sculptures, paintings, drawings, furniture and objets d'art from Europe's most prominent artistic movements between the 16th and 20th centuries. Look out for beautiful 15th and 16th-century religious toiles peintes (light painting on rough linen) and an excellent series of 27 of Corot's tree-shaded walks.
A highlight for many Reims visitors is the Salle de Reddition (12 rue Franklin Roosevelt, 03.26.47.84.19). On May 7, 1945, the Germans surrendered to General Eisenhower inside this former schoolhouse near the railroad tracks behind the station . Since then, the room has been kept exactly as it was on the day of surrender, maps and all still on the walls. You'll find an insightful lowdown of WW2 in the attached museum.
Even if you don't visit any other cellars don't miss Pommery's (Place du Général-Gouraud, 03.26.61.62.55) which are easily the most spectacular of them all. An eerie 116-step stairway leads to an 18km-long maze of galleries, more than 30m underground, which date back to the Gallo Roman era. The tunnels serve the triple purpose of explaining the champagne making process, housing the company's millions of fermenting bottles and displaying works by contemporary artists. Previous exhibits have included a chamber full of chaffinches that inadvertently play music when they land on upturned electric guitars and a huge 3D graph, laid out like a hilly carpet, evoking the crime rates in Greater Manchester.
Mumm's tour isn't the most exciting of the lot (34 rue du Champ-de-Mars, 03.26.49.59.70), but if you love the famous cordon rouge label it's a must. The visit is pleasantly informative with an educational video on champagne production and a guided tour of the labyrinthine tunnels and storage cellars, capped off with a traditional tasting of 1, 2 or 3 types of champagne.
The formula at Tattinger (9 place Saint-Nicaise (03.26.85.84.33) here is the same as the other caves: Explore Romanesque cellars dug from Gallo-Roman chalk mines used until the 13th-century, learn about Taittinger family lore and the history of Reims, then finish it all off with a slurp of champers and a trip around the shop. Taittinger produces some of the world's most appreciated champagnes, exporting two thirds of its production to over 100 countries.