Heads up! We're working hard to be accurate – but these are unusual times, so please always check before heading out.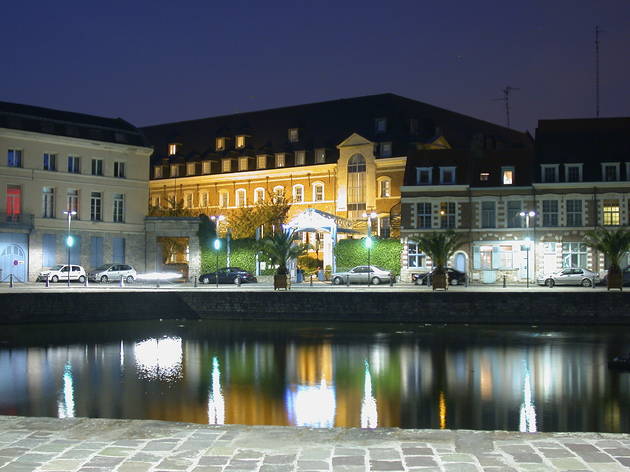 Greater Lille
Explore art, architecture and a vintage distillery outside the town centre
On the outskirts of Lille, former industrial textile towns like Roubaix and Tourcoing alternate with smart suburbs, such as Marcq-en-Baroeul and Bondues, the new town of Villeneuve d'Ascq and remnants of rural villages like Hem, where old farmhouses and patches of agricultural land survive amid the urban sprawl. All this variety is home to a wide range of fascinating cultural sites, well worth a day trip or longer from Paris or Lille.

Whether travelling by tram or car, the best route to Roubaix and Tourcoing is not by the motorway but along the 'Grand Boulevard', laid out in the late 19th century and lined with the fanciful houses of self-made textile barons. Roubaix was another of Flanders' medieval wool towns, of which few traces remain except the impressive hallekerke facing the ornate 19th-century town hall on the Grande Place. The town boomed with the arrival of steam power, and the skyline is still peppered with red factory chimneys. Although noticeably poorer than Lille, Roubaix has been a pioneer in rehabilitating its industrial heritage, whether as cultural venues or discount factory shops.

Distillerie de Wambrechies, 1 rue de la Distillerie, Wambrechies (03.20.14.91.91/www.wambrechies.com). Guided tours 10am-6pm daily (reserve three days in advance). Admission €6; reductions free-€4. The Distillerie Claeyssens de Wambrechies is Lille's last remaining distillery, where genièvre, once the staple drink of textile workers and miners, is still made on vintage machinery according to traditional methods. Although flavoured like gin with juniper berries, it is closer to whisky in taste and fieriness, drunk straight or used to lace coffee. The tour of the listed canalside buildings takes in different stages, from sifting the rye and malt barley via cooking and fermentation to the double distillation process in impressive brass columns. It is possible to take a boat trip here from Lille.
Hospice d'Havré, 100 rue de Tournai, Tourcoing (03.59.63.43.53). Open 1.30-6pm Mon, Wed-Sun. Closed Aug. Admission free. This medieval charity hospice and subsequent monastery of Notre-Dame des Anges was reborn as one of the Maisons Folies for Lille's stint as the European City of Culture in 2004, creating temporary exhibition spaces around the peaceful cloister and herb garden, and restoring the Baroque chapel.
LaM, 1 allée du Musée, Villeneuve d'Ascq (03.20.19.68.68/www.musee-lam.fr). Open Tue-Sun 10am-6pm; Métro 1 – Pont de Bois + Bus 41 – arrêt LaM. This low red brick building, which was designed by Roland Simounet, is home to a first-rate collection of modern and contemporary art. It includes Modigliani, Léger and Picasso, the Fauves, a cabanon by Daniel Buren and younger artists such as Thomas Hirschhorn. A new wing, by young architect Manuelle Gautrand, was added in 2010 to house the recently donated Aracine collection of art brut. You'll also find sculptures by Calder, Dodeign, Deacon and others in the surrounding park.

La Piscine, Musée de l'Art de l'Industrie André Diligent, 23 rue de l'Espérance, Roubaix (03.20.69.23.60/www.roubaix-lapiscine.com). Open 11am-6pm Tue- Thur; 11am-8pm Fri; 1-6pm Sat, Sun. Admission €5.50; €4 reductions. Métro 2 – Gare Jean Lebas. Roubaix's old swimming pool has been imaginatively converted into an inspiring museum. Sculptures line up on either side of the former pool beneath art deco stained glass sunbursts, and water still gushes out of Neptune's mouth. Textiles, drawings and ceramics are displayed in the old changing cubicles. While the building is a major attraction in its own right, there is also some worthwhile art from the mid-19th to mid-20th centuries, including Ingres's Angélique, Orientalist paintings, Camille Claudel's sculpture La Petite Châtelaine, Remy Cogghe's The Cockfight, society portraits by Tamara de Lempicka and thickly encrusted 1950s abstracts by the post-war Groupe de Roubaix (Marc Rouet, Eugène Leroy and Dodin).