If you're a fan of Christmas lights in Philadelphia, this is the weekend for you. By the time Saturday rolls around, nearly all the best light displays will be up and running around town—including Miracle on South 13th Street, the Christmas Tree and Lights in Rittenhouse Square and more. If you're still not ready to do the Christmas thing, check out concerts by JAY-Z, Philly indie pop act Clap Your Hands Say Yeah and comedian John Mulaney on Friday at the Academy of Music. Find all that and much more below.
Friday, December 1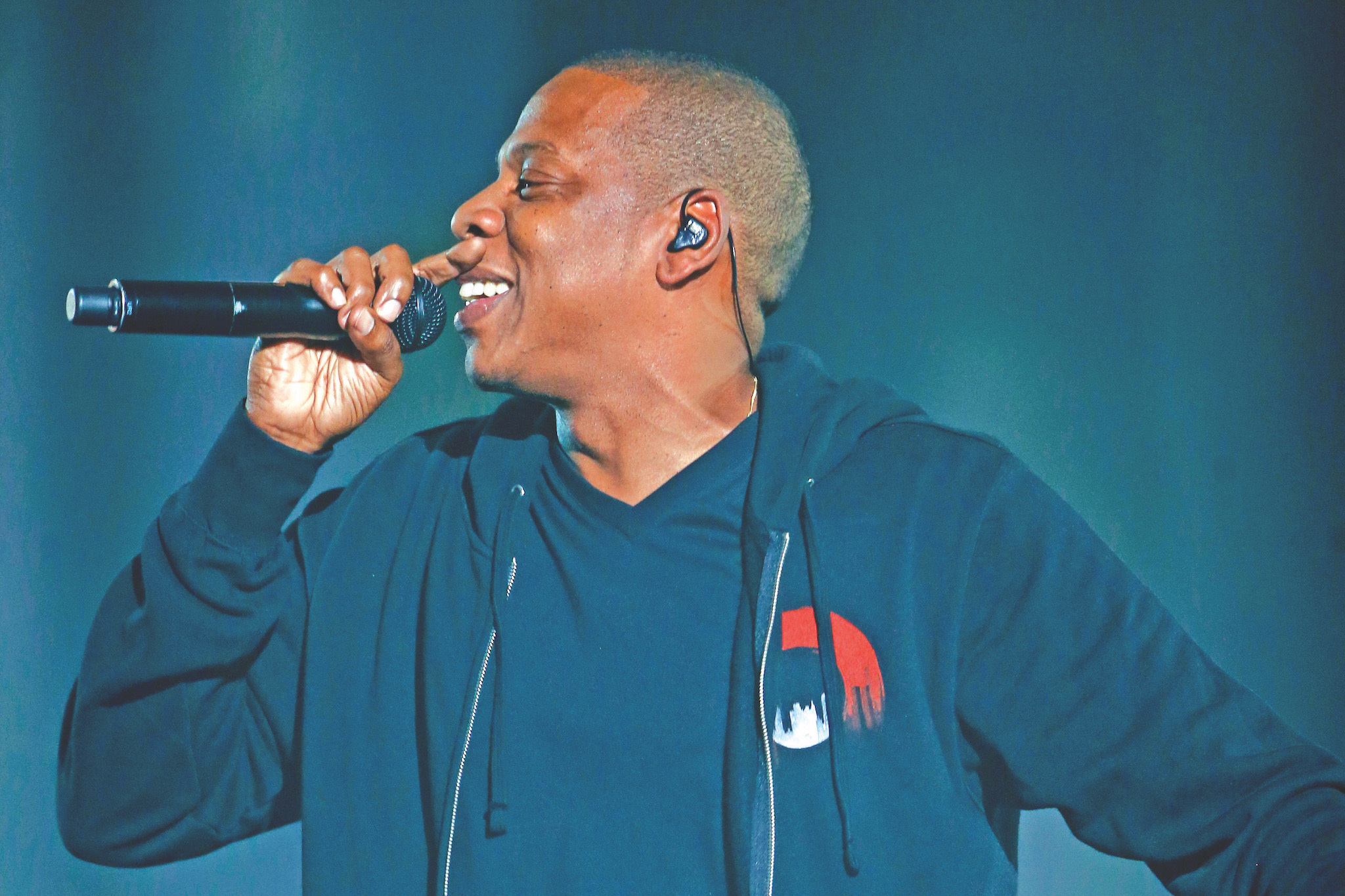 "Holiday Show" at Locks Gallery; 10am; free
Looking for holiday gifts? Locks Gallery presents its fourth annual monthlong holiday show with a festive and eclectic selection of contemporary art works.
Miracle on South 13th Street on S 13th Street; 5pm; free
Cruise down the 1600 block of 13th Street where every house, tree and telephone pole is strung up with lights in a dazzling display of community spirit. This a beloved local tradition that's as South Philly as a Pat's cheesesteak, but decidedly much better for you. Eager residents begin decking their halls months in advance of the light show's late-November start date, and switch on the displays every evening until New Year's. It's a heart-warming, only-in-Philly kind of experience—and it's extra AF.
Holiday Lights at Jeweler's Row; 5pm; free
The gems aren't the only things sparkling in the windows on Jeweler's Row during the holiday season. The historic diamond district bejewels their block with light pole decor and sparkling banners that hang between the shops. Pro tip: The street scene is an Instagrammer's dream (and the perfect spot for anyone looking to get engaged over the holidays).
"Starling in Shadow" at Cerulean Arts; 5pm; free
This group show of 28 artists—including Linda Lee Alter, Jennifer Baker, Nell Blaine, Rachel Bliss, and Mary Nomecos—is organized by Philadelphia acclaimed abstract painter Bill Scott and juxtaposes works by well-known artists alongside those of under-recognized and younger emerging ones. Cerulean Arts is tucked away in the shadow of the Divine Lorraine Hotel.
Christmas Tree and Holiday Lights at Rittenhouse Square; 5:30pm; free
Take a break from your holiday shopping along Rittenhouse Row to ogle twinkling globe lights strung through the trees and a 30-foot Christmas tree in the center of stately Rittenhouse Square. Check out the Christmas tree lighting ceremony on November 28 for Santa, carolers, hot cocoa and upscale treats from Parc, Scarpetta and the Rittenhouse Hotel.
"Winter Fountains for the Parkway" along the Ben Franklin Parkway; 6pm; free
In celebration of its 100th year, the Benjamin Franklin Parkway will be decorated with a dazzling light and video show by artist Jennifer Steinkamp. Starting in early December and lasting through March, the installation comprises five 13-foot high domes lined up along the parkway. After dark, the domes will become glowing projection screens featuring animated videos inspired by the cultural institutions that line the boulevard—places like the Franklin Institute and the Philadelphia Museum of Art. Steinkamp's work is known for its sensuous beauty and transformative power. Prepare to be mesmerized.
John Mulaney at Academy of Music; 7pm; $29–$39
The charming SNL writer and Broadway star (Oh, Hello with Nick Kroll) plays three shows in two nights at venerable comedy club the Academy of Music.
The Lucas Brothers at Helium Comedy Club; 7:30, 10pm; $17–$26
The funniest twins this side of Sklarbro Country, Keith and Kenny Lucas have popped up in 22 Jump Street and Lady Dynamite. Their stand-up special on Netflix slayed. See their act in person at Helium.
Clap Your Hands Say Yeah at Johnny Brenda's; $18–$20
A revamped version of jangly, high-intensity Philly indie-pop band Clap Your Hands Say Yeah celebrate the 10-year anniversary of their sophomore record, 2007's Some Loud Thunder, by playing it front to back at Johnny Brenda's.
JAY-Z at Wells Fargo Center; 8pm; $39.50–$199.50
Jigga was here for Made in America in September, but this tour lets him tackle the personal 4:44 material in a more controlled setting. A big music festival's no place to confess your sins. Gotta do that in a hockey arena.
Sinbad at Keswick Theatre; 8pm; $35–$65
Though he's had several memorable acting roles (Jingle All the Way, Houseguest), Sinbad remains a favorite in the world of "clean" stand-up comedy.
Saturday, December 2
Cricket Cringle Holiday Market in Downtown Ardmore; 10am; free
This fourth annual open-air marketplace in charming Ardmore showcases more than 40 merchants, plus seasonal bites from food trucks. Discover more great Christmas markets Philadelphia has to offer.
Bartram's Garden Holiday Greens Sale at Bartram's Garden; 10am; free
Delight in holiday music and bites while stocking up on wreaths, evergreens and natural décor.
"Dennis Beach" at Schmidt/Dean Gallery; 10:30am; free
Deeply influenced by the geometry found in nature, Beach makes abstract sculptures representing what he sees around him—from ripples in a sand bar to waves in the ocean. Based in Newport, Delaware, Beach is a master of minimalism and has a love of repeating shapes and color relationships that he expresses through wood and paint.
A Very Philly Christmas: Sounds of the Season at Fairmount Park; $8–$35
The five historic houses of Fairmount Park get festooned for the holidays with adornments that would have been used when families actually inhabited the homes ages ago. They're open for tours throughout the yuletide season, but for the full experience, check out the special programming in early December like live music, carriage rides and culinary events. On this Saturday, stop by for live music in each of the mansions, from folks like Choral Arts Philadelphia and Opera Philadelphia.
Beautiful Decay at the Wilma Theater; 2, 8pm; $25–$50
BalletX, now in its second decade, is a Philadelphia phenomenon—a local favorite that has also acquired a national and even international fan base. Their work, a blend of classical ballet and contemporary style, includes over 60 world premieres by major choreographers that blend classical ballet with contemporary dance. Their fall season, presented at the Wilma Theater brings back this fave, a hypnotic meditation on aging by choreographer Nicolo Fonte.
Build a Gingerbread House at Ritz-Carlton Philadelphia; 3pm; $79–$99
The Petite Ballroom in the Ritz-Carlton acts as a holiday stop throughout December, where families can build their own confectionary abodes with ice cream cones, gumdrops and other sweet building supplies. The events also feature light bites and drinks (including a sparkling wine for moms and dads), plus a visit from a certain rotund, jolly fellow in a red suit.
Beauty Ball 2017 at Voyeur Nightclub; 7pm; $5
If you've ever wanted to give drag a try, this is the place to do it. The long-running charity bash encourages all attendees to come beat to the gods and if not, you can at least sit back and enjoy the Miss Beauty Ball contest. Hosted by former winner and No. 1 Philly comedy queen Bev, the competition requires participants to duke it out in a throwdown to "lip-synch for your life."
George Lopez at Tower Theater; 8pm; $49.50–$59.50
The scratchy-voiced L.A. comic's latest special, The Wall, debuted on HBO in August. He also goes to town on the president—sometimes with jokes, other times with poignant jabs—pretty much every day on Twitter.
Sunday, December 3
Greensgrow Holiday Bazaar at Greensgrow Farms; 10am; free
The urban farm in Kensington is a one-stop shop for Christmas decor such as trees and wreaths, plus all kinds of handmade gifts, jewelry and more.
Dickens Festival in Downtown Narberth; noon; free
Be transported to 1840s London at this family-friendly Charles Dickens–themed hoopla. Mingle with characters from A Christmas Carol, take horse and carriage rides, and drink hot toddies till the cows come home.
Auction: American Art and Pennsylvania Impressionists at Freeman's; 2pm; free
Stop in—or bid online or by phone—at America's oldest auction house this December and see if you can win a piece of American art and work by Pennsylvania Impressionists. Freeman's, established in 1805, hosts auctions year-round.
Company with 11th Hour Theatre Company; 3pm; $15–$30
Every year, 11th Hour does one fully staged production, but the company is equally celebrated for its vibrant concert performances, which regularly feature some of Philadelphia's up-and-coming singer-actors. This time it's Stephen Sondheim's Company, a breathtakingly sleek study of couples in New York at the dawn of the 1970s—one of the defining theater works of its time.
Ongoing
Christmas Village at LOVE Park; 11am; pay as you go
Philadelphia's LOVE Park reopens for one month to host this 10th annual German-inspired holiday market. You'll find plenty of reasons to prioritize a trip here—whether you want to shop for gifts in the cute little huts full of international and locally made wares, ogle at the thousands of holiday lights or get all nostalgic—and plastered—under the 40-foot Christmas tree with a cup of mulled wine in hand.
Blue Cross RiverRink Winterfest; 11am; pay as you go
Wassail on the waterfront at this urban wintertime retreat, or rent skates and hit the ice on their outdoor rink. RiverRink affords kids and adults the chance to kick their heels on the ice for a $3 admission fee, with a $10 skate-rental fee collected for those who don't bring their own. The at-large Winterfest, meanwhile—an approximately two-acre campus encompassing an arcade, lodge and a Franklin Fountain–operated "Confectionary Cabin"—is a free space with plenty of pay-as-you-go indulgences. While the kids skate or push quarters in the arcade machines, adults can warm up by the fire pits with the Latin-inspired dishes of Garces, a basket of Chickie's & Pete's famous fries and their choices from a menu of craft beer.
Rothman Ice Rink and America's Garden Capital Maze at Dilworth Park; all day; pay as you go
Get the full holiday experience at this charming rink in the shadow of City Hall. Besides endless skating, this year's Wintergarden features the Rothman Institute Cabin, where you can cozy up with seasonal cocktails, craft beer and light bites; the America's Garden Capital Maze, a "popup maze-meets-garden" full of photogenic plants and lights; and the Made in Philadelphia Holiday Market, which features wares from area artists, craftspeople and confectionary wizards.
Franklin Square Holiday Festival and Electrical Spectacle; 4:30pm; pay as you go
Franklin Square spreads the holiday cheer with its annual celebration centered around its dazzling light show, Electrical Spectacle, which features more than 50,000 lights and a glowing kite that recalls Ben Franklin's famous experiment that was supposedly performed there. Wintry comfort foods, the Winter Beer Garden—which is always stocked with seasonal beers and cider—and weekend visits from Santa round out the seasonal fun.
Macy's Christmas Light Show at Macy's; 10am; free
The giant singing, blinking, five-stories-tall display has been craning necks since 1956. So many Philadelphians smile remembering how their parents would drag them to the department store to sit on the floor and watch the time-honored story. More than 100,000 LED lights bring to life jolly figures like nutcrackers, clocks, elves and more. The shows happen every other hour from 10am to 8pm, but for the ultimate experience time your visit around noon. A bonus: Each show ends with music from the famous Wanamaker Grand Organ.
Macy's Dickens Village at Macy's; 10am; free
Trudge up to the third floor of Macy's, where pint-size Dickens characters are arranged in settings familiar to fans of A Christmas Carol, each of their faces frozen with a hideous rictus usually only observed on the newly embalmed. Scrooge, Tiny Tim, Jacob Marley—they're all present to mime the timeless story of a rich man tormented by otherworldly ghouls into doing something kind for once. From there, travel on through to Santaland (through Dec 24) where the kids can hop on the jolly man's lap for photos and tell him what they want for Christmas.