The best brunch in Philadelphia right now
Discover the best brunch Philadelphia has to offer, whether you want traditional fare or something fun and international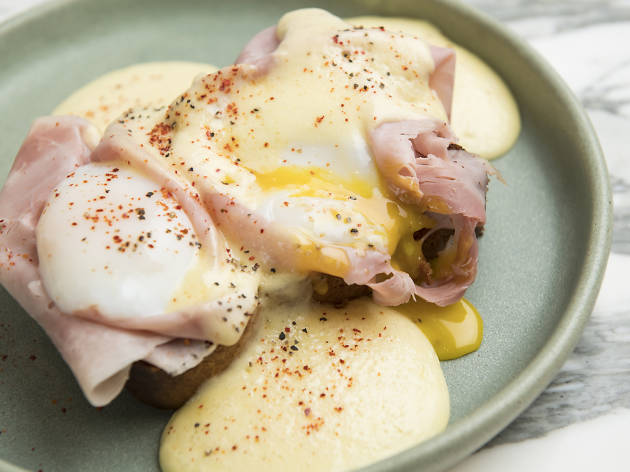 Finding the best brunch Philadelphia has to offer is a serious business. But while most of us head to the spots with the longest lines (hello, Sabrina's and Green Eggs!), savvy diners opt for more under-the-radar eateries that serve up all the things we look for in an ideal brunch experience: atmosphere, tons of coffee and mimosas, and, of course, delicious grub. Follow our guide to the best brunch in Philadelphia to find a mix of these low-key spots—including some of the best new restaurants in Philadelphia—and tried-and-true favorites. If you're looking for something lighter, consider ditching the crowds for one of the best bakeries Philadelphia has to offer, or plop down over a steamy cup of java in one of the best local coffee shops.
RECOMMENDED: Full guide to the best restaurants in Philadelphia
Best brunch in Philadelphia
1
Bright, airy and sparsely decorated, the Dutch, located on 4th Street in Pennsport, offers such delectable brunch eats as a cast-iron-cooked "Dutch Baby" pancake (available either sweet or savory) and a crispy Lebanon bologna omelette. Grab a seat by the window and people-watch as you sip on a house-made virgin Bloody Mary.
Read more
2
It'll feel like you just stepped off a street in Paris when you sit down for a weekend brunch at Beau Monde. Decorated with floral damask and lit with delicate sconces, the beauty of the atmosphere is matched by the beauty of the crepes. Whether you prefer sweet or savory, you will surely find something to tempt your palate.
Book now
Read more
3
This Northern Liberties hotspot serves a French-Lebanese menu that combines Middle Eastern flavors with French sophistication. Try the gypsy eggs (chunky tomato sauce with ricotta cheese, eggplant, avocado and potato) or the stuffed brioche pain perdu.
Read more
4
Sabrina's reputation as one of the hottest brunch spots in town is completely warranted and, given the five locations throughout Philly, everyone can partake in the deliciousness. From the stuffed challah French toast to the veggie tofu scramble, the dishes that you'll consume will make waiting for a table totally worth it. All the locations except for the University City one are BYOB, so toss a bottle of champagne in your bag to mix up mimosas.
Read more
5
Visit either of Honey's two locations (South Philly or Northern Liberties) and revel in a hearty down-home meal. It just isn't breakfast without a breakfast bomb (giant pancake stuffed with eggs and bacon), chef Jeb's open-faced biscuit sandwich or a beautifully plated breakfast quesadilla. Heads up: Honey's is cash only and BYOB.
Read more
6
If you're in the market for something a little more virtuous than bottomless bloodies and Benedicts, this Aussie import hits all the healthful marks. Toasts topped with almond butter or avocado can be ordered on gluten-free bread, breakfast bowls come with quinoa and kale, and a menu of wellness lattes and alternative milks are on offer alongside espresso drinks.
Read more
7
This all-day restaurant kicks things off early with some of the most beautiful breakfast bites in the city—all served in a tranquil Old City dining room. Sandwiches on fresh housemade breads are stuffed with farm fresh eggs and meats and cheeses sourced from Lancaster, Pennsylvania. Toasts are finished with beet-cured salmon or roasted cauliflower, and bowls of yogurt are spiked with ginger and cardamom honey.
Book now
Read more
8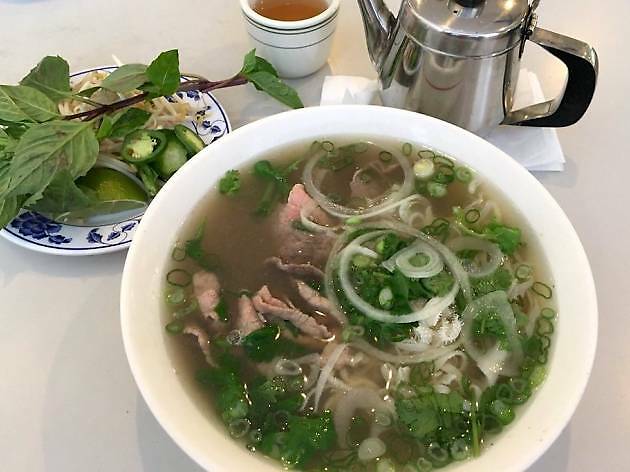 Pho 75
When recovering from a particularly late night, there's nothing better than a restorative bowl of pho to start the day off right. This South Philly staple opens up bright and early, delivering steaming soups packed with rice noodles and beef to tables in record speeds. The extra bleary eyed will want to add a high-octane glass of Vietnamese iced coffee with condensed milk.
9
Breakfast Bogota style is on the menu at this little piece of Colombia in Kensington. Riffing on Colombian and American brunch fare makes for hearty plates like cayeye, smashed plantains with avocado, egg and queso blanco and hearty portions of pork belly and chorizo served with eggs, arepas and mashed black beans.
Read more
10
Brunch at the Rittenhouse Hotel's swanky second floor dining room is a strictly special-occasion affair. Once seated (preferably with a flute of champagne in hand), guests make their way through a winding buffet that snakes through the restaurant and into a working kitchen. The pro move here is to hit the raw bar early, stocking up on freshly shucked oysters and caviar before moving on to lovely canapés, the carving and charcuterie stations, and finishing up with a plate full of delicate pastries.
Book now
Read more
11
Be sure to bring a bottle of vodka to brunch at Philadelphia's one and only Dutch destination for a Bloody Mary garnished with something from the sea (think: shrimp or herring). The Northern European offerings include crab and dill omelettes, seasonal hashes, petite smorrebrod (open-faced sandwiches) and Dutch doughnuts matched with rich chopped liver.
Book now
Read more
12
On weekend mornings, lines go long at this black-and-white-tiled Queen Village Jewish deli. Pickle platters hit the table while brunchers wait for monster-sized plates of challah french toast, salami and eggs, and corned beef hash. A sharable smoked fish buffet feeds a crowd of lox lovers with whitefish, herring and sable plus bagels, cream cheese and all the appropriate accoutrements.
Read more
13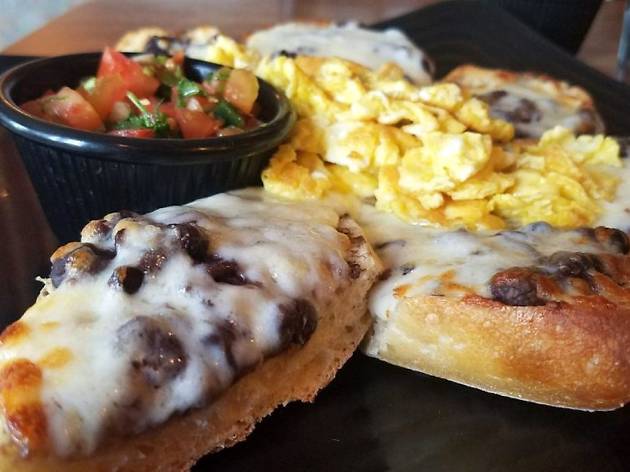 Café y Chocolate
Down in deep South Philly, this family-run Mexican corner is as welcoming as can be, especially on weekend mornings. True to its name, the espresso drinks here are perfectly pulled and finished with a bit of Mexican flare—dashes of cinnamon and chocolate. You could opt for the migas—à la Mexicana or Motulenos—but anything with huevos here is going to please.
14
Come Sunday mornings, Mike Solomonov's Rittenhouse hummusiya breaks out the eggs for brunch. In addition to killer hummus and wood-fired pita, North African shakshuka, a dish of gently poached eggs in a tomato and pepper stew joins the menu. No mimosas here, but booze-seeking brunchers can sip tart glasses of spiked frozen lemonanna, a citrusy Israeli slush.
Read more
15
Rittenhouse's most beautiful brasserie is an ideal locale to while away a weekend afternoon. Mimosas seem downright pedestrian when compared to Parc's line up of sparkling daytime cocktails. Classics like quiche Lorraine and eggs Norwegian arrive picture perfect on bistro tables alongside baskets of buttery housemade croissants and pastries. For the ultimate experience, go when it's warm and request a table out front for some of the best brunching and people-watching this side of the Left Bank.
Book now
Read more
Show more
Need a place to walk off all that food?
The city's best green spaces offer plenty of room to walk around or just sit under the shade and watch the day go by
Read more