Heads up! We're working hard to be accurate – but these are unusual times, so please always check before heading out.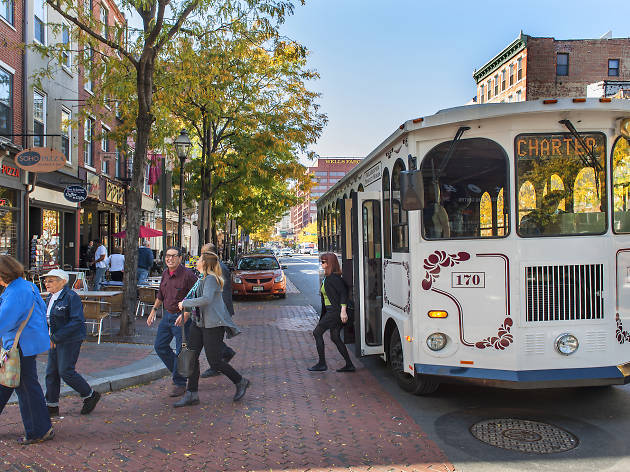 The 10 best Philadelphia sightseeing tours
Join one of the best Philadelphia sightseeing tours, which include walks, Segway explorations and double-decker buses
Best Philadelphia sightseeing tours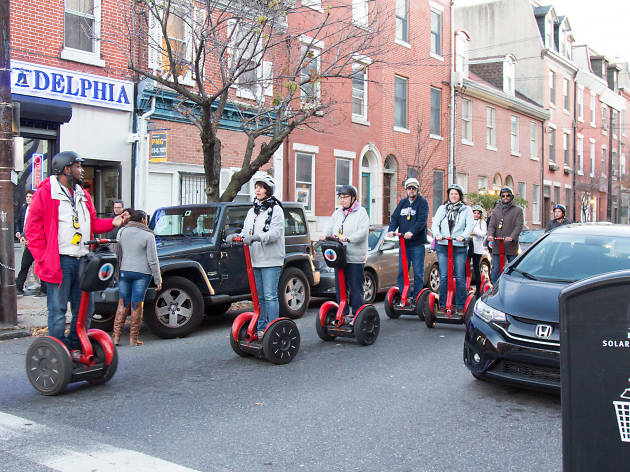 Photograph: Courtesy CC/Flickr/Martin Alonso
1. Philadelphia Segway Tour
See the best of Philadelphia attractions on two super futuristic wheels. This Philadelphia Segway Tour offers two options: a one-hour tour (5 miles) and two-hour tour (10 miles) that takes you through Historic Old City, along the Delaware River to spots like Penn's Landing and on over to the Italian Market and Philadelphia's Magic Gardens. The two-hour tour tacks on some extras, like a stop at Betsy Ross's pad and Elfreth's Alley, the oldest inhabited street in America, and down to the Philadelphia Museum of Art so you can get a selfie at the Rocky Steps and Rocky Statue. As you zoom from stop to stop, your tour guide will regale you with all kinds of useful—and sometimes humorous—Philadelphia tidbits. Photograph: Courtesy CC/Flickr/Martin Alonso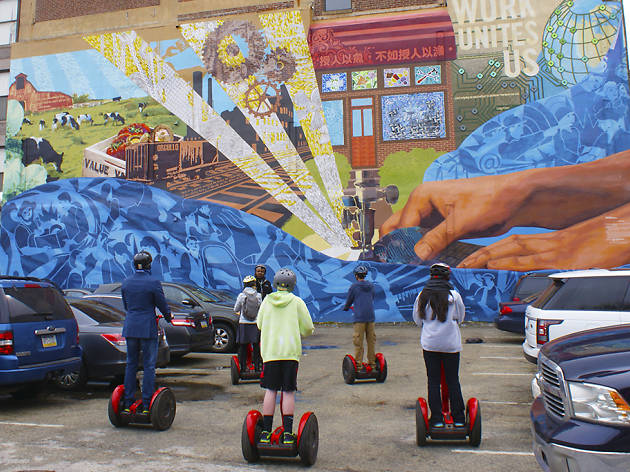 Photograph: Courtesy Mural Arts Philadelphia
2. Segway Tour of Philadelphia's Murals
If you're looking for an artsier kind of tour, consider this Segway exploration of Philadelphia's fantastic collection of murals. Thanks to the city's unique Mural Arts Philadelphia program, which has been placing art on walls around the city since 1984, Philadelphia is home to more than 4,000 murals—from North Philly to University City and everywhere in between. This tour is two hours and includes more than 20 of those works of art—all seen from the comfy confines of a Segway—in neighborhoods like Old City, Northern Liberties, Chinatown and the up-and-coming Loft District.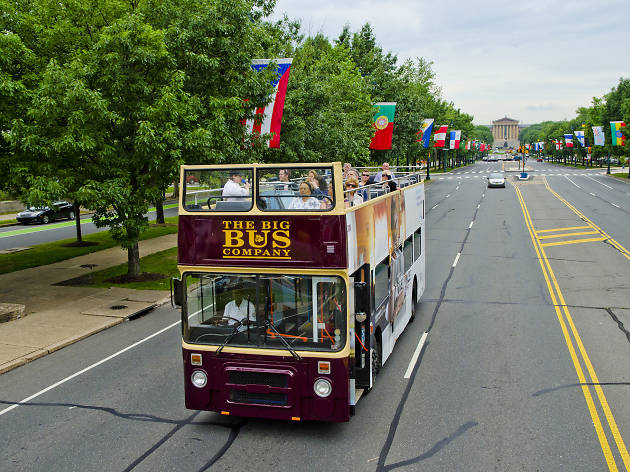 Photograph: Courtesy Visit Philadelphia/B. Krist
3. Hop-on Hop-off and Philly By Night Tour Combo
This double-decker bus tour rolls around the city day and night, offering a daytime, two-hour hop-on-hop-off tour of major landmarks (think: National Constitution Center, the Betsy Ross House, the Reading Terminal and City Hall), and an evening tour, "Philly by Night," that departs at 8pm so passengers can see what Philadelphia's top sites look like when they're illuminated after the sun goes down. The "Philly by Night" tour takes you past spots in the city that look best in twinkling light, like Penn's Landing, Independence Hall and even South Street, which really starts to bustle in the evening. While the late-night tour doesn't afford you the option of hopping on and off like its alternative, you will get a chance to climb the Rocky Steps for an excellent view of Philadelphia's skyline under the moon.
Photograph: Courtesy Visit Philadelphia/B. Krist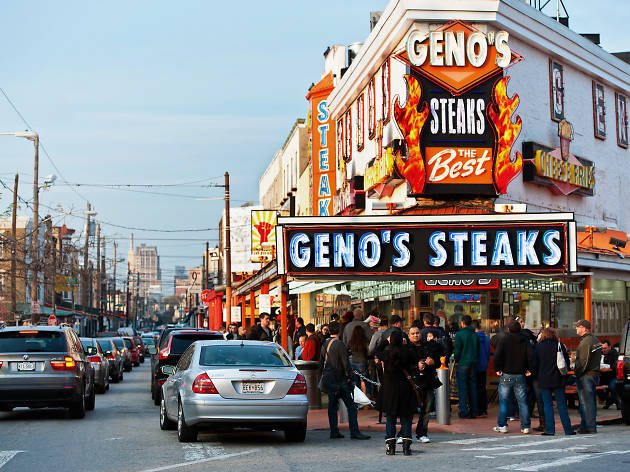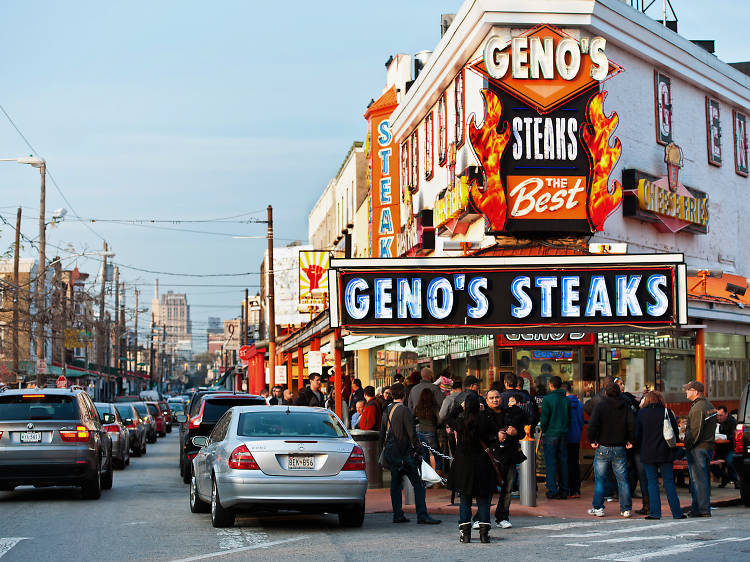 Photograph: Courtesy Visit Philadelphia/J. Fusco
4. Philadelphia Cheesesteak Tour by Segway
If you're visiting the city to find the best Philly cheesesteak in Philadelphia, this is the tour for you. Hop on a Segway to be guided along a two-hour tour of five of Philadelphia's most-popular spots for cheesesteaks. The five-mile trek also doubles as a neighborhood tour, zooming you through popular 'hoods like Chinatown, the Italian Market and Bella Vista. Along the way you'll pop into five sandwich shops, which could include Jim's Steaks, Ishkabibbles and the oh-so-popular Pat's and Geno's aka "Cheesesteak Vegas." Along the way, you'll learn the history behind the famed Philly cheesesteak sandwich and glean insight from some of the shop owners about their secret recipes.
Photograph: Courtesy Visit Philadelphia/J. Fusco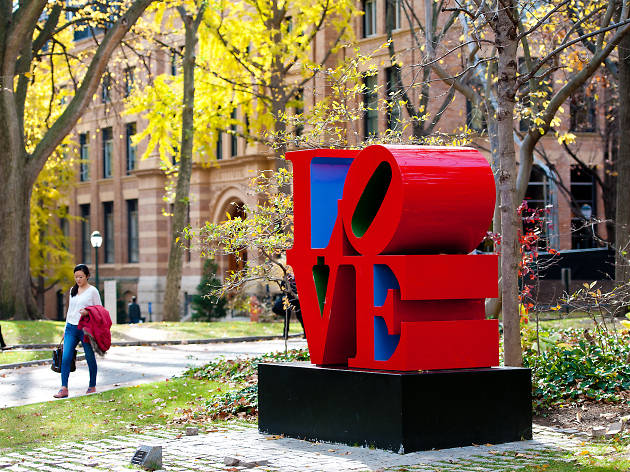 Photograph: Courtesy Visit Philadelphia/J. Fusco for GPTMC
5. Walking Tour of Penn and Drexel
For scholarly types who may turn their nose up at a cheesesteak, this educational tour takes you to University City to explore the campuses of two of Philadelphia's most revered universities: the University of Pennsylvania (Penn) and Drexel University. In approximately two hours and 30 minutes, you'll saunter through both campuses (which lie within a stone's throw from one another), admiring some of the schools' most iconic buildings, like Frank Furness's architectural masterpiece Fisher Library, and stop in cool mini parks where you may see a replica of Philadelphia's famed LOVE sculpture. At the end, you and your tour group can grab a bite at some of the food trucks stationed along Spruce Street before hopping on a trolley to close out the adventure.
Photograph: Courtesy Visit Philadelphia/J. Fusco for GPTMC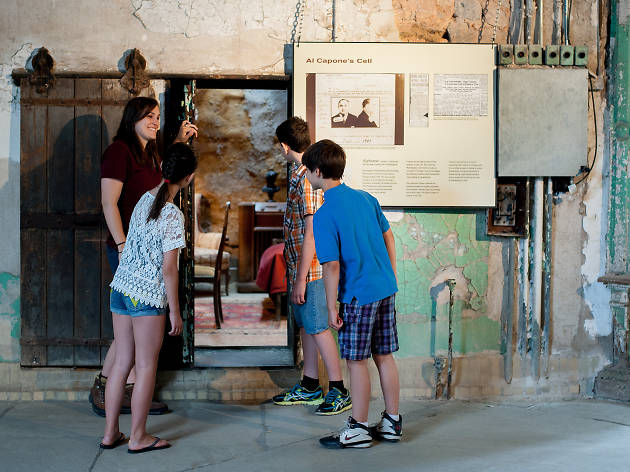 Photograph: Courtesy Eastern State Penitentiary
6. Philadelphia 3-Combo Tour with Eastern State Penitentiary
For deal-seekers, this three-pack combo tour gets you three Philadelphia experiences at a sweet discounted rate. First, you get a ticket for a hop-on, hop-off double decker bus tour, which is good for a full day. Be sure to hop off in Old City to take advantage of your second deal: a 75-minute walk that offers a history of Benjamin Franklin's all-important time in Philadelphia by tracing his footsteps past some of his old haunts, such as Independence Hall and Christ Church, where Franklin and other founding fathers—and presidents!—did their worshipping. Lastly, your combo tickets grants you entry at Eastern State Penitentiary, the notorious prison that once counted dudes like "Slick Willie" Sutton and Al Capone among its inmates.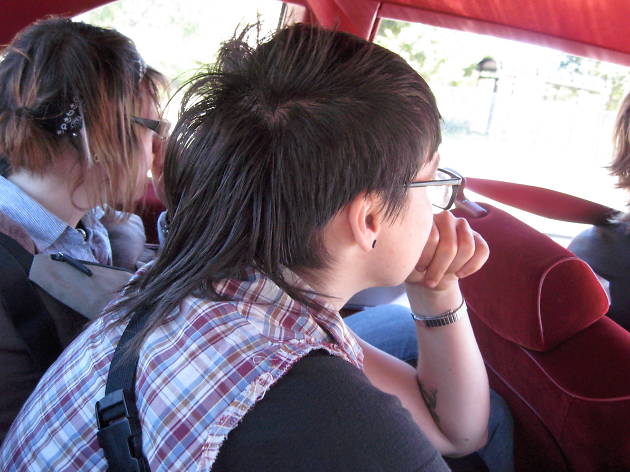 Photograph: Courtesy CC/Flickr/Rebecca Olarte
7. Full-Day Private Philadelphia Driving Tour
Want to see Philadelphia without having to deal with all the crowds? You and up to five of your closest friends can hop in this private minivan tour of the city, equipped with an expert guide who will have your undivided attention. You can choose an eight-hour or 10-hour option, both of which traverse the city from the Delaware River to the Schuylkill River, taking time to get an in-depth look at sites along the way. Your driver will arrange a ticket for you and your guests to go inside Independence Hall, he'll take you to Reading Terminal Market for lunch. shopping and a cheesesteak taste test, and continue on to see everything from the Navy Yard (something that isn't included in most tours, the Philadelphia Stadium Complex and even some of the most gorgeous murals around the city. Since it's more of a private affair, you'll have the option of steering your driver to the spots that most interest you.
Photograph: Courtesy CC/Flickr/Rebecca Olarte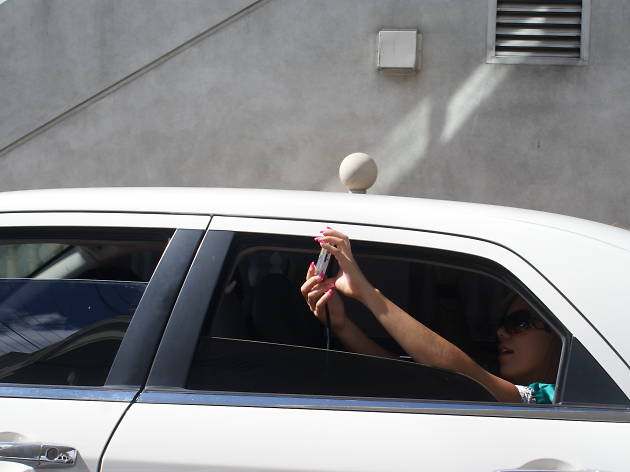 Photograph: Courtesy CC/Flickr/Bradley Gordon
8. Half-Day Private Philadelphia Driving Tour
If you can't fit a full-day driving tour in your schedule, opt for this condensed version. The half-day option gives you the chance to request a morning or afternoon departure and sticks mostly to the biggie sites (think: Eastern State Penitentiary, all the historical gems in Old City, the Italian Market and more) and some lesser-known neighborhoods. Again, your driver has a route in mind, but you can customize the journey by telling him about the sites that are most important to you.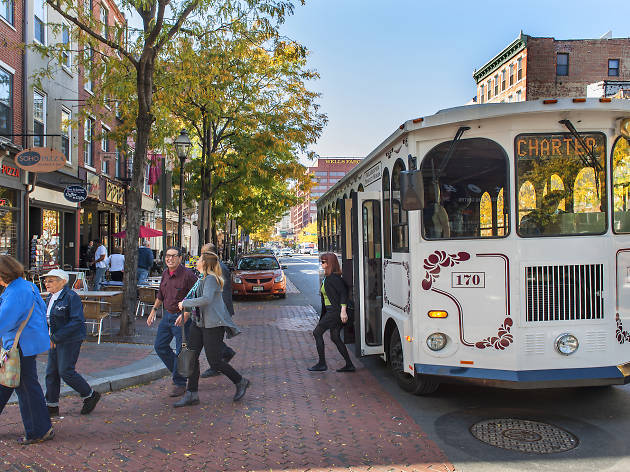 Photograph: Courtesy Visit Philadelphia/R. Kennedy for GPTMC
9. Hop-on Hop-off Trolley Tour of Philadelphia
This tour gives you the hop-on, hop-off touring option with the added benefit of a charming Victorian-style trolley ride. The comprehensive tour includes stops at 27 major sites, including all the biggies like the Old City historical sites, Reading Terminal Market and the Philadelphia Museum of Art. But there are a few extras here, as well. Consider hopping off at Macy's, which is located in a national landmark building that houses the largest playing organ in the world. If you ride on a Sunday afternoon, stop at Headhouse Square to browse a fantastic local farmers' market. Have kids in tow? They'll lose their minds—and all that extra energy—with a romp through the Please Touch Museum. The trolley is in operation from 5 to 9pm, so you have a whole day to get out and explore.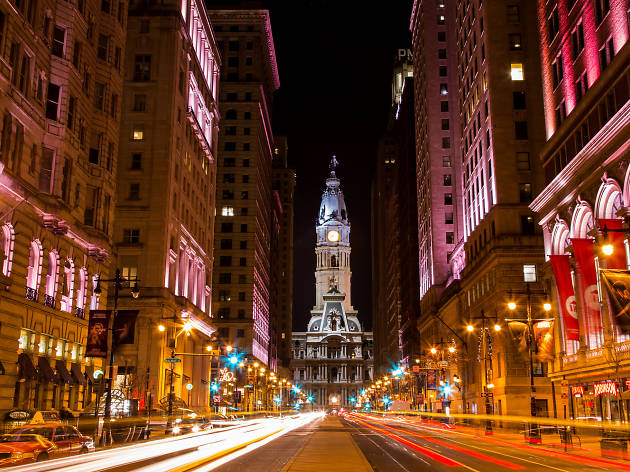 Photograph: Courtesy CC/Flickr/Dave Z.
10. Philadelphia Evening Double Decker Bus Tour
This tour caters to the night owls among us, with a 16-mile tour of Philadelphia that begins at 8pm. Find a spot on the top level of the open-air double-decker bus for optimal viewing The after-dark tour begins in Center City and crisscrosses its way through town to take in as many sites as possible—from Old City to Benjamin Franklin Parkway and back through Chinatown where you'll pass under that neighborhood's ornate red arch before returning home around 10pm. The faint of heart should be aware: This tour also swings you past Eastern State Penitentiary, which looks all the more ominous as it looms above you under the moonlight (cue: evil laugh).
Photograph: Courtesy CC/Flickr/Dave Z.