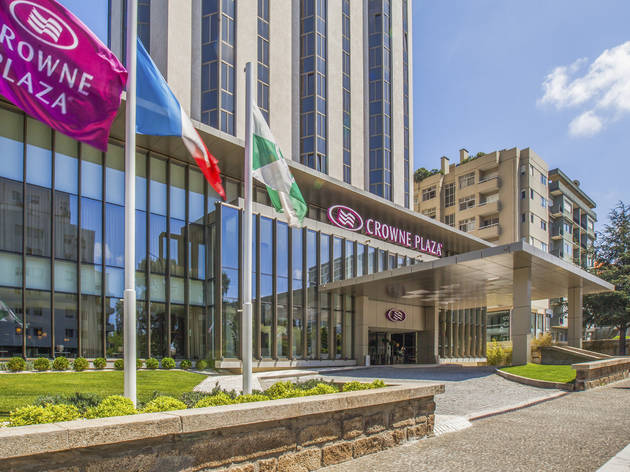 Best Chain Hotels in Porto
Not much of a risk taker? No worries, you can stick to what you know. These are the best Chain Hotels in Porto
Porto has amazing hotels from international chains. Choose what you value the most - location, comfort or food - and find the hotel that suits you best.
Best Chain Hotels in Porto
Immerse yourself in Porto's history by bunking down in the city's old post office. Once you know this small detail about the bright red building's past, the stamp printed carpet, postcards in the corridors and rubber stamp wall features all make sense. Moreover, rewind back to the 18th century when the building lived the high life as a palace, and you'll understand the NH's rather stately appearance.
The five-star Porto Palácio is a schmick hotel with elegant rooms, marble bathrooms and a splendid spa. It's geared towards business travellers, but if you're a fan of getting your zen on in a mood-lit underground pool with steam, spray and bubble jets galore, you might just fancy this hotel too. . The location towards Porto's seaside means the Palácio has some pleasant ocean views, and the hotel's swish rooftop lounge mimics the feel of the Park Hyatt Tokyo's New York Bar (ok, so at 19 stories, maybe it's not quite as tall, but it's a good effort for Porto).
The Crowne Plaza is located in Porto's commercial district of Boavista and is geared towards business travellers. The 232-room hotel has a few stories to tell though, with big names like Bob Dylan, Liza Minnelli, Prince Charles and Princess Diana walking through its doors since the building's opening in 1984. (The hotel has changed names over the years and became the Crowne Plaza in 2014). Guest comfort is a priority at the Crowne, with double-glazed windows blocking out traffic noise from the busy Avenida da Boavista, and nice extras like lavender pillow spray are offered to facilitate a revitalising snooze.
Fancy something different?
If you're a rockstar, self-made billionaire or hotel snob, you're well used to the finer things in life, accommodation-wise. So do yourself a favour and stay in one of Porto's best luxury and five-star hotels.
They say size doesn't matter – and these boutique hotels prove it. Whether you're in search of a chilled atmosphere, historic location or just a generally welcoming vibe, book one of these small Porto hotels for a stay with character.
There's no bigger luxury than waking up overlooking a river. And the Douro is no ordinary one – it's one of the major rivers in the Iberian Peninsula. Get your camera ready because your Instagram feed is going to leave your friends green with jealousy. Don't overthink it, just go for it.