Best hotels with a river view in Porto
The Douro river is – without a doubt – Porto's most valuable asset. Here are the best hotels with a river view in the city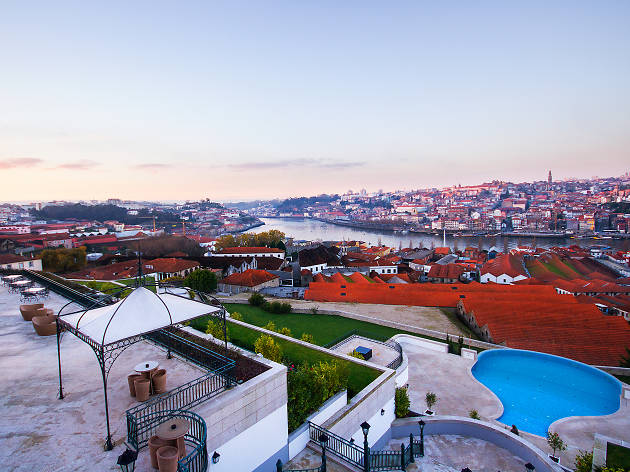 There's no bigger luxury than waking up overlooking a river. And the Douro is no ordinary one – it's one of the major rivers in the Iberian Peninsula. Get your camera ready because your Instagram feed is going to leave your friends green with jealousy. Don't overthink it, just go for it.
Best hotels with a river view in Porto
If you're a wine aficionado with five-star tastes, The Yeatman has got your name on it. The hotel is set on the hillside of Vila Nova de Gaia, directly across the Douro from Porto, meaning that the views from all 83 rooms, plus the pools, bars and restaurants are spectacular. The Yeatman serves as an ambassador for Portuguese wines and works in partnership with 78 producers.
You can't get a better location than Porto River, because, true to its name, it's located on … Porto's river (that would be the Douro). This is the place to stay if you want to be smack bang in the tourist-centric Ribeira district and is where you'll find alfresco dining aplenty, street stalls, buskers, and basically, everyone having a good time. The rooms are big, bright and airy and you can choose from a studio, one or two-bedroom apartment, or suite. Naturally, the river-facing rooms let you see all the riverside action, but light sleepers might prefer a quieter room at the back.
If you fancy feeling like a prince or princess on your trip to Porto, book yourself into an eighteenth-century palace. The Palácio do Freixo's baroque architecture is stunning (not to mention super-Insta-worthy) and it overlooks the Douro with stellar river views. Inside, sky-high frescoed ceilings and gilt detailing steal the show, while the Nasoni Bar and Palatium Restaurant offer regional drink and food. Front-facing rooms have views over the river, as do the hotel's outdoor terrace, infinity pool and jetty, which is lined with sun loungers. There's a spa, a heated indoor pool, a steam room, gym and sauna. Unless you're up for a 45-minute walk along the river to the historical centre you'll need to catch the hotel's free shuttle bus, which departs every 30 minutes.
To enjoy the Douro
Every day, Porto locals keep in shape with a seaside jog along the Avenida Brasil in Foz (bus 500) or along the Matosinhos Coastal Road ('Marginal', subway Matosinhos Sul). It's a no-brainer – the road goes in a straight line – and the landscape will take your mind off your burning thighs and calves.
Things to do, Walks and tours
There is a world to discover on the other side of the river – the views, the wine cellars, the food and much more. Cross the D. Luíz I Bridge, people!
Instagram alert! Here's our ultimate top 10 list of Porto's unmissable sights, including gardens, wine cellars, beaches, the river, monuments and, of course, those incredible views…