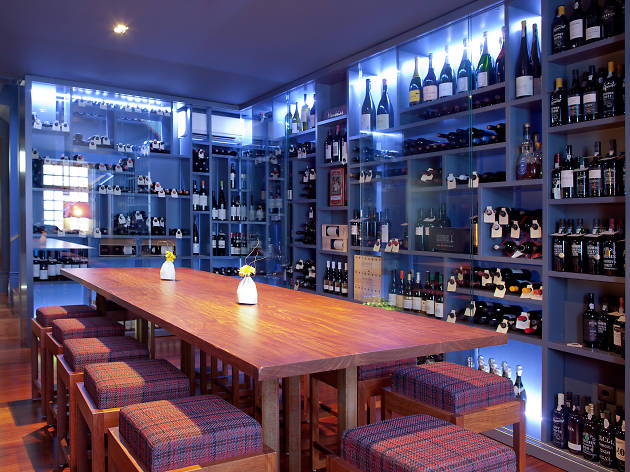 Porto's best restaurants for wine lovers
Like good wine? This list is for you. Here are Porto's best restaurants for people who like drinking decent wine with their dinner
Whether you're into pinot noir, chardonnay or fruity rosés, you won't have trouble finding good bottles at affordable prices in Porto. For wine lovers and experts, Porto has plenty of restaurants with excellent food and enviable cellars. Here are the best.
Porto's best restaurants for wine lovers
We're not shy about the things we love, and we love everything about Adega São Nicolau. The menu is full of great choices – such as chicken bordelaise, octopus fillets with rice or the perfect appetiser, cod cakes. But we also have to mention the extensive wine list covering the entire country, the desserts (all homemade), the outdoor tables facing the Douro river and then there's the great service – António Coelho has been doing this since he was 11.
Time Out tips:
– The restaurant is small, the queues are large. Make a reservation or be prepared to wait.
– Do try the tongue stew.
– A regular of the Time Out Restaurant Guide top 5.
O Paparico really earned its five stars in its Time Out review. It treats Portuguese cuisine as it should, employing seasonal produce so creatively that the only way to make sense of it is in a tasting menu. The experience is organised into five moments, comprising – get your belly ready – more than ten different plates. Such as? Lobster rissole with fish roe, Setúbal-style red mullet or veal with quince. Save room for the creative-yet-traditional desserts.
Time Out tips:
– O Paparico has 1,200 bottles in its wine cellar (yes, you read that right).
– Two under-30s run the kitchen: William Blake and pastry chef Fábio Quiraz.
– Not only is the food typically Portuguese, its stone walls and fireplace are too.
Off the beaten path and away from the tourist trail, Pedro Lemos has his eponymous restaurant in an old, narrow alley in Foz. There you can have either a five or seven-course tasting menu, or order à la carte – and make sure you opt for wine-pairing too. Staff are friendly and, unlike many other Michelin-starred restaurants, the mood is relaxed – very much like the chef himself.
Time Out tips:
– Vegetables come straight from the chef's garden on the terrace.
– The restaurant is in a two-storey building with a fireplace and space for 30 people.
– Tasting menus cost either €100 or €120, for five or seven courses.