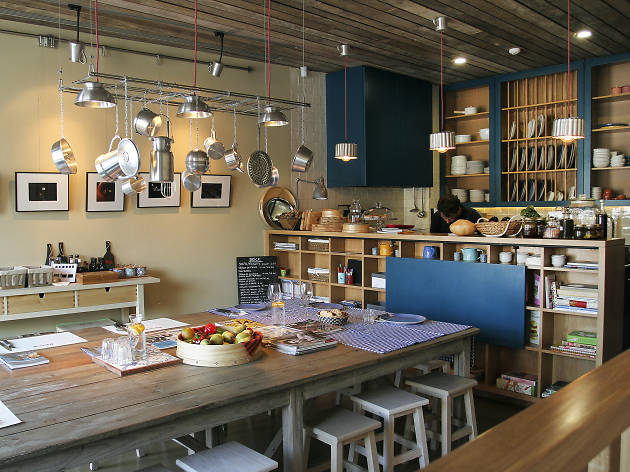 The best child-friendly restaurants in Porto
Searching for a place and menu that will leave the whole bunch happy? Look no further – here are the best child-friendly restaurants in Porto
Traveling with kids can be hard sometimes, especially when it comes to dinner time. If you're looking for a place where you can have a pleasant meal, while your kids are happy playing around, you've just arrived at the right place. Book a table for the whole family at the best child-friendly restaurants in Porto.
The best child-friendly restaurants in Porto
Brick Clérigos is probably one of the city's most beautiful restaurants. It has a large wooden table filling up the main room, kitchen utensils hanging from the ceiling and a cutlery cupboard in the middle of the dining room. Yes, it's possible a stranger will ask you to pass the salt, but that's part of this restaurant's charm. The concept was developing a place to remind you of a (good) friend's home, with an open kitchen almost next to the community table as the finishing touch. But wait, the cherry on top of the cake is the food. There are cheese boards, hot and cold sandwiches, all kinds of salads. Everything healthy and very Instagram-friendly.
It's a fact that a day at the beach will make you hungry, and you might need something more substantial than a salad. If that's the case, or if you're simply craving good burgers, go to Peebz, in Foz. Not only is it one of the few local restaurants specializing in burgers, this is the district's coolest location – the name means "the coolest person you will ever meet". The restaurant's success is due to its burgers, made with beef of good quality and combining different products. The bread, slightly sweet, is custom-made by the Cristal bakery; chips are crunchy and some have traces of its peels. Vegetarian options are also offered.
There's nothing like a good pizza. If it's a real Neapolitan pizza, even better. Antonio Mezzero is the pizzaiolo in charge of the masterpieces coming out of the wood-burning oven in this Matosinhos pizzeria. It's a small location, as per tradition, and the red-and-white checkered tablecloths are there too. And then there are high quality pizzas, made according to Neapolitan rules: thin crust, thicker borders, quality toppings. Take our advice and order the Generale, with mozzarella di bufala. If you want to try good Parma prosciutto, order the Zíngara.