The top 5 day trips from Porto
Venture out on a day trip from Porto and explore everything from scenic waterfalls to the oldest village in Portugal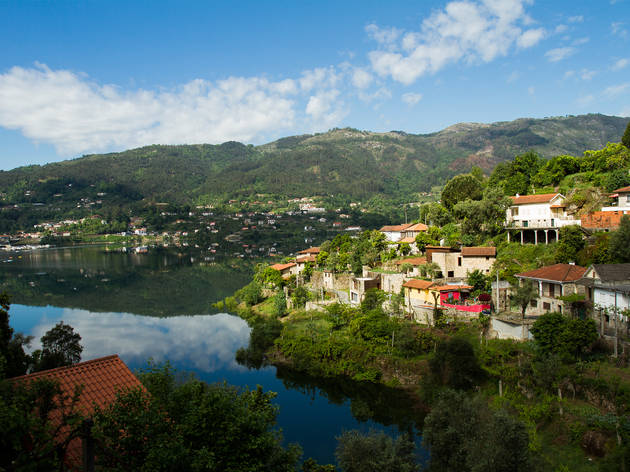 Though there are plenty of attractions and things to do within city limits, day trips from Porto are incredibly easy and diverse—from historic villages to picturesque small towns and scenic getaways. Read on to discover the ideal escapes from Porto, or check out the city's most beautiful buildings and instagrammable places if you're planning to keep things local.
The top 5 day trips from Porto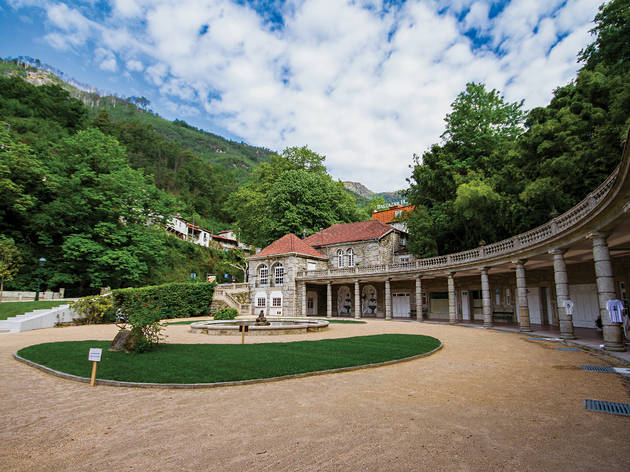 ©João Saramago
Gerês: probably one of the most beautiful places on Earth
Whether for a full holiday or just a weekend getaway, you don't need an excuse to pack your bags and go discover Gerês, a real paradise in northern Portugal.
We explored the villages and mountains, we tried the local cuisine and dug up great stories. And we already want to go back. Follow our tracks and dive into nature in its purest form.
PLACES TO EXPLORE
Tahiti waterfall and Ermida
A perilous descent through rocks and tree roots is the only way to get to the Tahiti waterfall, officially named Cascata Frecha de Barjas, and considered one of the most beautiful spots in Gerês. Even before that, you'll need a Jeep or an off-road motorcycle for almost half of the journey, which starts on the road that links Vilar da Veiga to Ermida. You'll have to drive about 5 km to reach the Cabril junction. Turn right and continue to the bridge over Rio Arado, and park your vehicle. From there, get ready to test your leg brakes, as what follows is a steep and treacherous slope. Wear comfortable clothes and shoes, bring water and a camera - essential to capture the gorgeous landscapes you'll come across. The water falls into crystalline lakes, which are full of swimmers in the summer.
On your way back, very close to the Arado waterfall and the Pedra Bela viewpoint (the best panoramic view of the Gerês Natural Park), don't forget to have a quick wander around Ermida, which was voted one of the Village Wonders of Portugal (Aldeias Maravilha de Portugal). It's a community village, in the sense that all decisions, from painting a wall to tearing it down, are made collectively by all the inhabitants (the majority wins), who are always ready to help.
The submerged village of Vilarinho das Furnas
Vilarinho das Furnas, which is today entirely submerged, is one of the main tourist attractions in Gerês. It disappeared in 1972, when the Vilarinho das Furnas dam - which you should also check out - was built. If the water level of the Homem river allow it, you can see vestiges of granite houses, but this usually happens in prolonged drought periods. Luckily or not, with the lack of rain that has been plaguing Portugal, the probabilities of getting that nice scenery are very high.
Diverlanhoso: one of the largest adventure parks in the Iberian Peninsula
If there's one place where you're certain to enjoy everything Gerês has to offer - including extreme sports and accommodation in houses made of tree trunks - it's Diverlanhoso, one of the largest adventure parks in the Iberian Peninsula, in Póvoa de Lanhoso. We know sometimes you don't have time for everything, and since we know one of the unmissable experiences in Gerês is precisely to engage in extreme activities, we're taking you straight to the place where you'll find a bit of everything - with the added bonus of being surrounded by the most beautiful landscape in northern Portugal and, if all goes well, mild temperatures that allow for full enjoyment of the adventure. The park's activities are organised following the four elements of water, air, earth and fire and range from rafting to kayaking, rock climbing to slides, paintball to shooting sports.
PLACES TO EAT (VERY) WELL
A meal at 800m altitude?
Where? At O Abocanhado, in Brufe, one of the most famous restaurants in Gerês. Barrosã veal, bacalhau (codfish), goat meat and game are some of the specialities of this wooden and granite venue. The average price of a meal is around €23 per person, and trust us when we say the view pays for itself.
Lugar de Brufe, Terras de Bouro. +351 25 335 2944
Regional gastronomy at Adega do Ramalho 37 years ago, Lino Ribeiro opened Adega do Ramalho. But if his name is Ribeiro, why call it Ramalho? Because of a simple garden bench next to the restaurant, called Banco do Ramalho in homage of writer Ramalho Ortigão. The roasted veal and veal cutlets are the house specialities, and the owner tells us tourists love them. The space is rustic, with stone walls and, for colder days, a fireplace to warm up the atmosphere. For dessert, don't miss the homemade chocolate mousse. A complete meal costs about €15.
Assureira, 21, Vilar Da Veiga. +351 25 339 1336
Grilled bacalhau at O Victor
Some restaurants act almost as religious venues, and O Victor is one of them. It's in São João de Rei, in Póvoa de Lanhoso, and even though the menu offers other options, the grilled bacalhau (codfish) on a bed of onions and roasted potatoes is the only choice for the majority of diners. Portuguese celebrities like Jorge Amado, Manuel Cargaleiro, Diogo Freitas do Amaral, Pedro Santana Lopes and Vítor Baía have eaten there. Victor Peixoto, the manager, tells us the restaurant is already on its fourth "compliment book". Yes, there's a compliment book, and after you're eaten there, you'll understand why. Finish with the crème brûlée, burnt just before being served. Average meal price around €25.
São João de Rei, Póvoa do Lanhoso. +351 25 390 9100
SLEEPING IN & OUT
Santa Maria de Bouro Monastery
It's a reference when it comes to luxury accommodation in Gerês. The Santa Maria de Bouro Monastery, or Amares Monastery, was a Cistercian monastery in the 12th century. Today, after brilliant refurbishing by award-winning architect Eduardo Souto de Moura, it's one of the most beautiful inns in Portugal, and is part of the Small Luxury Hotels of The World network. The granite façades, typical of the area, are one of its trademarks, along with its tile-covered walls and arched ceilings… and, of course, the restaurant's display of traditional conventual desserts. The swimming pool and tennis court are only details when the surrounding landscape is the Peneda-Gerês National Park. Double rooms from €90.
Largo do Terreiro, Santa Maria do Bouro. +351 25 337 1970
Termas & Spa do Gerês
This is a three-in-one venue: hotel, thermal baths and spa. And there's nothing better than these relaxing activities in Gerês - if only because after the long daily walks, you'll be ready to let it all hang out and take care of your body and mind. It's right in the middle of the town, and has therapeutic programmes for every taste, from romantic ones to calming ones. And while you're in the land of abundance, why not try one of the weight loss or detox programmes. Hotel night from €53. Thermal baths are paid separately and have to be booked in advance.
Rua Dr. Manuel Gomes de Almeida, Gerês. +351 25 339 1113
Parque Cerdeira
It's the ideal resting place for backpackers with limited budgets. For those of you who love camping, we're not exaggerating when we say this is one of the most incredible spots to spend the night, and that if you sleep at Parque Cerdeira, you're guaranteed to feel close to nature. There are spaces for tents, as well as bungalows and dorms. And if that wasn't enough already, there's also a good restaurant and outdoor activities, including canoeing, mountain biking or horseback riding. Alternatively, if you don't want to worry about tents and other camping concerns, there are fully-equipped bungalows that offer a bit of extra comfort, without compromising any of the connection with the surrounding landscape.
Rua de Cerdeira, 400. +351 25 335 1005
PITSTOP!



Buy regional products at Sabores do Bosque 
It sits right next to Cantinho do Antigamente, so there's no excuse not to go. A piece of advice: visit the Sabores do Bosque shop before your meal - it will whet your appetite. There's Gerês honey, biscuits, tea, liqueues, cheeses and, sometimes, cornbread. Perhaps the best way to bring a piece of Gerês home with you.
Lugar de Sá, Terras de Bouro. +351 96 636 8117
Take some local crafts home
Before heading home, it's time to fill a bag full of souvenirs from the area. At Artesanato do Gerês, there is a multitude of wooden objects - the raw material of choice - including cars, boxes, boards, slates and kitchen utensils. The business started in 1940 with Humberto Carvalho, and is today in the hands of his grandson - who also inherited his name.
Avenida 20 de Junho, 45, Vila do Gerês. +351 91 749 2127
©DR
Vila Nova de Cerveira, Moledo and Caminha
This is a well-known trilogy and usually, whoever goes to one goes to all three. After all, they're all in the same area.
WHAT TO DO
Cerveira, the starting point, combines the best of two worlds: beaches and culture. In the second department, there's the Rio Minho Aquamuseum, the Castle and the Vila Nova de Cerveira lookout, and Cervo, a 1985 sculpture located on the highest hill of the district, in the middle of the Serra da Gávea. And whoever goes to Cerveira also goes to Moledo and Caminha, mainly to look for sea and sunshine… the weather conditions are not always that favourable, but it's always worth a wander. In fact, many Porto residents go to the beach in Moledo. The majority have family in the area, and the others have been going to this beach since they were kids, which makes them feel at home there. They are used to the wind and choppy sea, and they refuse to walk away just because there's a risk of sandstorm. They are raw people who get along with inclement weather, and who love Moledo the way fishermen love the sea.
WHERE TO EAT
If, however, you venture as far as Praia da Mariana, in Afife, you may find a less windy beach. And while you're there, you might as well try the salted sea bass with seaweed at restaurant A Mariana (Estr. Pedro Homem de Melo, 42). Another option is Pra Lá Caminha, in Caminha (Av. 25 de Abril) famous for its strangely-named sandwiches, like "Luís Ah Leão!!!" and "Alminhas de Merda" (literally "little shit souls", and yes, it's edible and delicious). The third stop is Vila Praia de Âncora, in Caminha. After a dip in the sea, grab lunch at Amândio (R. Direita 129, Caminha), where you may just stick to the 22 starters on offer. In mid-afternoon, take a quick trip to the Pincho waterfalls, in Amonde. Back in Cerveira, end the day with Padrón peppers at Palma (R. 25 de Abril, Moledo). For a drink and a dance after dinner, head to Rua Direita, in Caminha.
WHERE TO STAY
Of course, in order to see it all, you'll need a break in the middle and for that, you can opt for Hotel Rural da Quinta da Malaposta (Largo Virgínio Fiúza, Vila Nova de Cerveira), a 19th century venue that presents the characteristics of the Romantic architectural movement, of for Hotel do Minho (N13, Vila Meã), which is from this century, with a well-equipped spa to recharge your batteries.
©Susana Matos
Ponte de Lima once had the opportunity to upgraded to city level, but refused. It chose to remain the oldest village in Portugal, a historical piece of rustic Minho where nature seems untouched.
WHAT TO DO
It's no wonder that this village is known as the garden capital: not only does it host the International Garden Festival, but it also boasts many blissful green spaces, like the sculptural Parque Temático do Arnado (Caminho da Oliveirinha, Arcozelo), a little world of its own, with Jardim Romano, Jardim Labirinto, Jardim Renascença, Jardim Barroco and the botanical garden. Another special place is Lagoas de Bertiandos e São Pedro de Arcos, a protected landscape north of the Lima River with 350 hectares, rare plants and a varied fauna.
WHERE TO SLEEP
When it comes to accommodation, Carmo's Boutique Hotel (Estrada Nacional, 203, Gemieira) is probably one of the most magical hotels in the country, combining the fantastic universes of doll houses and the luxury of glamping. This year, there are 12 rooms and three suites on offer, and the novelty is the Deluxe Suite Tents, perched on the ground in a remodelled corner where you can casually relax in the panoramic bathtub hidden between African cloth curtains. A less exuberant and more economical option is Mercearia da Vila, an old store turned into a hotel, restaurant and traditional food shop (Rua Cardeal Saraiva, 34).
WHERE TO EAT
As for food and drinks, you can have trust: in Ponte de Lima there are no gourmet invention; wherever you go, you'll be able to eat well, for cheap and in large portions, anything from sarrabulho to octopus à lagareiro. At Taverna Vaca das Cordas (R. Beato Francisco Pacheco, 39-41), right in the town centre, the focus is on traditional beef dishes, with the most authentic Minho cuisine, served in a warm family atmosphere. The veal à minhota, the octopus and the grilled codfish are incredible, but if you order in advance you can also have a memorable codfish rice. And once in a while, there's singing in the dining room. If that's the case, join the party. Then, if you like to be surprised and only find out what you're about to eat when they put the dish on the table, go to Bocados Restaurante. It's a small venue that only works by reservation. You'll be served good Minho food made with the produce available that day. There's certainly no shortage of shad, sarrabulho, game and lamprey dishes, in the right season.
©DR
Driving along the Aveiro Lagoon is a beautiful experience that really makes you feel like you're on holiday. If you're someone who can't survive without beach time and sunbathing, it's wise to spend a few days in Torreira and Furadouro before taking a quick trip to Aveiro.
WHAT TO DO
Here, the most valuable suggestion we can offer, since this is a beach getaway, is to come with a wind block and a little jumper to be comfortable. The days can be hot but they become inexplicably windy as the evening falls, so that if the idea is to enjoy the sunset over the sea, it's better to come prepared than to have to give up for lack of a jacket. A must here is the (romantic or not) visit of the mind-blowing Dunas de São Jacinto – a natural reserve made of sand stretches, woods and lakes where you can do some wild camping – and a long walk on the beaches of Torreira, Monte Branco, Cortegaça or Furadouro, with more sand than the eyes can see.
WHERE TO SLEEP
You can spend the night at Pousada da Ria (Bico do Muranze, Torreira), which sits on the thin stretch of land that links Murtosa to the beaches of São Jacinto, leaning over the lagoon; at Furadouro Boutique Hotel Beach & Spa (Av. Infante D. Henrique, Ovar), if you prefer to fall asleep to the gentle rocking of the sea or, for a more low-cost option, at Cool and Sea Beach House (R. dos Arrais 7, Ovar), a typical beach house with six bedrooms.
WHERE TO EAT
In this fishermen's land it would almost be sacrilege to choose outside of the fresh fish menu. But since we don't all have the same tastes, there are various restaurant options close to the sea, with a varied offering. When you get hungry, head to restaurant Avenida Praia (Largo da Varina), with fresh fish, or pizzeria Calábria Mar (R. Arrais João Faustino, 83), both in Torreira and capable of satiating the whole family. For dinner, go to Furadouro to eat fresh fish, more specifically at Restaurante O Tasco (R. dos Mercanteis, 30), which always has a line of people surrounded by the smoke of the grill at the door. Then, it's time to have a drink in Torreira, at Café da Praia or Esplanada da Ria, which is also seafood restaurant, with a nice garden to enjoy a late dinner outside, followed by a few rounds of cold beer.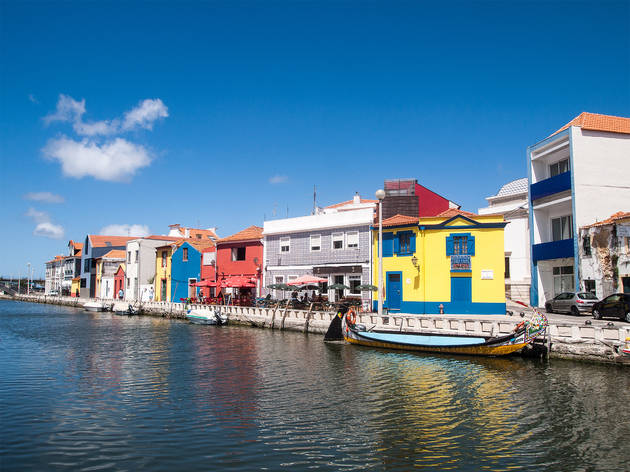 ©Jorge Gonçalves
Costa Nova, the region of Aveiro, deserves a mention: with its beach and haystacks, its little houses painted with brightly-coloured vertical and horizontal lines - a unique sight in the country and maybe in the world - it is one of the places where it is absolutely impossible not to stop for a picture (or a thousand of them, since you'll want one of each colour).
WHAT TO DO
After a few hours on the beach of Costa Nova (bear in mind this is a windy area and the water is freezing), the best meal is a chocolate "tripa" (a traditional Aveiro dessert), or a "bolacha americana" (hard waffle) with Nutella, the two most popular sweet snacks on the main street that runs alongside the lagoon.
Then, in the direction of Aveiro, check out Salinas, where you watch the process that produces the purest national salt and stock up for your house. Walking towards the centre of the city that's also known as the Portuguese Venice due to the canal that runs through the historical centre, there's the José Estêvão fish market on Praça do Peixe, right in front of the lagoon, the nightlife neighbourhood where you'll find many fresh fish restaurants, bars, shops and cafés. In this area, there's Hats & Records (Largo da Praça do Peixe, 1), a vintage and modern vinyl and hat store; Portuguese food shop 3 Metades (R. José Estevão, 82); and the gorgeous Art Nouveau Museum (R. Dr. Barbosa de Magalhães, 10), a venue that explores the strong presence of Art Nouveau around the city, with a tea room that's very popular a night time. In terms of bars, we recommend a visit to the emblematic Mercado Negro (R. João Mendonça, 17). In the same street, you'll also find Ilha dos Puxadoiros, a store that sells all kinds of salt and regional delicacies, and the vintage shop Porta Verde. Don't end your visit without a tour of the central canal of the Aveiro Lagoon on board of a "moliceiro" (pay attention to the funny decorations referring to rural "pimba" culture on the boats).
WHERE TO EAT
Aside from ovos moles (a local delicacy made of eggs and sugar), which can be found around every corner, another Aveiro classic is the beloved burgers of Café Ramona (R. Eça de Queiroz, 12), but they must be preceded by a visit to Biscoito (R. Dom Jorge de Lencastre, 7), which combines a café, a workshop and an art gallery into tone venue - an artsy and welcoming space where the city's cool people like to meet. Out of the historical district, in a more modern part of the Lagoon, is one of the most surprising sushi restaurants in the area, Subenshi (Rua Carlos Aleluia, 4), which has become so famous among Porto residents that they come to Aveiro just for the raw fish, and the restaurant opened another branch in Porto. This one, the flagship venue, is worth a visit for its fusion menu, but also for its friendly service.
WHERE TO SLEEP

If you want to stay in the centre of Aveiro, opt for Hotel Moliceiro (R. Dr. Barbosa de Magalhães 15/17), and ask for the room with the four-poster bed - the rooms are all different and some of them are inspired by movie stars. It has an exquisite atmosphere and family-style service. Another safe bet is Meliá Ria Hotel & Spa (Cais da Fonte Nova, Lote 5), which is also a four-star venue, with a more practical atmosphere. If you would rather try something new, head to Histórias Por Metro Quadrado (Largo do Rossio, 1), a boutique hotel inspired by the history of the city, which boasts an amazing view of the Aveiro Lagoon.