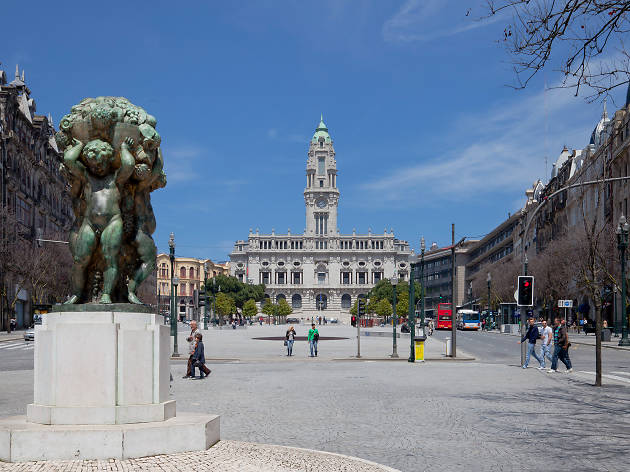 The most beautiful buildings in Porto
Classical, old or contemporanean, they are part of the city's cultural heritage, and as such, mandatory stops for any visitor
Designed by the great masters of national and European architecture - some of which have been recognised by international awards - these building tell the story of the city people sometimes call Invicta, for the crucial role it played in Portugal's many battles. They also remind us that Porto is one of the most beautiful cities in the world. Not convinced? Go see them and check for yourself.
The most beautiful buildings in Porto
Since its opening in 1906, it has gone through three great restorations - the most recent in 2017. Inspired by the neo-gothic architectural movement that was very popular in England in the 18th and 19th century, it's an undeniable part of Porto's patrimony. From the outside it's already impressive, but it's inside, with its huge wooden staircase, stained glass windows and ornate ceilings, that people really fall under its charm. Unfortunately, the excess of curious people who walked in "just to have a look" has prompted the bookstore to charge €4 for entry (deductible from any book purchase).
Rua das Carmelitas, 144. +351 22 200 2037. 10am-7.30pm.
Construction started in the middle of the 19th century, and it took almost 70 years to be finished. Today, precisely 176 years since the laying of the first stone, it's one of the most beautiful and most visited buildings in Porto, with close to 250,000 entries a year. The fact that it's on the way to the Ribeira may help with footfall… but there's much more to the building's popularity. First, the Pátio das Nações, where you'll struggle to decide whether to look at the ceiling's glass and wrought iron dome, or at the ornate mosaic floor. Then, further on the guided tour, you'll find the Salão Árabe, with its gold-lined plaster ornaments; and the Sala dos Retratos, with sculptures by Soares dos Reis. Guided tour in different languages cost €8 (€4.50 for children).
Rua do Infante Dom Henrique, 4050. 9am-6.30pm.
We're pretty sure your trip's to-do list includes finding azulejos (Portuguese tiles). In Porto, hundreds of historical buildings are covered with them, in a multitude of colours and patterns, but few can claim to have as grandiose an azulejo panel as the one you will find on the side of the Carmo Church. Located on a busy corner between Rua do Carmo and Praça Carlos Alberto, it causes lines of tourists waiting to get closer to this baroque/rococo-style white-and-blue wall to get the mandatory picture. Social media aside, it's one of the most beautiful buildings in the city, not just because of its azulejo panel, but also because it is twinned with the Carmelitas Church, an 18th century building with a granite façade, today occupied by the National Republican Guard.
Praça de Gomes Teixeira, 10. +351 22 332 2928.
If we had to pick just one, this would be it: the Clérigos Tower is indisputably Porto's most iconic monument. Built during the first half of the 17th century by Italian Nicolau Nasoni (whose work is also found elsewhere in Porto), the tower is the city's most important Baroque Era building. Brace yourself and climb the 240-step stairway. You won't regret it when you reach the top. You can also visit the church, the Our Lady of Lapa Crypt, the Collection of the Clérigos Brotherhood and the Christus religious art collection.
There's no way to walk through Boavista without stopping to photograph the architectural institution that is Casa da Música. This modern (and controversial) building by Dutch architect Rem Koolhaas was the source of many heated debates, but once it was done, even the most reactionary voices agreed that this is one of the most beautiful and significant event venues built in the past century. Tastes aside, it quickly became a must-see for any modern architecture tour visit in the city, and one of the greatest cultural icons of the country. It has two main auditoriums, but all the other independent parts of the building can be adapted for shows, educational activities, concerts and workshops. There are guided tours in Portuguese, English and French for €10 per person.
Avenida da Boavista, 604-610. +351 220 120 220. 11am-4pm.
It's at Parque de Serralves, between oak trees, birches and wildflowers, that you'll find the most representative piece of contemporanean architecture in Porto. Built on a slightly sloped terrain, it managed to adapt harmoniously, establishing a dialogue between its majestic shape and the surrounding setting of pure nature. Designed by Siza Vieira, the building that holds the museum was inaugurated in 1999 as the main centre for modern art, from the end of the 1960s to today. Walking further into the park, it's worth following the signs to the famous Casa de Serralves, one of the best examples of Art Déco in the city, with its perfectly landscaped gardens and leafy surroundings. Entrance to the museum with access to the park costs €10 per person.
Rua Dom João Castro, 210. +351 22 615 6500. 10am-7pm.
It's the perfect combo for those who love architecture and gastronomy. Casa de Chá da Boa Nova is one of few buildings in Portugal (and the only one in the Porto area) to combine these two qualities. It was one of the first pieces of work of Álvaro Siza Vieira and remains one of his most acclaimed, not just because of the building's beauty, but also for its second-to-none location, right on top of a cliff, two metres away from the sea at Leça da Palmeira. With its clean lines and window wall overlooking the ocean, it was designed as a tea room, but after many years unoccupied, it awakened the curiosity of chef Rui Paula, who turned it into a luxury restaurant, Restaurante Casa de Chá da Boa Nova, after a refurbishing in 2014.
Rua da Boa Nova, Leça da Palmeira. +351 22 994 0066. 12.30pm-3pm; 7.30pm-11pm.
We're not certain, but we can almost guarantee that this is one of the only cruise terminals open for guided tours. In fact, this is the only way to get to know the inside of one of the most magnificent buildings in northern Portugal, voted Building of the Year in 2017 by ArchDaily. From afar, it looks like an unfolding spiral, and it's only closer that you realise the façade is covered with over a million hexagonal azulejos made to order by Vista Alegre to create this effect. Some observers compare it to the Sydney Opera House because of its location close to the water, and it's no less imposing than its Australian lookalike, with its huge open-air amphitheatre with a 14-metre slanted wall that opens into the sea. Guided tours (only for groups) from €5.
Porto de Leixões, Marosinhos. Find out more by emailing marketing@apdl.pt
It's one of those projects that kept getting delayed, moving from developer to developer and architect to architect until reaching its current recognisable form at the top of Avenida dos Aliados. It started being built in 1920, and after various interruptions in the construction, it's only in 1957 that it was inaugurated as the official headquarters of Porto City Council. The 70-metre-high central tower has a classic chime clock and is accessible via the nice and easy climb of a 1,980-step spiral staircase. It's just as impressive on the inside, and hides artistic and architectural assets that are worth a prolonged visit, from fresques by Dórdio Gomes and sculptures by Maria Alice Costa Pereira to the century-old porcelain and furniture kept in the Salão Nobre.
Rua Clube dos Fenianos, 5. +351 22 209 7000. 9am-3pm.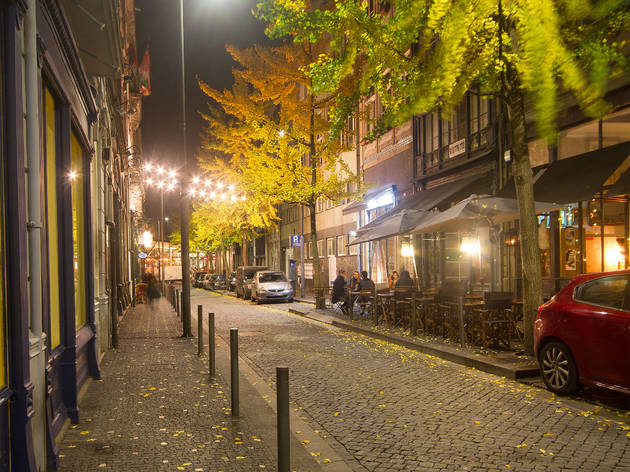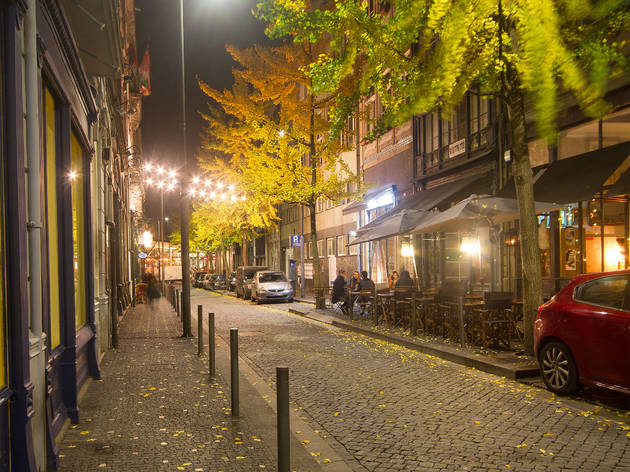 ©João Saramago
Walking down Rua das Carmelitas in the direction of Baixa and suddenly entering Rua da Galeria de Paris, there's a moment, a fraction of a second, when you forget you're in Porto. Whoever knows Paris will notice the obvious architectural similarities and yet, despite the references to Art Nouveau, it all fits so well and so subtly into Porto's setting that it seems to have forever been part of the city's configuration. Actually, the street only opened in the 20th century, with the objective of creating a pedestrian area covered by a glass roof (very similar to those seen in the streets of the City of Lights). It ended up staying "uncovered" for many years - too many, in fact - almost forgotten and rented out to small alternative businesses that were looking to set up shop for cheap. In the middle of the 2000s, the opening of the first bar changed the dynamic, and one by one, more bars and restaurants popped up, bringing life back to the street. Nowadays it's the epicentre of Porto's hustle and bustle, with some of the city's most emblematic bars. It remains perfectly preserved and is without a doubt one of the most beautiful streets in Porto.
Best selling Time Out Offers