Top NYC attractions for families
While NYC is no doubt a destination for adults who flock to the city from all over to explore world-class museums, dine at fabulous restaurants and visit famous attractions, kids and families can have an equally grand time here. The top NYC attractions for families will wow everyone in your crew. The city is chock full of fun for the whole family, from kid-friendly Broadway shows and museums to family-friendly restaurants and outdoor activities. Even the littlest ones can enjoy the city, with plenty of toddler-friendly things to do. In fact, it's likely that any attraction you might want to visit will have something geared towards the kids too, whether it's iconic attractions like the Statue of Liberty or bucolic destinations like the Brooklyn Botanical Gardens. These spots can be entertaining and educational for all ages. From Coney Island to Times Square and beyond, check out these NYC attractions that your kids will love. This article includes affiliate links. These links have no influence on our editorial content. For more information, click here.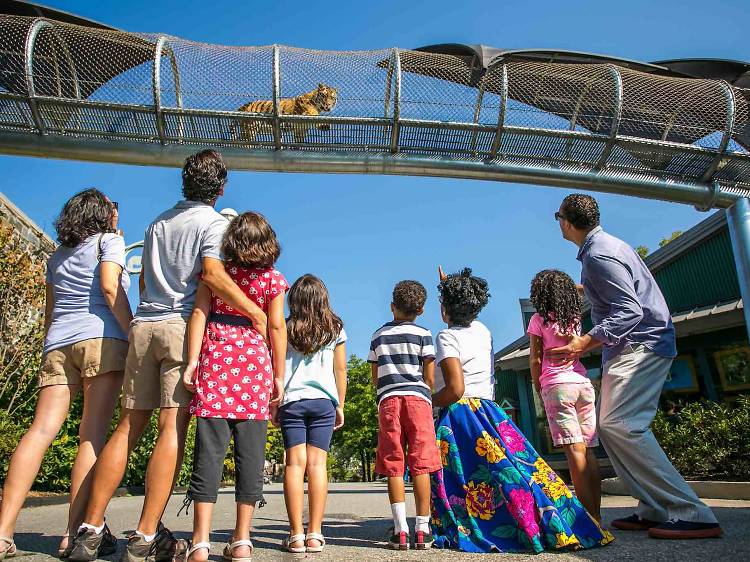 The 25 best things to do in Philadelphia with kids
There are more things to do in Philadelphia with kids than simply noshing on cheesesteaks the size of your face—though that's definitely on our list. Whether the little ones are dying to see cool animals at the Adventure Aquarium or they're eager to run, jump and play at museums made just for them, there's something for curious and creative kiddos of all ages in The City of Brotherly Love. We promise some of these are not even meant for tourists! From a special museum that encourages you to break the rules to the longest-standing zoo in America, we've got you covered. Ready to explore? RECOMMENDED: Full guide to the best things to do in Philadelphia RECOMMENDED: The 15 best attractions in Philadelphia  
The best family-friendly cafés in NYC
Whether you're looking for a new coffee hub to help the kids with homework or a spot to sneak in a snack break, here are some of our favorite family-friendly coffee shops to fill every caffeine (and cookie!) craving. While you're at it, you might check out our favorite spots to grab rainbow food, our list of the top cereal restaurants in town and these great spots to grab a soul-warming cup of hot chocolate.