Jaime Brockway is Time Out's former North America National Copy Chief.
Here's what happens when 4 adults try to make new friends in NYC
There are plenty of awesome things to do alone in New York, but on the days when you're desperately missing the Thelma to your Louise, it's nice to know that there are ways to make friends instantly in the city. Much like the world's best dating apps, there are Gotham-centric friend-making apps and meet-up groups that match folks up with their future bestie. That's why we asked our editors to test 'em out and make an attempt to fulfill their #squad goals. The results? Go on—see for yourself! Here's what it's like to bike across all five NYC boroughs in a single day
Yesterday, I joined 32,000 cyclists in the Financial District for Bike New York's 5 Boro Bike Tour, a 40-mile joy ride through New York City's five boroughs. And never again will I be able to bike so gleefully through the city's streets (until next year's tour). I managed to score the second of five start waves and took off from Church and Dey Streets at 8:10am on Sunday. Around me, my fellow bikers were in high spirits. The tour is supposed to be fun, not a race, so I saw riders of all ages and skill levels and bikes of all kinds: some souped-up with with "exhaust pipes," stereos and horns instead of bells. (Signs throughout the ride warned us that blowing those horns would result in a $350 fine, which bikers merrily and loudly ignored.) Several riders were pedaling horizontally on recumbent bikes, while others pumped away on stand-up pedalboard bikes. I was surprised to see a fair amount of tandem bicycles holding couples and parent-child pairs. The tour shot straight up the normally car-packed Sixth Avenue and through Central Park. It was amazing to coast through Soho, Greenwich Village and especially midtown (usually the cycling section of my nightmares) without giving a single thought to cars or traffic lights. Groups of friends wore cutesy, odd helmet attachments, like orange antennas and small doughnut pillows, to easily find each other in the crowd. After cycling through Harlem, we did a quick, short loop through the Bronx before heading back to Manhattan and hitting The Playdate Project: Aponi and Katherine
Were Aponi and Katherine a friend match made in heaven? We sent these mini New Yorkers on a blind (play)date in the city. Let's find out if they became new BFFs!    THE PLAYDATE: Scrapbook-making session at the Fujifilm Wonder Photo Shop. 176 Fifth Ave (929-239-4262, wonderphotoshop.com)   ABOUT Aponi, 9 (LEFT): Neighborhood: Bedford-Stuyvesant Ideal playdate: Hanging out at somebody's house or roller-skating ABOUT Katherine, 10 (RIGHT): Neighborhood: Hell's Kitchen Ideal playdate: Something related to Harry Potter or art   Favorite thing about NYC: APONI: "I have an alarm clock without needing to buy one. There are sounds coming from every which way!" KATHERINE: "We have really good pizza. Claudio's Pizzeria on 43rd Street and Tenth Avenue has the best."   First Impression: APONI: "I thought she was shy, but she's outgoing. She's not afraid to show me her pictures." KATHERINE: "I thought she'd be shy and not talkative, but she's very friendly. We were talking about our photos."   Best Part: APONI: "It was making the scrapbook. Drawing, stickers—anything with glitter is in my domain." KATHERINE: "Hmm. I really liked designing my scrapbook and getting to meet Aponi today."   Friend Potential: APONI: "Not sure. I haven't gotten to spend a lot of time with her. Five stars, but I hope it'll turn into six!" (Playdate Rating: 5/5!) KATHERINE: "I think we both like crafts and we're both creative. I could hang out with her again!"(Playdate Rating: 5/5!)   Want to get set up? E-mai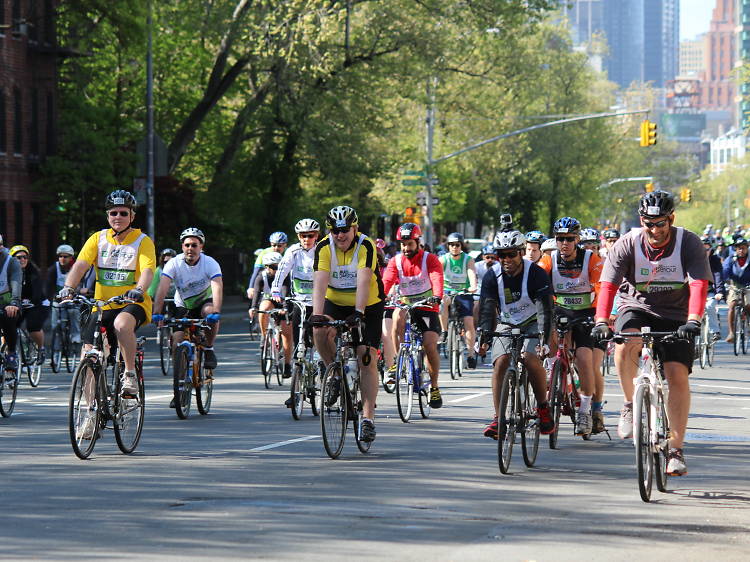 Register now for the Five Boro Bike Tour
Registration for the 40th Five Boro Bike Tour, NYC's largest organized bike ride and the biggest charitable ride in the U.S., opened today at noon!   RECOMMENDED: The complete bike New York guide   This spring, more than 32,000 riders from around the world will flood New York City on May 7 to wheel through the metropolis's completely car-free thoroughfares. The 40-mile route, for all ages and skill levels, travels through all five boroughs of the city before ending on Staten Island, where rubber-legged bikers can rejoice at the Finish Festival.   The citywide bike event always sells out, so be sure to grab the coveted $100 standard tickets pronto. VIP tickets are $340, but you get several perks like guaranteed placement in the first start wave, an official commemorative 40th-anniversary TD Five Boro Bike Tour jersey and access to the VIP lounge and a lunch at the Finish Festival. Plus, proceeds fund Bike New York's free bike education programs, which reached more than 17,000 kids and adults last year.   The ride starts in lower Manhattan at Franklin and Church Streets. Bikers head north through Central Park and up to the Bronx before turning south to ride along the East River. Then cyclists cross into Queens and then Brooklyn, where they shoot over the Brooklyn-Queens Expressway before climbing the totally automobile-free Verrazano-Narrows Bridge and descending into the Finish Festival at Fort Wadsworth on Staten Island.   The Finish Festival features giveaways, food concessi