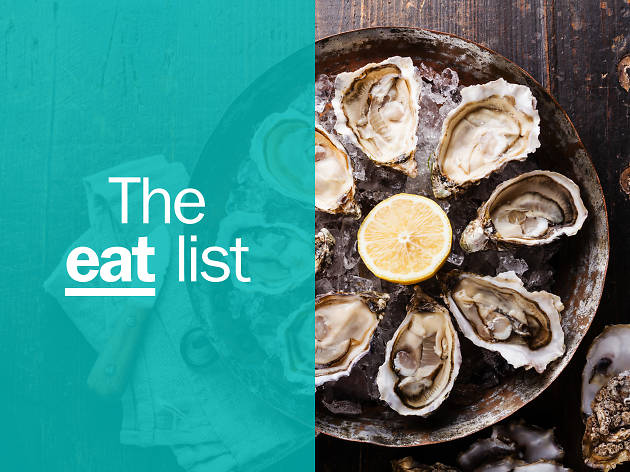 The 11 best restaurants in Providence
You'll find a lot more than buttery lobster rolls and oyster platters at the best restaurants in Providence
While Providence is known for all its intellectuals (besides an Ivy League school there's also the respected culinary school Johnson & Wales) and a vibrant artistic community, the city also serves as the bedrock of an exciting culinary hub full of talented young chefs. Unpretentious and often very affordable, Providence is a food lover's destination in New England, and the smarts and creative hallmarks of the city end up where it shines the best: on the plate.
Best restaurants in Providence
What is it? Comfort food with a southern flair—in Rhode Island.
Why go? You may mistake this Federal Hill hotspot for an eatery tucked away in a New Orleans neighborhood with its menu full of fried chicken and seafood. You'll be tempted to order the entire menu (and all the sides) and it wouldn't be a bad idea as you clean up the trays of fried goodness.
Price: Bargain
What is it? A seafood-centric wine bar where you want to be a regular.
Why go? Italian food reigns supreme in Providence, but chef Benjamin Sukle puts his own fresh take on Italian-American cooking. The crudo (often sourced locally), a big ol' bowl of pasta, and an even bigger glass of sake or vermouth makes for a flawless meal here.
Price: Average
Photograph: Courtesy Yelp/Alexa D.
What is it? It's like coming over for Sunday supper at nonna's home.
Why go? In this intimate Federal Hill favorite, the menu is full of family-inspired recipes from Italy. Fresh mozzarella and salumi may be imported from chef Lia Bellini's motherland, but the her cooking is personal whether you order a plate of slow-cooked meatballs or a bowl of gently rolled pasta.
Price: Average
What is it? Seasonal cooking shines at this New American bistro with a neighborhood vibe.
Why go? Champe and Lisa Speidel didn't lose any personal touches to when moving their restaurant from Bristol to the East Side of Providence. The beautiful plates, whether featuring pristine seafood or locally sourced produce, showcase Champe's impeccable technique and attention to detail. Hanging out at the bar with one of their refreshing cocktails is just as fun.
Price: Pricey
What is it? The casual vibes of an American diner meets serious cooking from a talented chef.
Why go? Buzzwords like local and sustainable are fine and dandy, but that's not what you're fixated on when eating chef Derek Wagner's food. You can't go wrong with a seven-course tasting menu for dinner, but it's brunch and the convivial vibe that's the biggest hit among locals.
Price: Average
What is it? Creative, hipster fare served in a chic downtown hotel.
Why go? Perhaps a reflection of Providence's diverse population, the menu is a bit all over the place with bite-size ham biscuits on one end and dan dan noodles on the other (we'd gladly order both at the same sitting). What's always consistent is the fun factor and a packed dining room.
Price: Average
What is it? A Momofuku vibe with Noma-looking plates focused on local ingredients.
Why go? During your tasting menu experience, don't be surprised to find seawood foraged from nearby waters or grilled local squid. Once you've settled into one of the handful of seats at a U-shaped counter, you're in for a show where the chefs will impress with their ambition (minus the fussiness of fine dining rituals).
Price: Pricey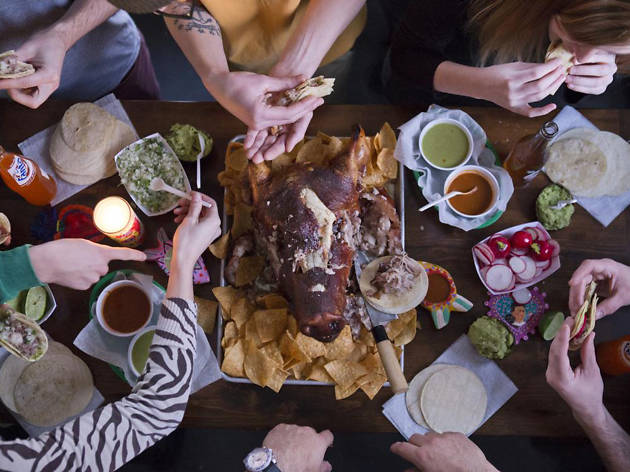 What is it? Go for the chefy takes on Mexican favorites.
Why go? Mexican dishes that are often seen as simple street food gets an upgrade at Jake Rojas' fast casual eatery. Hand-crafted tacos are filled with slow-roasted and braised meats with simple toppings whether you order a burrito, quesadilla, torta, or a bowl (you really can't go wrong with any of their options).
Price: Bargain
What is it? For a step back in time when formal service and white table cloths were the norms.
Why go? First, let's get this out of the way: the food here is solid but you're not getting any bells or whistles in the plating. You go here for the dining room's gilded, French chateaux feel. The New England-inspired menu is perfect for any number of celebratory occasions that require a little glamour.
Price: Pricey
What is it? A sleek Greek version of Eataly with a cafe, market, and restaurant.
Why go? Providence boasts the first outlet of this popular Greek brand located across two floors of the historic Tilden-Thurber building. It's just as easy to grab pita on the run from the deli shop as it is to sit down with a mezze spread with glass of Greek wine at Topos restaurant.
Price: Average
What is it? It's the idyllic seaside, seafood experience you want during a New England summer.
Why go? While this restaurant is about 45 minutes outside of Providence proper, it's worth the trek. You're on the water, so the oysters, scallops and other aquatic treasures are basically plucked out of the sea right in front of your eyes. Add in some sunshine and water views with the fresh seafood and there's no way you'll be disappointed.
Price: Average
Discover Time Out Market: the best of the city under one roof