Santa Cecilia in Trastevere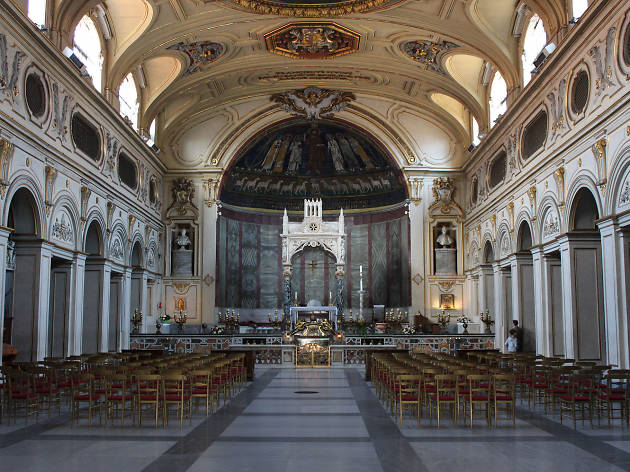 Reputedly built over the home of St Cecilia, this church is a treasure trove.
The current 16th-century church of this magnificent religious complex was built above a fifth-century basilica, which in turn incorporated a titulus, or house where early Christians met. In this case, gruesome legend relates, that house belonged to Roman patrician Valerio, who lived at the time of Emperor Marcus Aurelius. So impressed was Valerio by his wife Cecilia's vow of chastity that he too converted to Christianity. Valerio was murdered for his pains, and Cecilia was arrested while she tried to bury him. Doing away with the saintly Cecilia proved a difficult job for the Romans. After a failed attempt to suffocate her in the house's hot baths they tried to behead her. But only three strokes of the axe were permitted by law, and after the third failed to do the job, as she was slowly dying she sang, securing her place as the patron saint of music. When her tomb was reopened in 1599, her body was uncorrupted.
Sculptor Stefano Maderno portrays her with her head turned away in an exquisite marble rendering beneath the altar. Her sarcophagus is in the crypt. The excavations below the church provide extensive evidence of early Roman and palaeo-Christian buildings; here, too, is the pretty decorated crypt where Cecilia's body lies.
On the first floor, on the other hand, is a choir from where nuns from the adjoining convent could look down over the interior of the basilica from behind a grill. On one wall is what remains of what was possibly Rome's greatest 13th-century fresco – a Last Judgement by little-known genius Pietro Cavallini. With its rainbow-winged angels of all ranks and desperate sinners writhing hellwards, the once-monumental fresco shows Cavallini breaking away from the Byzantine style and giving new light and humanity to the figures.
Venue name:
Santa Cecilia in Trastevere
Contact:
Address:
Piazza di Santa Cecilia, 22
Rome
00153 Roma RM

Opening hours:
Church 9.30am-12.30pm, 4-6pm Mon-Sat; 11.30am- 12.30pm, 4-6pm Sun. Cavallini frescoes 10am-12.30pm Mon-Sat; 11.30am-12.30pm Sun. Archaeological site 9.30am-12.30pm, 4-6pm daily.
Transport:
Metro Circo Massimo