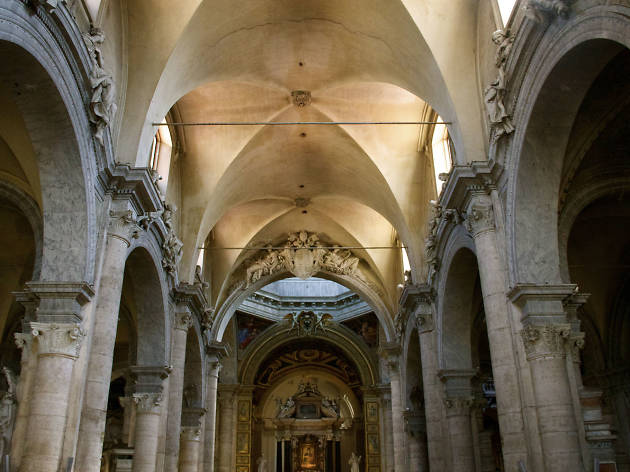 The site of Santa Maria del Popolo was believed to be haunted by demons and so in 1099 Pope Paschal II built a chapel there to dispel them.
According to legend, Santa Maria del Popolo occupies the site of a garden where the ashes of the hated Emperor Nero were scattered. The site was still believed to be haunted by demons 1,000 years later; in 1099 Pope Paschal II built a chapel there to dispel them. Nearly four centuries later, beginning in 1472, Pope Sixtus IV rebuilt the chapel as a church. In the choir (behind the high altar, ask the custodian for permission to pass beyond the curtain) are, unusually for Rome, stainedglass windows, a northern touch created by French artist Guillaume de Marcillat in 1509. The apse itself was designed by Bramante, while the choir ceiling and first and third chapels in the right aisle were frescoed by Pinturicchio, the favourite artist of the Borgias. In Pinturicchio's exquisite works (1508-10), the Virgin and a host of saints keep company with some very pre-Christian sibyls. Most intriguing is the Chigi Chapel, designed by Raphael for wealthy banker Agostino Chigi. The mosaics in the dome depict God creating the sun and the seven planets, and Agostino's personal horoscope: with binoculars you can just about make out a crab, a bull, a lion and a pair of scales.
The church's most gawped-at possessions, however, are the two masterpieces by Caravaggio to the left of the main altar, in the Cerasi Chapel. On a vast scale, and suffused with lashings of the maestro's particular light, they show the martyrdom of St Peter and the conversion of St Paul.
Venue name:
Santa Maria del Popolo
Contact:
Address:
Piazza del Popolo, 12
Rome
00187 Roma RM

Opening hours:
n 7am-noon, 4-7pm Mon-Thur; 7am-7pm Fri, Sat; 7.30am-1.30pm, 4.30-7.30pm Sun.
Transport:
Metro Flaminio