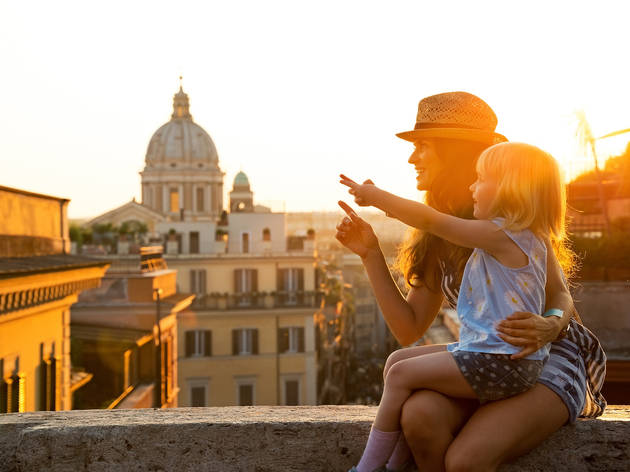 Five fantastic things to do with the family in Rome this autumn
Because we think you might need some help right now...
Rome is one of the most visited cities in the world for good reason. Home to legendary monuments, leafy villa parks and some of the world's most celebrated comfort food, it's a perfect family-friendly destination in any season. This autumn, we've selected five fun experiences you can enjoy safely with children, inside and outdoors.
Relive your childhood with a visit to the Fisher-Price Virtual Toy Museum on Instagram! To celebrate its 90th anniversary, the famous toy company is bringing its most iconic toys back to life in a virtual gallery which you can enjoy together with your kids on your smartphone. From the Chatter Telephone to Roller Skates, you'll be sure to discover nostalgic toys from your own decade.
Rent a rowboat in Villa Borghese
Most people flock to Villa Borghese to see Bernini's lifelike sculptures on display within the Galleria Borghese museum, but the sprawling gardens are filled with hidden gems. From a faithful replica of the Shakespeare Globe Theater in London to a children's movie theater set within a cottage, it's great to explore with kids. Our favorite activity is renting a rowboat in the "laghetto" (little lake) and paddling beside the ducks and swans on the water. The boats are only €3 for 20 minutes and the setting is perfect for family photos, too.
With its mild weather and pretty piazzas, Rome is famous for trattorias where you can dine al fresco and soak in the sunshine. But with kids, why not trade the cobblestone streets for a picnic on the grass? At Vivi Bistrot inside the Villa Doria Pamphilj park, you can enjoy a tantalizing lunch beneath the shade of Rome's iconic pine trees. The à la carte menu features an array of sandwiches, burgers and salads, along with some of Rome's best vegan desserts.
Pizza is one of the most popular foods in the world so your children will love the chance to make their own homemade margherita in the country that invented it! Local travel company Rome4KidsTours offers engaging cultural experiences and workshops around the city, including a pizza workshop for budding foodies. Learn the secrets of a perfect pizza and make your own dough before selecting your favorite toppings and baking your pie in a real stone oven.
If the best way to see Rome is from the back of a scooter, then the second best way is to ride around town in an Ape Calessino. This three-wheeled buggy was invented in 1948 by Piaggio, the same company as Italy's inimitable Vespa, and is a delightful way to explore the city. Join Scooteroma for a ride through Rome to spot landmarks like the Pantheon, Colosseum and Spanish Steps. The Ape seats three passengers in the back, with a driver in front.