The 10 best restaurants in Rosemont
A German beer hall, deep dish pizza and a classic Chicago steakhouse are among the best dining options in Rosemont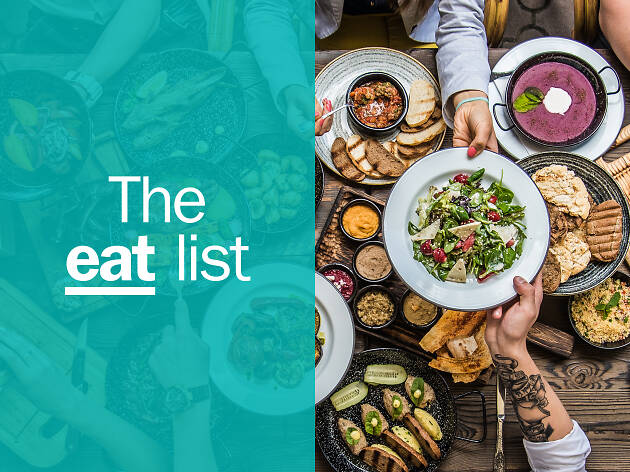 Located just a few train stops from O'Hare International Airport, Rosemont serves as a waypoint for travelers and a destination for residents of the suburbs north of Chicago. Fittingly, the restaurants that populate the area offer an array of cuisines, including outposts of popular Chicago restaurants as well as local eateries serving Italian and Indian fare. The nearby convention centers and hotels host people from all around the world, and Rosemont's restaurant scene reflects that diversity, offering everything from Southern-inspired barbecue to authentic Bavarian cuisine. While the Village of Rosemont isn't all that large, it's filled with interesting dining options, no matter what you're in the mood for.
The best restaurants in Rosemont
1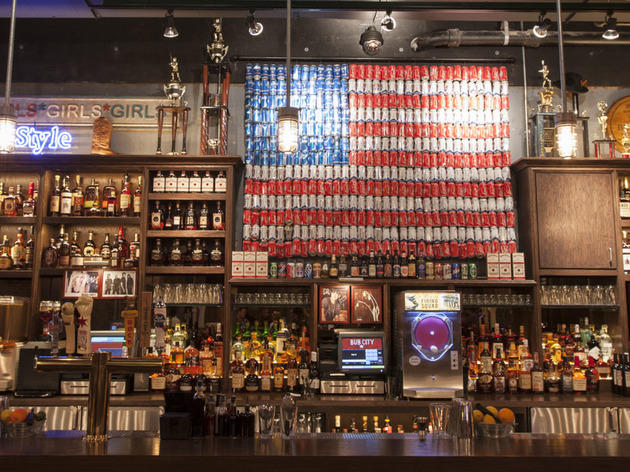 Photograph: Martha Williams
What is it? Try some delicious ribs, brisket and wings while you listen to live country music.
Why go? The wood-paneled wall, hanging Christmas lights and copious neon bar signs lend a rustic feel to this Southern-inspired barbecue joint, which boasts a stage that hosts live performances six nights a week. Snack on an order of fried pickles while you wait for your barbecue platter to arrive, stacked with baby back ribs, smoked brisket and smoked chicken wings—and don't forget to add a side of the classic mac and cheese.
Price range: Average
2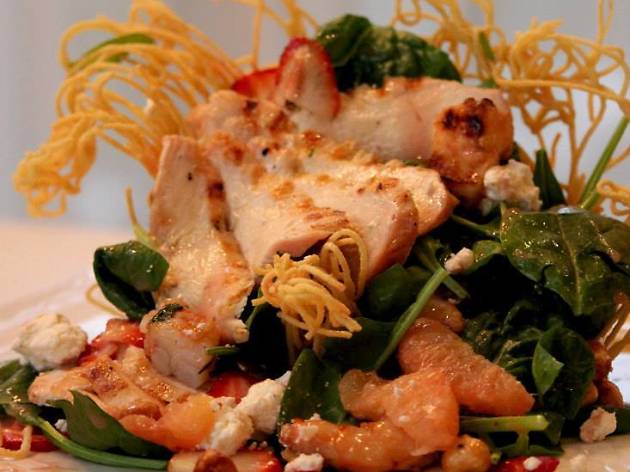 Photograph: Courtesy Carlucci
What is it? Enjoy modern Italian cuisine, including steaks and pasta, paired with a formidable wine list.
Why go? Rosemont mainstay has all the trappings of a classic Italian restaurant, down to the white tablecloths and expansive wine list. Once you've picked a glass (or bottle) of vino, you can carbo-load with a generous portion of housemade pasta, order a freshly-grilled steak or try some pan-seared fish. If you're staying at a hotel in Rosemont, ask your concierge about Carlucci's complimentary shuttle to score a free ride to dinner.
Price range: Pricey
3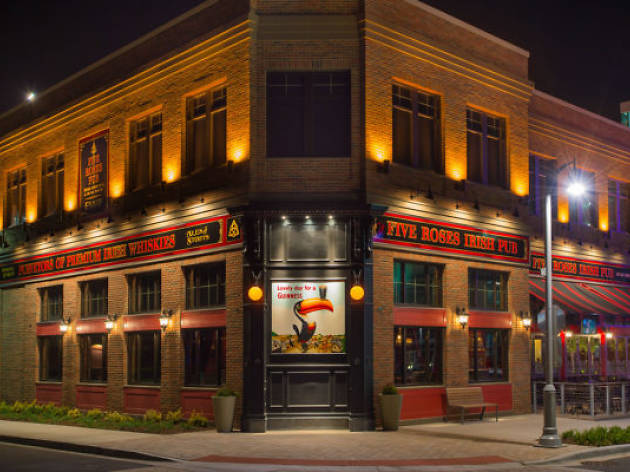 Photograph: Courtesy Five Roses
What is it? Come for the classic pub cuisine, stick around for the late-night dance parties.
Why go? By day, Five Roses is a typical Irish pub, with Guinness aplenty and a menu that features burgers; fish and chips; bangers and mash; and French onion soup covered with a thick layer of cheese. Once the kitchen closes at 10pm each night, most of the table and chairs get cleared out and vibe gets considerably more club-y, with live music, DJs and dancing until 2am.
Price range: Average
4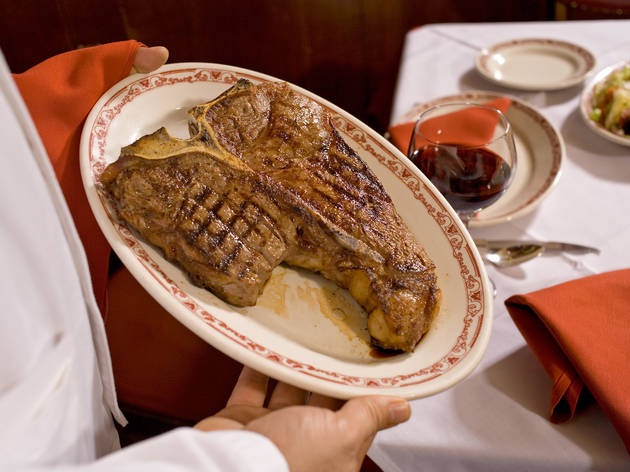 Photograph: Chris Lake
Gene and Georgetti Steakhouse
What is it? Get the full Chicago steakhouse experience, complete with garbage salad, fried ravioli and broiled meats.
Why go? Nearly everything about a meal at Gene and Georgetti's feels a little old-school, which makes sense when you consider that the original location of the Chicago steakhouse opened in 1941. White apron-clad waiters walk you to your seat and fill your plate with delicacies like baked oysters, the salami and cheese-filled garbage salad, broiled T-bone and chicken vesuvio. Make a reservation and prepare yourself for a meal fit for a special occasion.
Price range: Blowout
5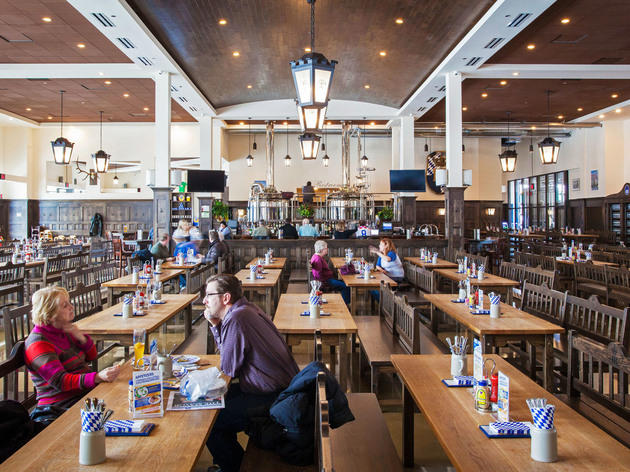 Photograph: Chandler West
What is it? Raise your stein and feast on authentic Bavarian cuisine at this gigantic German beer hall and brewery.
Why go? It almost feels like a year-round Oktoberfest celebration at this popular Rosemont destination, where you can order house-brewed beer a liter at a time while you feast on pretzels, sausages, schnitzel and more. While you're eating, you'll be entertained by bands (some are flown over from Europe) and learn a few German toasts. If you're feeling brave, order a shot served on a paddle that your server will be more than happy to spank you with.
Price range: Average
6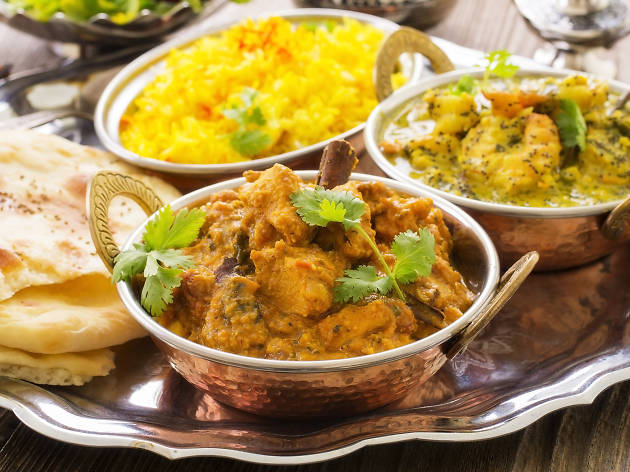 Photograph: Shutterstock
What is it? A modest setting that allows the big flavours in the authentic north and south Indian cuisine to speak for themselves.
Why go? From the outside, Maharaja kind of looks like a convenience store, and even the inside is decorated in a fairly basic manner, but don't be fooled. It's the food that really shines here. If you're there for lunch, order from the buffet, or go all at in the evening on the Maharaja Dinner Special – an epic combo of tandoori chicken, seekh kebab, shrimp, chicken tikka, rogan josh and dal makhani.
Price range: Average
7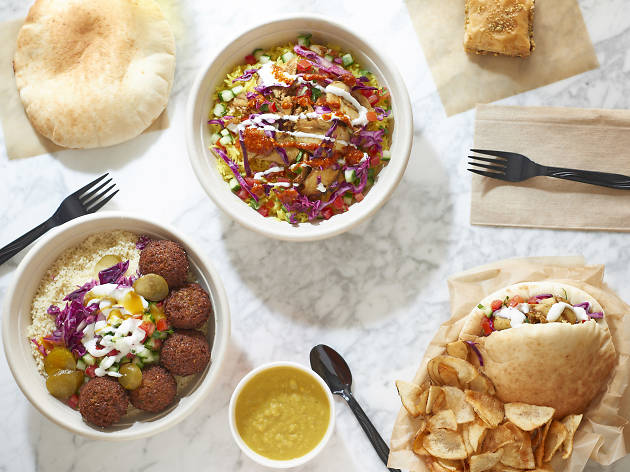 Photograph: Jordan Balderas
What is it? Grab fast, affordable Middle Eastern wraps and bowls, made with quality ingredients.
Why go? If you've been to casual dining restaurant that puts together your order on an assembly line, you know what to expect from Naf Naf Grill. Middle Eastern cuisine takes the spotlight here, with chicken shawarma, steak and falafel serve in wraps, bowls or salads. Give this affordable regional chain a try and don't forget to customize your toppings (extra pickles and garlic sauce for us, please) and add a side of the addictive Naf Fries.
Price range: Bargain
8
Photograph: Courtesy Ram Restaurant and Brewery
Ram Restaurant and Brewery
What is it? Come for beers brewed in-house and burgers stacked with toppings, and stay for an appetizer called "armadillo eggs."
Why go? You've got options when it comes to brewpubs, but Ram Restaurant and Brewery's housemade beer is a good reason to stop by—the chain's porter recently won a gold medal at the North American Beer Awards. Once you have a drink in your hand, check out the menu of decadent appetizers (perhaps some Ahi Poke Nachos), stacked burgers (available with the meat-free Impossible Burger patty) and indulgent desserts.
Price range: Average
9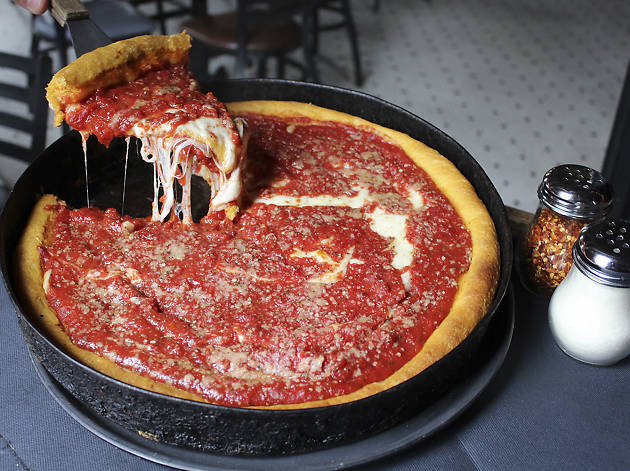 Photograph: Courtesy Gino's East
What is it? Eat some authentic Chicago deep-dish pizza without having to take a train into the city.
Why go? When you're within a 50-mile radius of Chicago for an extended period of time, you need to eat deep dish pizza at least once. There's no better place to get your fix in Rosemont than at Gino's East, which serves the gigantic, cheese-filled pies that will fill you up in two slices or less. If you're looking for a cheap lunch, stop by Monday through Friday between 11:30am and 2pm and you'll score a personal deep dish pizza for less than $8.
Price range: Pricey
10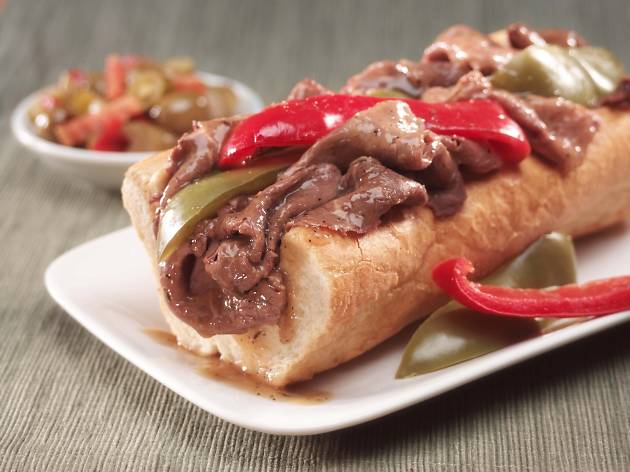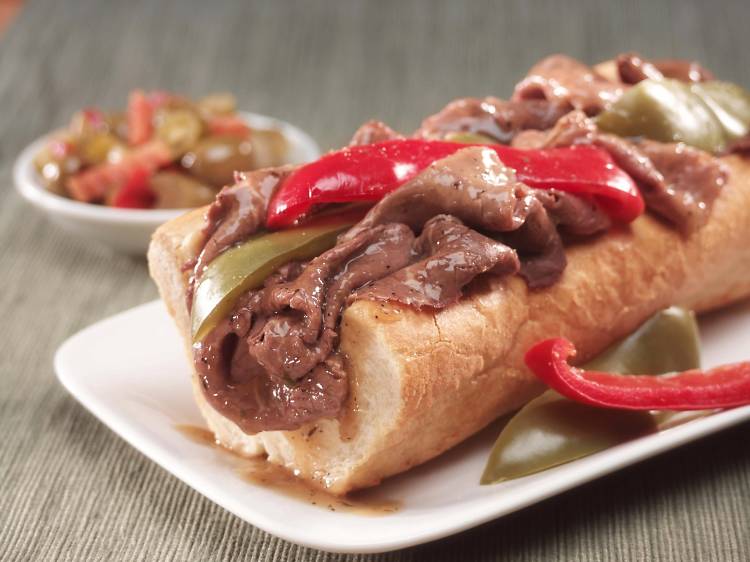 Photograph: Courtesy Buona Beef
What is it? Get Italian beef sandwiches served as wet (or dry) as you want.
Why go? It may not be as well-known as the deep dish pizza, but the Italian beef sandwich is a Chicago delicacy worth indulging in. When in Rosemont, you can get one of the best renditions of the sandwich at Buona Beef, served alongside a menu of pizzas, salads, burgers and more. If you don't mind eating some soggy bread that's soaked with flavor, get your beef "baptized" in the gravy (and grab some extra napkins).
Price range: Bargain
Discover Time Out Market: the best of the city under one roof