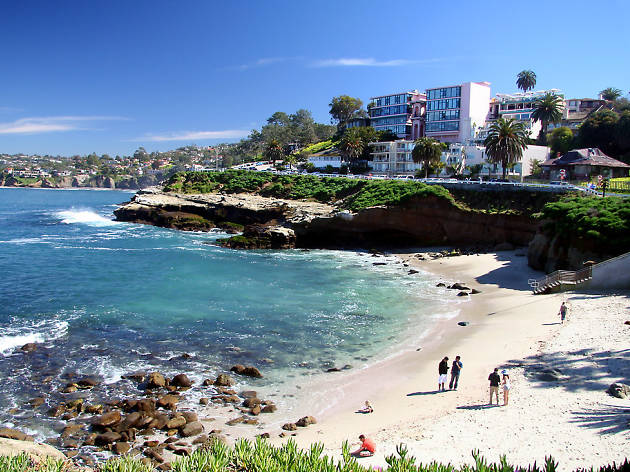 The 20 best beaches in San Diego
'America's Finest City' has a lot of coastline to choose from, but these are our very favorite beaches in San Diego
If sand, sun and surf are the first things that come to mind when you think of San Diego, you're not wrong. The city features over 70 miles of beautiful coastline, stringing together the best beaches in San Diego. Let's be real though, these are also some of the best beaches in California and the world! With everything from secluded coves to buzzing hotspots, each sandy spot offers a distinct flavor and personality. Ditto the adjoining neighborhoods that ooze enviable beach town vibes and boast some of the best restaurants in San Diego. Thankfully, it's tough to go wrong. So break out the beach tote and slather on the SPF; Whether you're in need of a fun thing to do with kids or looking to catch some waves or just some rays, the following sunny destinations are a shore thing.
RECOMMENDED: The best things to do in San Diego
Best beaches in San Diego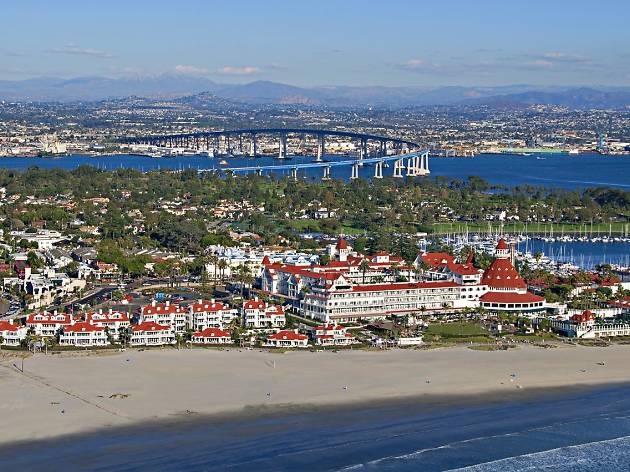 Photograph: Courtesy Booking.com
Anchored by the grand Hotel del Coronado, this iconic white-sand beach is a local gem that literally sparkles. Flecked with the the gold-like mineral mica, the lustrous beach is arguably San Diego's most alluring. Gentle waves encourage frolicking in the shorebreak, while a vast sandy expanse—which never feels crowded—invites sandcastles and kite-flying. The beach was immortalized by Marilyn Monroe in "Some Like it Hot," and you can play the role of starlet with a stay at The Del which gains you access to retro, candy-striped loungers and swanky cabanettes plunked on the sand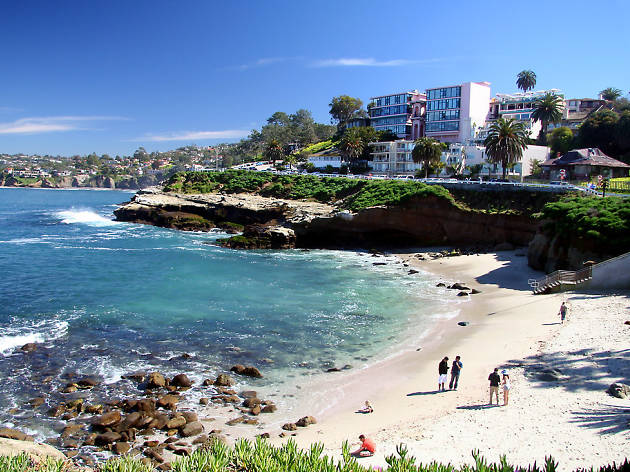 Photograph: Flickr/Wade48
Dive in at this snug, golden sand beach cove with oversized scenery. Along the shores of La Jolla village, you'll discover a striking coastline of sculpted cliffs, sandy coves, and scores of sea life. You needn't strap on a scuba mask to catch sight of the many garibaldi fish darting about turquoise waters. On the bluff above, palm tree-lined Ellen Browning Scripps Park delights with a grassy waterfront expanse. Nearby, The Cave Store hides a 145-step tunnel that leads to the mesmerizing Sunny Jim Sea Cave.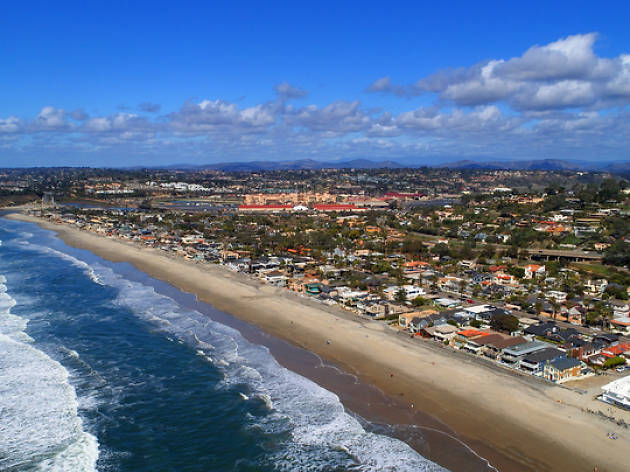 Photograph: Shutterstock/ Kyle Sprague
What is it? Experience seaside perfection in this upscale, aptly named beach town.

Why go? With something for everyone, it's little wonder Del Mar is a San Diego favorite. The two-mile beach is divided by a pair of beach parks with picnic areas and play structures. The northern half offers easy access, primo swimming, and a dedicated spot for leash-free pups. Backed by coastal bluffs, the southern expanse is less accessible, but offers greater solitude. Shops and eateries are a short stroll away, but most never make it past the waterfront patio and sunset drinks at Poseidon on the Beach.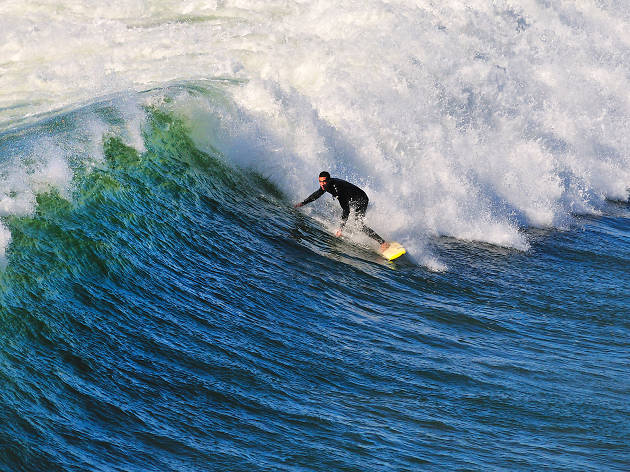 Photograph: Brett Shoaf
Pass the Sun Bum, brah, this is San Diego's hottest beach scene. The best introduction to P.B.—the local term for this wide sandy shore and its boisterous, surrounding neighborhood—is the Pacific Beach Boardwalk. The 3.5-mile waterfront promenade swarms with skaters, cyclists, and pedestrians basking in spirited beach town vibes. Enjoy a relaxed stroll along Crystal Pier lined with historic beach cottages, or let loose at the raucous beach bars just a Red Bull can's throw away.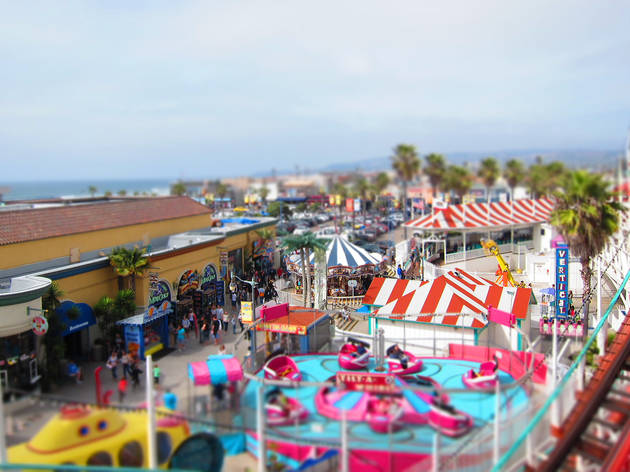 Photograph: Minh Tra
Like a SoCal Coney Island, this waterfront hub features a seaside amusement park, bustling boardwalk, and wide sandy beach. Linked to P.B. via the vibrant boardwalk, Mission Beach sports the same wide stretch of sand as its fun-loving neighbor, but doubles down with thrill rides and midway games at timeless Belmont Park. Just take a spin on the dizzying Giant Dipper coaster before indulging in too many corn dogs.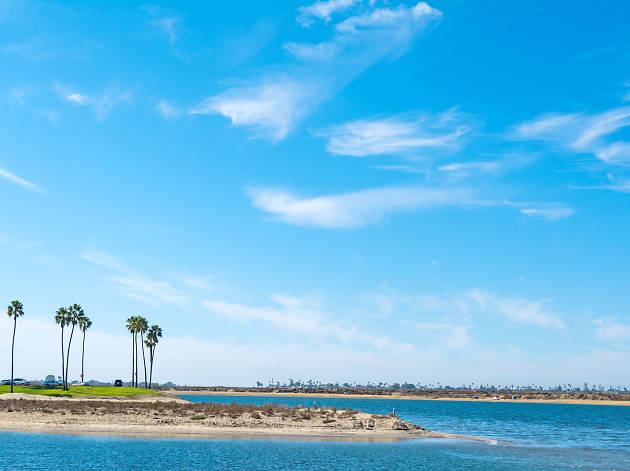 Photograph: Shutterstock/Gabriele Maltinti
A vast shorefront park across from Mission Beach features swimmable beaches, waterfront BBQs, and a countless water sports. Comprised of a sheltered bay and surrounding coast, this 4,300-acre aquatic park offers water play without the riptides. Bay waters teem with jet skis, kayaks, and paddleboards rented from numerous waterfront vendors. Swimming is best along the sandy shores and gentle waters of Playa Pacifica, while Ski Beach hosts lively family BBQs with fire pits, volleyball nets, and picnic shelters.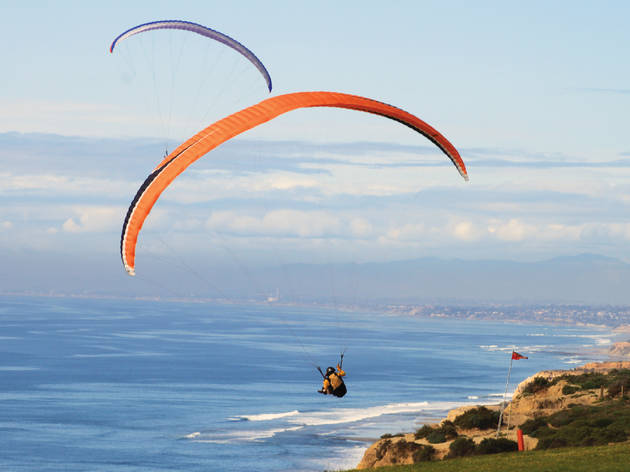 Photograph: Courtesy SanDiego.org
This secluded, clothing-optional beach—California's first—is popular with sunbathers and expert surfers. Tucked beneath the rugged blufftop forests of Torrey Pines State Natural Reserve, the hidden beach is reached via steep cliffside paths including the Torrey Pines Gliderport Trail. Birthday suits are welcome on the northern section, but resist the temptation to skinny dip. Powerful swells are best left to expert surfers.
Photograph: Flickr/Bill Gracey
Gentle waves, swimmable surf, and scenic day use areas make this a destination beach for the minivan set. Locals refer to this wide sandy expanse as Tamarack Beach, referencing the easily accessible stretch at the foot of Tamarack Avenue—a small nearby pay lot fills early on warm days. Long, rolling waves invite swimming and surfing, but if you prefer to simply stroll the coastline, this is your spot. A four-mile paved walkway extends along the shore and brims with joggers, inline skaters, and cyclists.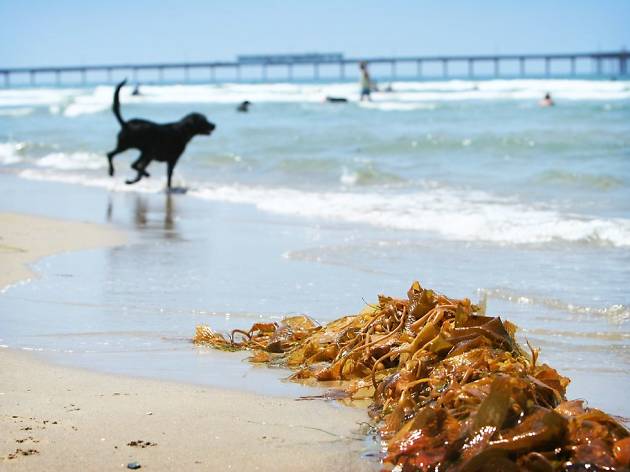 Photograph: Flickr/Kelly Cowan
Let Fido run free at San Diego's premier dog beach. Leave the leash in the car; friendly pups are welcome to freely chase balls, sniff pals, and splash in the surf all day at this dedicated patch along the mouth of San Diego River at Ocean Beach. You'll find trash cans and bags at the entrance, and, for especially sandy hounds, the Dog Beach Dog Wash a few blocks away.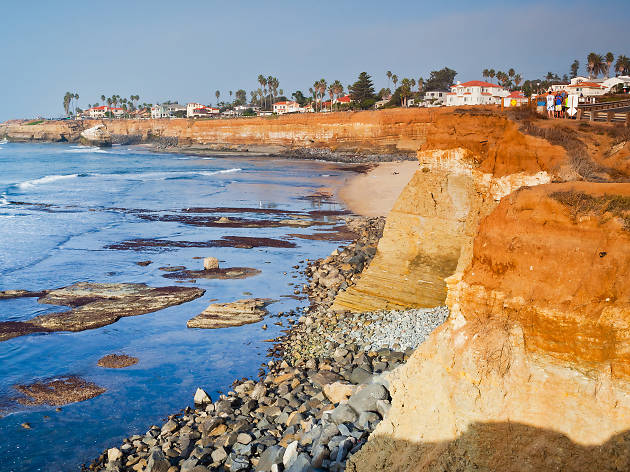 Photograph: Shutterstock
10. Sunset Cliffs Natural Park
Better known for its scenic blufftops than a handful of small coves, this wedding ceremony-worthy locale is where you want to be at sunset. Sculpted coastal bluffs hide cozy beach coves below and dazzling ocean vistas above. The scenic blufftops also offer an exceptional vantage point for spotting migrating gray whales. Yet, most visitors are here for the dramatic sunsets. Pick up grub from nearby Mike's Taco Club or Hodad's, find a comfortable perch, and watch for the elusive green flash as the sun dips into the Pacific.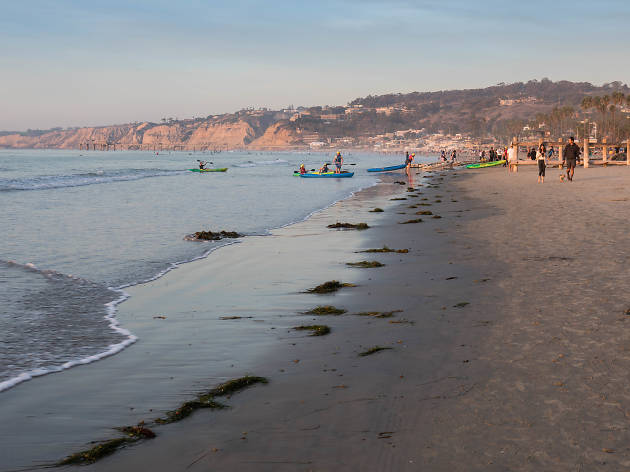 Photograph: Flickr/Clark Short
Pack the boogie boards and s'mores fixings for a fun day at the beach. Wide-open sand, gentle surf, and a handful of fire pits make it a popular, all-day beach destination for families. Sunny days see a virtual sea of sun umbrellas, novice surfers practicing their stances, kayakers setting out to explore nearby sea caves—and cars circling for parking.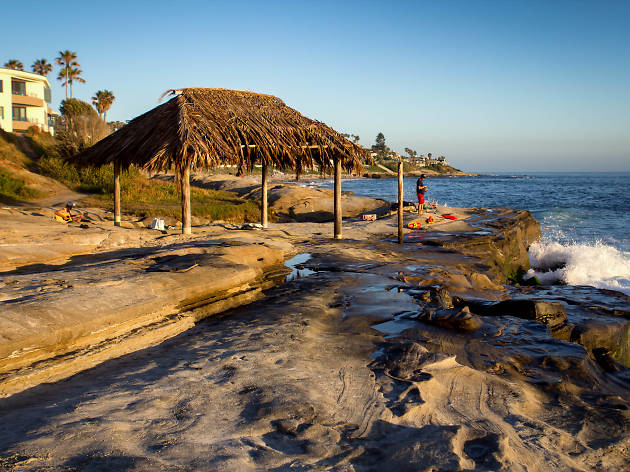 Photograph: Flickr/Clark Short
This scenic, relaxed surf spot is marked by famous palm-shrouded beach shack. Just out of earshot of the La Jolla throngs immediately north, this beach offers solitude and a strong surf scene—Tom Wolfe detailed a band of surfers who made Windansea their home in his 1968 "The Pump House Gang." Today, you can watch pros shred the gnar from the shaded palapa-like structure which has stood in some form since 1946. Non-surfers will enjoy tide pools at low tide, and swimming along the southern shore.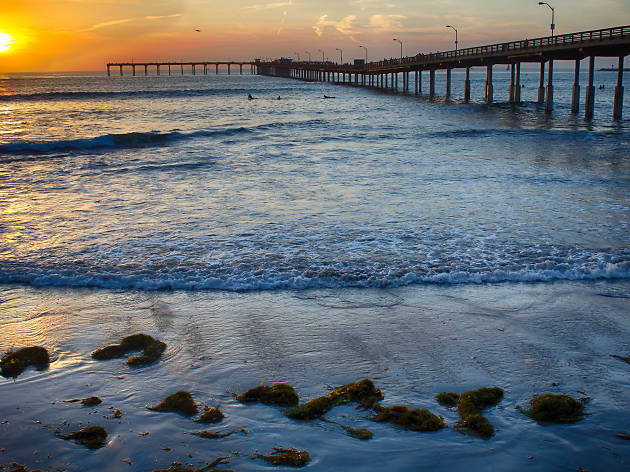 Photograph: Flickr/Clark Short
This laid-back beach and adjacent village exude vintage SoCal beach vibes with funky old-school beach 'hood feels undisturbed by time and a sandy shorefront and main drag lined with a motley assortment of shops and eateries plastered with surf stickers. A small, grassy waterfront park hosts Lululemon-clad yoga circles and VW-bound beach bums. Rent bikes and zip along a path that runs inland along the adjacent San Diego River, or stroll the fishing pier that extends half a mile into the sea.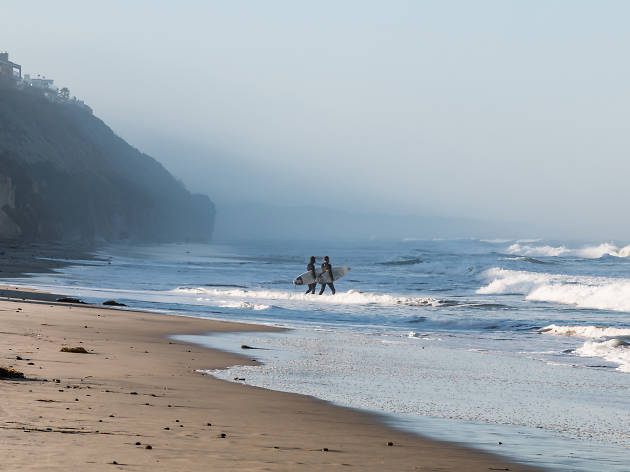 Photograph: Shutterstock/Sherry V Smith
14. Moonlight State Beach
Encinitas' premier beach is a local fave with sunny day essentials and evening bonfires. This popular North County shore handily ticks off the list of coveted beach amenities: easy access, snack bar, fire pits, bathrooms, and landlubbing recreation including beach volleyball and play structures. Year-round lifeguards keep watch over swimmers along the gently sloping shore and boogie boarders sloshing through the whitewater. Though named for the popular midnight picnics of the early 1900s, the city shuts down the party at sunset.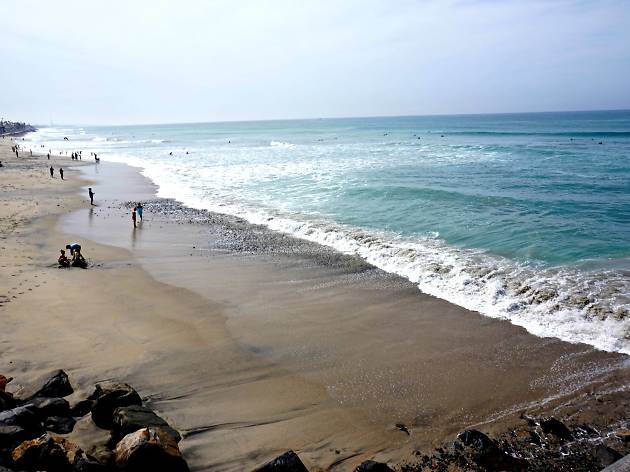 Photograph: Flickr/Emma Harris
This North County beach features soft, white sand, a lengthy pier, and a lively boardwalk. Known by locals as The Strand, this wide-open beach is backed by a popular boardwalk lined with pocket parks for beachfront picnics. Stroll the nearly 2,000-foot wooden pier—the longest of its kind on the West Coast—out to a retro diner. Drop in to the nearby California Surf Museum and spy some famous surfboards including those of Eddie Aikau and Duke Kahanamoku.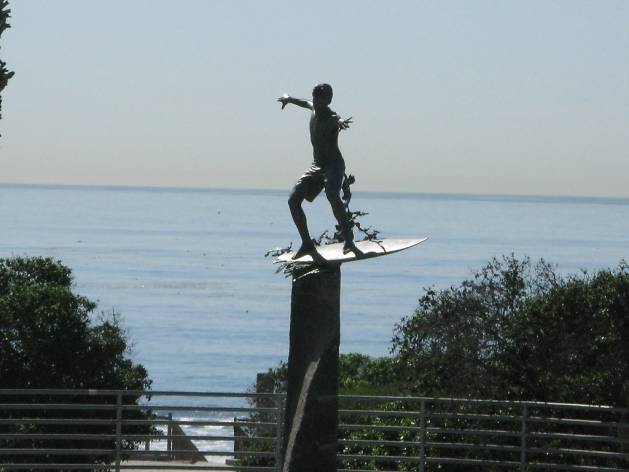 Photograph: Yelp/Dakine Kane
Pleasantly warm waters and a famed surf break attract both families and surfers to Cardiff State Beach. South of Elijo Creek, this family-friendly North County spot features soft, clean sand and waves that break well offshore. Kelp beds lure divers, while a pair of reefs create popular surf breaks—the beach is the site of frequent surf contests and the famous Cardiff Kook, a frequently festooned surfer statue. Pups are allowed on-leash at the beach and along the nature trails of nearby San Elijo Lagoon.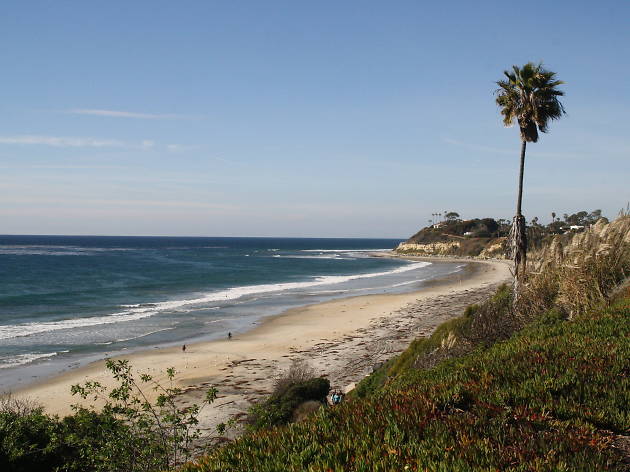 Photograph: Flickr/chrisinphilly5448
17. San Elijo State Beach
Whether you're pitching a tent or parking the RV, this the beach for overnighters. The narrow stretch stretch of sand adjoining Cardiff State Beach is a perfectly pleasant spot to spend the day, but the primary draw here is the beachfront camping. 171 campsites line bluffs overlooking the Pacific—and book up months in advance. A seasonal beach store stocks camp and beach essentials, from boogie boards to s'mores fixings.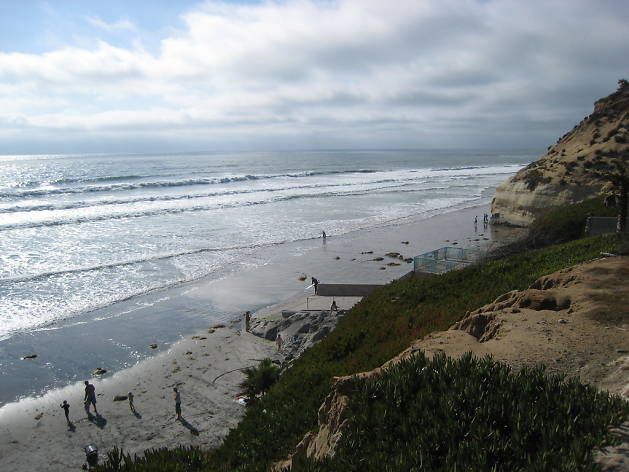 Photograph: Flickr/ Lawrence
This waterfront park provides pleasant access to Solana Beach's central shorefront. The recently refreshed, palm-lined park features a grassy lawn, picnic tables, play structure, and basketball court all with knockout ocean vistas. The centerpiece is a wide paved path that leads to a mellow beach cove. After your fill of sand, stroll nearby Cedros Avenue for fun après-beach stops including home decor shop Solo and craft beer fave Culture Brewing Co.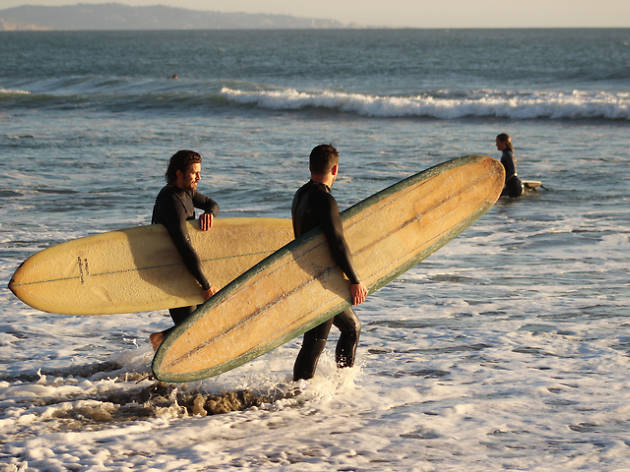 Photograph: Shutterstock/Simone Hogan
A legendary surf break at bluff-lined shore in Encinitas. The destination surf beach took its name from the swamis of the Self Realization Fellowship who teach meditation on the palm-lined blufftop above. Yet, you'll find that gazing out upon surfers and the crashing waves proves plenty meditative. Also, where there's surf, there are usually reefs which means Swami's offers excellent tidepooling at low tide.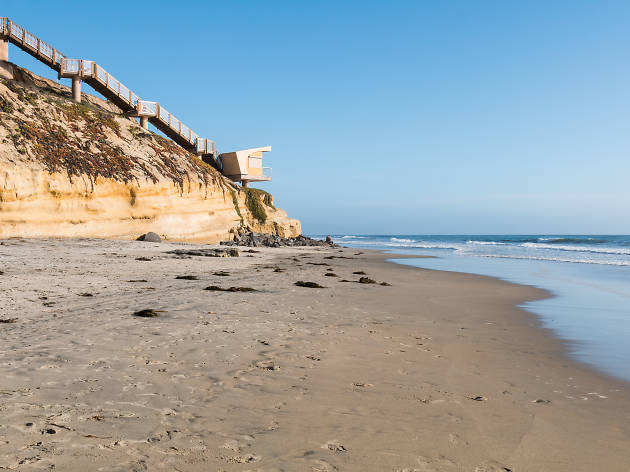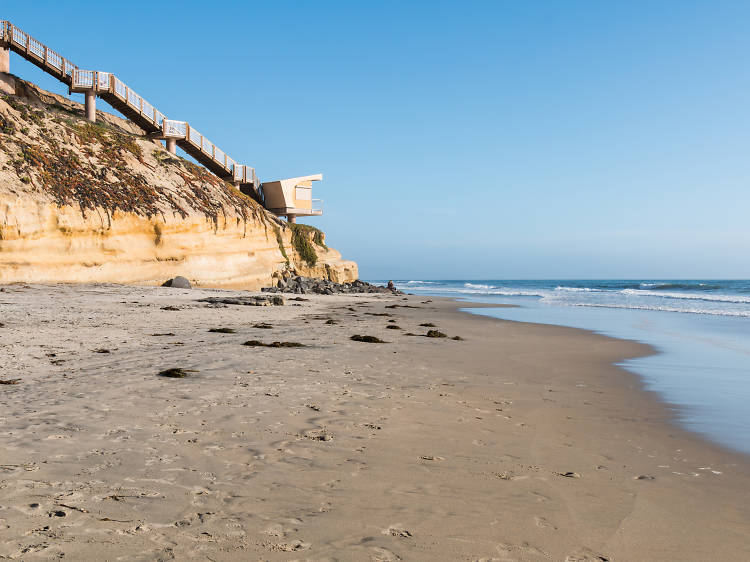 Photograph: Shutterstock/Sherry V Smith
This lesser-known Solana Beach gem is an ace up your sleeve on busy beach days. You'll rack up your Fitbit numbers descending the lengthy staircase, but, once you reach the sand, you'll delight in a laid-back, uncrowded beach cove. Fairly smooth sand and a large underwater shelf makes wading a breeze. The pleasant beach is best enjoyed at low tide when you can stroll to adjacent Fletcher Cove, and explore tide pools at the shore's north end.
Explore more San Diego
Planning a trip to San Diego? Make your way through historical districts, restaurants, galleries, museums and more with our guide to the best things to do in the city.