Heads up! We're working hard to be accurate – but these are unusual times, so please always check before heading out.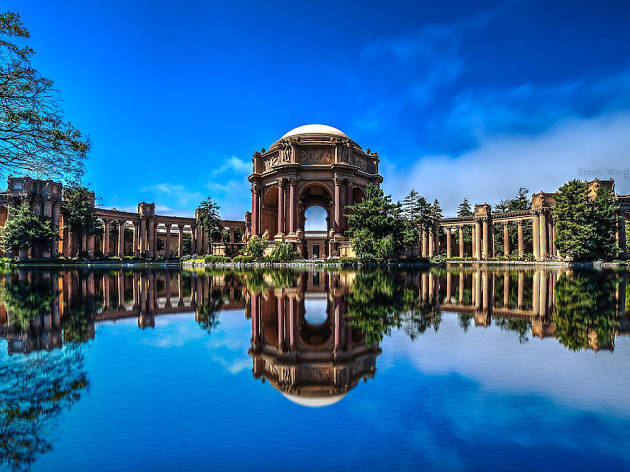 The most beautiful buildings in San Francisco
Must-see structures for architecture buffs and history lovers
San Francisco has its share of iconic buildings, from the Painted Ladies to the Ferry Building. But when seeking out the city's most beautiful structures, you have to know where to look: Many are hidden in plain sight. From a storied Victorian to an open-air palace to a Gothic cathedral, these feats of design are worth a detour.
RECOMMENDED: The best San Francisco museums
Beautiful buildings in San Francisco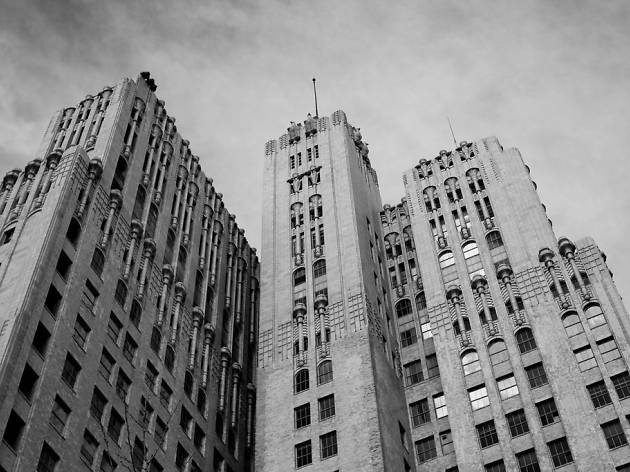 Photograph: Flickr/Dave Nakayama
When this 26-story office building was completed in 1925, it was the tallest skyscraper in San Francisco. (Winston Churchill even paid it a visit, in 1929.) The tower may not seem like an obvious standout at first, but look up: You'll see eight 13-foot tall eagle statues perched on top. Once you enter the revolving doors, the Art Deco lobby unfurls before you. It's gilded throughout, from the gold-accented floors to the gleaming elevator doors. Chandeliers glint overhead, making the black marble walls glow. The red and gold ceilings are even covered in finely detailed images of unicorns and clouds. The building underwent a $60,000,000 renovation in 2012 and 2013, restoring its original grandeur for current office tenants like Yelp and Lumosity.
140 New Montgomery at Minna St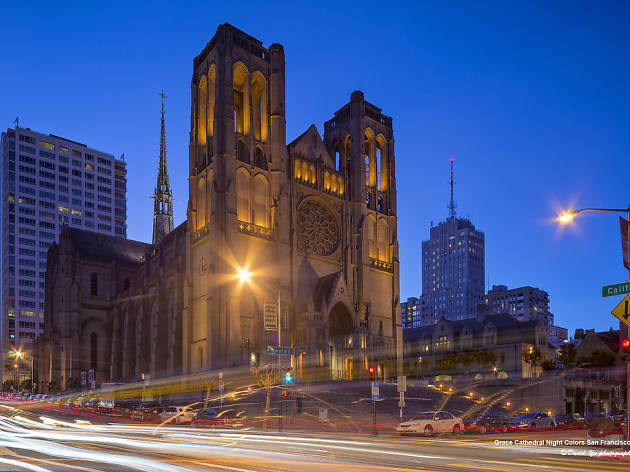 Photograph: Flickr/David Yu
This Gothic cathedral is the third-largest Episcopal church in the U.S. and took 37 years to complete. The intricate adornments begin at the front doors, known as the Doors of Paradise—they're replicas of those at the Baptistry of Florence Cathedral in Italy. Cast in bronze and towering over 16 feet tall, each door weighs more than a ton. A marble labyrinth winds across the floor, where weekly yoga classes are held on Tuesday nights. The walls are covered in ornate murals by John De Rosen and Antonio Sotomayor, and stained glass casts a multicolored glow over the whole sacred space. There are 68 stained glass windows done in three techniques, culminating in the rose window, an illuminated, 28-foot orb made of 3,800 pieces of glass. Entry is always free, but taking a guided tour lets you explore areas usually off limits, like the South Tour overlooking the city ($25; call 415-749-6316 to reserve).
1100 California St at Jones St
Photograph: Flickr/David Yu
3. San Francisco City Hall
There's a reason City Hall weddings are so coveted in San Francisco. The Beaux-Arts City Hall building spans two city blocks. Designed by Arthur Brown, Jr.—who also designed the War Memorial Opera House across the street—the building was completed in 1915. The stately interior is awash in white marble and sandstone. Its centerpiece is a grand staircase that curves up to the Rotunda, where the well-worn inscription reads: San Francisco/O glorious city of our hearts/that hast been tried and not found wanting/go thou with like spirit to make the future thine. The exterior dome is even than that of the nation's capital and is plated in real gold. Each evening, the building's exterior is lit up by 220 colored LED lights, which often correspond to holidays and special events.
1 Dr Carlton B Goodlett Pl at Polk St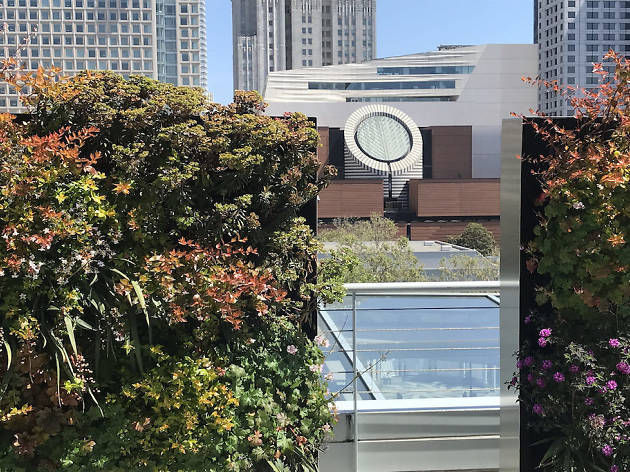 Photograph: Flickr/rocor
The modern art museum's brand new building, which opened in 2016, merges seamlessly with its original structure, completed in 1995 by Mario Botta. Global architecture firm Snohetta designed the new section, making it one of the largest modern art museums in the country. The distinctive, textural facade was inspired by San Francisco's fog and rippling bay. Inside, you'll find four floors of art, including six sculpture-decked terraces and the largest living wall in the country. (It's bursting with more than 19,000 plants, including nearly two dozen species native to California.) Even if you don't shell out for a ticket—which, trust us, you should—there are still over 45,000 square feet of free public art spaces to explore for free, including Richard Serra's massive, sculptural steel maze, Sequence. Even the vibrant, monochromatic restrooms are endorphin-spiking feats of design.
151 3rd St at Minna St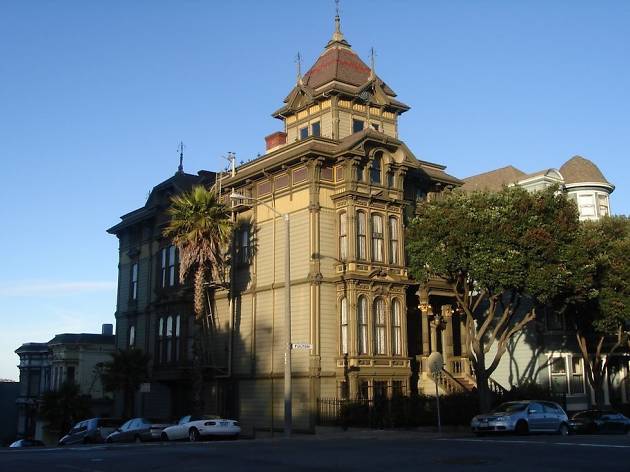 Photograph:mapio.net
5. William Westerfeld House
Turn your attention from the tourist-slammed Painted Ladies to this dark, imposing abode just across Alamo Square. Of all the Victorians in San Francisco, this 28-room mansion is steeped in the wildest history. It was built in the 1880s by a German-born candy-maker; bought by a group of Czarist Russians in the 1920s (and nicknamed the Russian Embassy); converted into apartments and inhabited by jazz musicians in the '40s; then overtaken by hippies in the drug-fueled '60s, when the Grateful Dead became regular visitors. New owners purchased the property in the '70s and '80s and is it has been meticulously restored in the ensuing years. Though the home is hailed as an example of Italianate Stick-style architecture, the hodgepodge design also incorporates Greek, German and British, and Asian elements, including it's crowning pagoda. The interior, rarely seen, is adorned with dark wood and original molding and mantelpieces.
1198 Fulton St at Scott St.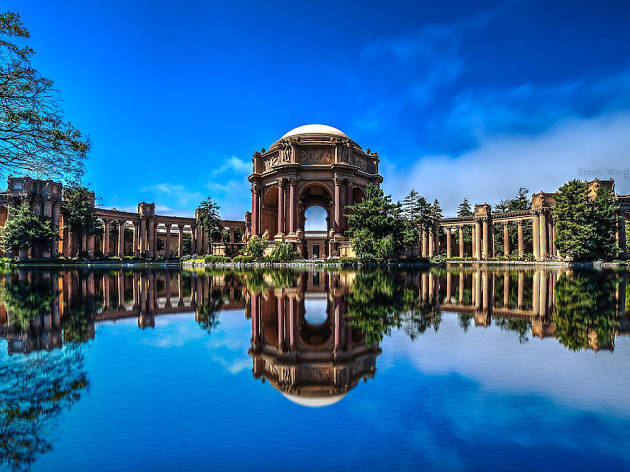 Photograph: Flickr/Brook Ward
This beautiful Beaux-Arts palace is a popular place for photos of all kinds: weddings, Quinceañeras, prom, and portraits. It was originally built by architect Bernard R. Maybeck for the Panama Pacific International Exposition in 1915, after which it was destroyed and replicated in 1965. The solemn design is meant to evoke a Roman ruin, and the open-air structure lets makes voices echo off the arching rotunda. It's surrounded by a large pergola and columns topped by statues of weeping women. Detailed figures and Greek iconography are depicted around the rotunda symbolizing ideals like art, contemplation, intellect, and more. It's a lovely place to picnic by day, but the best time to view the palace in its full glory is at night, when it's lit up and reflected in the nearby lagoon.
3601 Lyon St at Jefferson St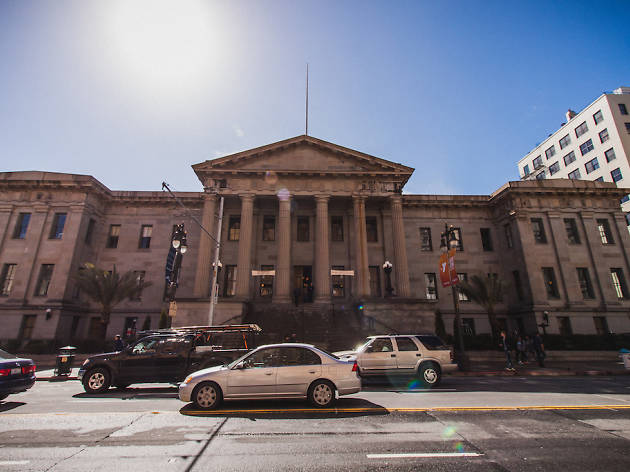 Photograph: Flickr/James Carnes
Nicknamed the Granite Lady, the Old Mint has weathered a lot since it opened in 1874. It survived the 1906 earthquake and fire and remained in operation until 1937. At one time, the stately site held almost a third of the country's wealth. Though it's long been uninhabited—and is now mostly used for special events—the Greek Revival building remains a gorgeous relic, sporting 30-foot-tall ceilings and gaslight chandeliers. The cavernous space includes two ornate ballrooms, various salons, a Treasurer's office, a "weigh" room, moodily lit vaults, a Prospector's lounge, and a 4,000-square-foot interior courtyard.
88 5th St at Mission St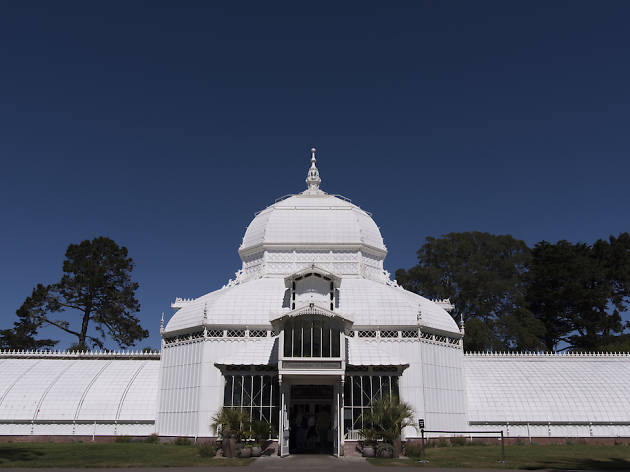 Photograph: Flickr/Yuichi Sakuraba
8. Conservatory of Flowers
Built in 1878, this is the oldest public wood and glass conservatory on the continent. The ornate Victorian building looks delicate, but is surprisingly tough, having withstood explosions, earthquakes, fires, and wind storms. Its impressive dome reaches 60 feet tall, flanked by sleeping arches and gables and accented by stained glass details. Inside, the greenhouse teems with vibrant, otherworldly orchids and tropical plants from Brazil, China, Ethiopia, Ecuador, and beyond. Each summer, the building's thousands of glass panels are whitewashed to filter the sunlight flooding in; in the winter, the coating rinses off naturally in the rain.
100 John F Kennedy Dr at Conservatory Dr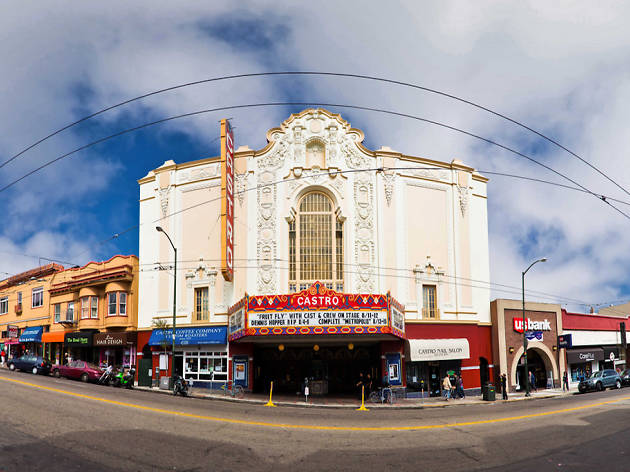 Photograph: Flickr/Benson Kua
This iconic theater dates back to 1922. It was designed by Timothy L. Pflueger, a prolific architect who was also behind the New Mission Theater, the New Fillmore, Oakland's Paramount Theater, and the PacBell Building. The theater's Baroque facade and distinctive neon sign is a symbol of the Castro. Inside, the cast-plaster ceiling has the look of a leather tent—one of the few remaining examples of the so-called leatherette style still in existence. It's complemented by an elaborate Art Deco chandelier and a venerable old Wurlitzer pipe organ, which is played before screenings and special events. Though the Castro has undergone renovations over the years, the theater's box office, lobby tiling, and wooden doors are all original.
429 Castro St at 18th St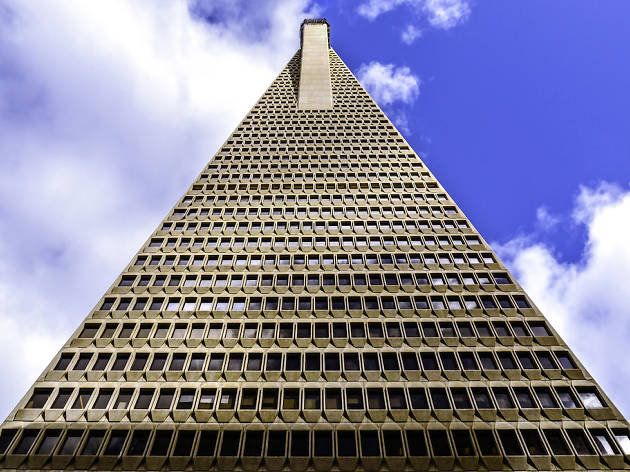 Photograph: Flickr/Ian D. Keating
With its angular, pointed form, the Transamerica Pyramid may be the most recognizable building in San Francisco, The 48-story skyscraper was designed by architect William Pereira and completed in 1972. Its light-colored facade is coated in crushed quartz and its pointed spire is layered in aluminum panels. (On certain holidays, the top of the pyramid, nicknamed the "Crown Jewel," is lit up like a beacon.) The building originally allowed residents to visit the observation deck on its 27th floor, but the space was shuttered to the public in the late 90s. Though you can't go up into the tower, there is history to be found at its base: you'll find a plaque commemorating the whaling ship Niantic, whose hull lies just below the building, as well as plaques honoring Bummer and Lazarus, two local, storied stray dogs known for their rat-killing prowess in the 1860s (and unusual canine friendship).
600 Montgomery St at Clay St
The best San Francisco museums