Whether it's swimming with sharks (really!) or kayaking under the city's most famed bridge, there are thrilling adventures in the San Francisco Bay for everyone.
Pretend you're a pirate
Hop aboard the historic 60-foot scow schooner Alma this summer for an unforgettable spin around the bay. Perfect for those who turn green at sea, Alma is flat and wide and provides an all-around smooth sail. Through November 18, the National Park Service gives four-hour outings aboard this unique vessel that was crafted in 1891. In addition to dramatic vistas, you get insight into local history, including Spanish explorers and the Gold Rush. 2 Marina Blvd, Building E (415-447-5000, nps.gov). $20–$40.
Walk on water
Snap on your waterproof phone case and head to Oakland, where California Canoe & Kayak rents out paddleboards for both on- and off-site use year-round. It also offers a class for every style (from tide racing to surfing) and skill level at this Jack London Square beach shack: Battle against the waves off the Oakland Pier, or get Zen in the estuary with yoga and moonlight stand-up paddleboarding (SUP) classes. 409 Water St, Oakland (510-893-7833, calkayak.com). $79–$129.
Have a whale of a time
If you don't see a whale, a porpoise or a dolphin on your ride with San Francisco Whale Tours, your next trip is free. The daily tours through the Farallon Islands run year-round, but peak whale-sighting season is May through November. Don't miss the chance to see the Blue Angel jets from the water during Fleet Week in October. Pier 39, enter at Beach St and Grant Ave (415-706-7364, sanfranciscowhaletours.com). Tours depart daily at 8am; $45–$99.
Learn your stroke
Kayak your way through McCovey Cove and the waterfront Embarcadero with the help of City Kayak. Beginners learn proper paddle-stroke technique before hitting the water on a guided adventure past downtown San Francisco, around AT&T Park (look out for home-run baseballs in the water) and under the Bay Bridge. Moonlit and sunset excursions are perfect date-night material. Pier 40, enter at King and Townsend Sts (415-294-1050, citykayak.com). $59–$88.
Go face-to-face with a shark
Fun (albeit kinda terrifying) fact: San Francisco is the only major metropolitan city in the world to host a population of great white sharks. Get up close and personal with these big fish during a cage-diving experience in the Farallon Islands. Great White Adventures provides deep-sea expeditions during the peak of the species' brief hunting season—from late September through November—so you can interact with the predators in their natural environment. The daylong activity puts the bravest of the brave inside a cage, alone, and dunks them into the water (no scuba certification necessary). Once inside the chilly, murky bay, you'll see massive sharks chasing, attacking and feeding on seals and sea lions. Those squeamish about blood need not sign up. 3310 Powell St, Emeryville (510-808-4499, greatwhiteadventures.com). $375–$775.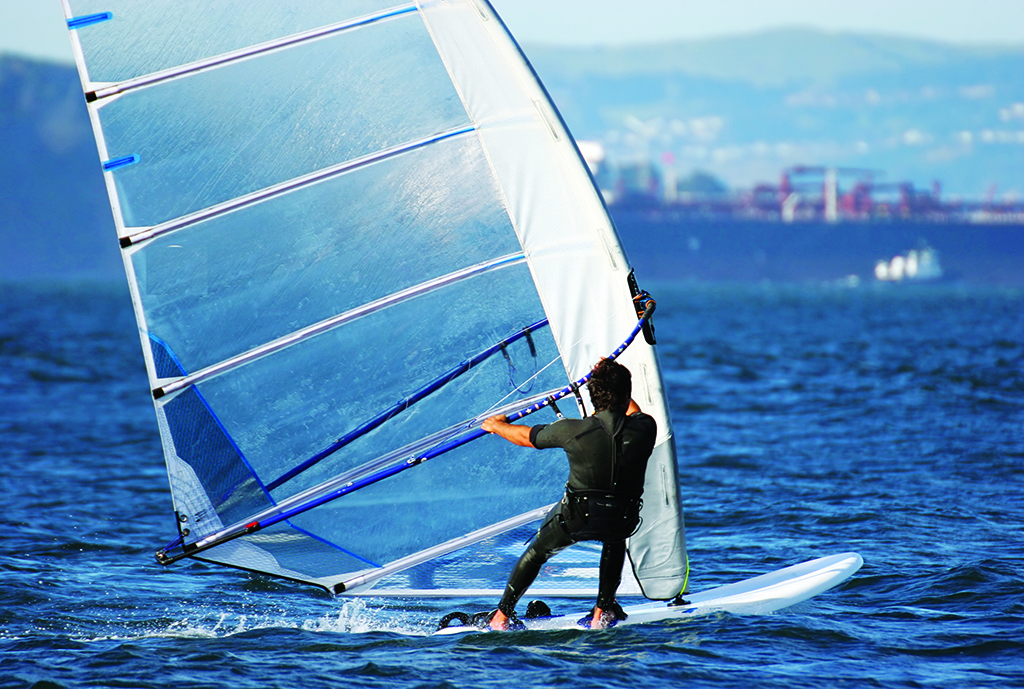 Catch some air
Boardsports California has exclusive windsurfing rights at two of the best beaches in the Bay Area—Crown Beach in Alameda and Coyote Point in San Mateo—ideal for beginners who want to take to the waves. Boardsports also outfits you in all necessary gear, from board and wetsuit to mast and boom (you'll find out what those do at your first lesson). 600 Westline Drive, Alameda (415-385-1224, boardsportscalifornia.com). $139–$450.