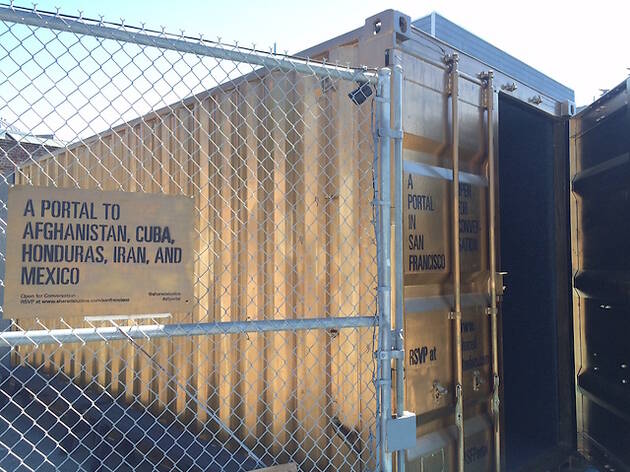 Enter a Portal to Iran (or Honduras, or Cuba) in This Hayes Valley Art Experience
Posted: Wednesday September 23 2015, 10:58am
There's a new tenant in Hayes Valley's Proxy space, sandwiched between the Smitten ice cream stand and the lager-slinging Biergarten. This time, though, the addition isn't another hipster-approved juice bar or gluten-free bakery: This is a wormhole to another country hosted by Shared Studios, a global public art project.
You'll see a gold-painted shipping container; Shared Studios calls it a portal. The audio-visual equipped vessels have been set up around the world—in Afghanistan, Cuba, Honduras, Iran and Mexico—to facilitate free, face-to-face video conversations between far-flung strangers. You can book your 20-minute appointment in advance, so there's no waiting in line. Step through the gilded doors into the carpet-lined black box. On the wall before you will be a floor-to-ceiling screen where your studio-mate will appear. In our case, that was Alex, a shy 18-year-old student and artist from El Progresso, Honduras.
There are no guidelines for your conversation—you'll be left alone, apart from a translator, if needed—but Shared Studios encourages first-timers to consider the prompt "What would make today a good day for you?" Alex and I talked about our families, our cities, our romantic pursuits ("No one loves me," he sighed, with a mournful grin), and career goals. We confessed the things we're ashamed of (me: still not being able to speak Spanish; him: never learning how to swim). We shared dating advice and tourist recommendations. And though I prodded him about American politics, he demurred, insisting "I think most people in the United States are intelligent and kind, like you." After 20 minutes that ended in laughter (and a few selfies), we exited the containers to rejoin our respective cities. The Shared Studios experience can be enlightening, challenging, heart-warming and occasionally awkward. But at its essence, it's a 20-foot black box that fosters human connections.
San Francisco Portal at Proxy SF, 432 Octavia St.; 12pm-10:10pm.
Share the story