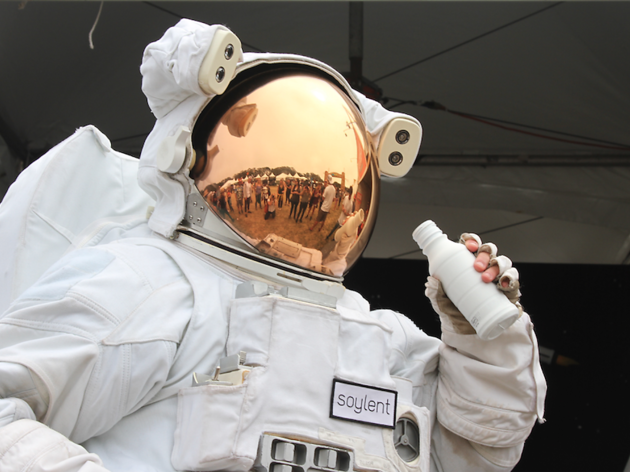 The 7 best things we saw at Outside Lands 2015
Posted: Monday August 10 2015, 8:00am
1. St. Vincent's commitment: Annie Clark has always taken her music seriously, but never seems like she's trying too hard—even clad in a perforated leather jumpsuit, mini-bunny hopping and synchronized-hand dancing with her matching guitarist. She is untouchably cool, insanely talented and fully committed to her performances, as evidenced by the mascara under her eyes and lipstick smeared on her chin by the end of her Friday set… which, somehow, of course, only made her look more amazing.
2. The Back Wine: Mini golf is already pretty great on its own, but the Back Wine was mini golf at Outside Lands, with wine tastings, on holes with designs mimicking Lombard Street, the Golden Gate Bridge and the famed festival windmills. Let's just say we heard a lot of drunken "par fun" jokes.
3. First Aid Kit's heavy cover: Johanna and Klara Soderberg's Friday set was a folksy, family-friendly scene—that is, until the drop of a drumbeat we recognized… and all of a sudden, the sweet songstresses were harmonizing Black Sabbath's "War Pigs." They've the voices of angels, and to hear them sing about Satan laughing, spreading his wings—well, it was perfect. Draped in gauzy white and paisley, they headbanged and paid heavy metal homage to Sabbath's 1970 antiwar classic.
4. Sober Lands: Most festivals these days are inclusive affairs, but we've never seen space made for recovering addicts. In a small tent across from the Panhandle stage, clean and sober folk (and friends) congregated thrice daily as needed for meetings. It's a pretty incredible thing to make live music—especially in outdoor festival settings, where booze and drugs are everywhere—accessible to people who may otherwise have stayed away. A great idea, and one we hope to see more often at events like this.
5. Big Freedia's bounce contest: The Queen of Bounce invited concert-goers onstage to shake their booties in exchange for sugary, fresh-outta-the-oven beignets at the fest's GastroMagic stage on Saturday. Freedia's shows are always amazing, and this one didn't disappoint—there was a crowd-surfing twerker, professional vogueing onstage and lots and lots of flying powdered sugar.
6. The Soylent astronaut: If anyone at Outside Lands hadn't heard of the super-trendy meal replacement before, they certainly know it now. The company was on site all weekend handing out samples of the stuff (which tastes pleasantly like cereal milk) and delighting festival-goers with their mascot, a Soylent-slurping astronaut who was probably photographed more than Elton John and Kendrick Lamar combined.
7. Hot Chip's dreamy drummer: Sarah Jones is a vision behind her kit: she's one of the most talented drummers we've seen all festival season, and even during the band's most up-tempo songs this Sunday, she barely broke a sweat. She also always looks like she's having a blast, with a big smile, a grateful attitude and style for days—not everyone can pull off a candy-striped romper, much less while carrying an entire set on Outside Lands' main stage.
Want more? Check out our 50 best photos from Outside Lands 2015.
Share the story