Heads up! We're working hard to be accurate – but these are unusual times, so please always check before heading out.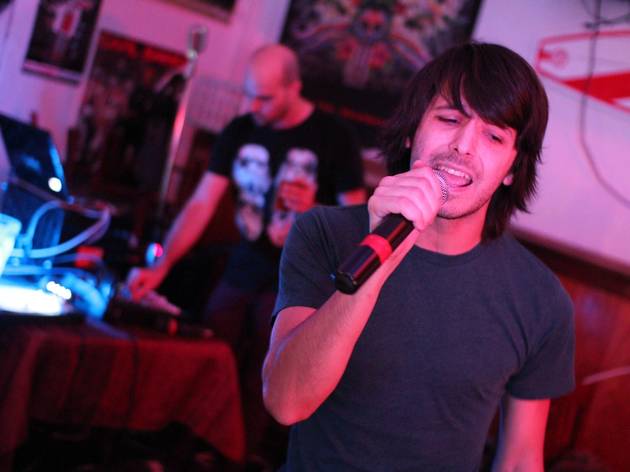 The best karaoke bars in San Francisco
If you want to sing out, sing out! Here are San Francisco's best karaoke bars, nights and private rooms for belting out some tunes.
Finding your favorite karaoke bar is a matter of discovering the best environment to let your inner diva shine: Want to be center stage in a dive bar? In a private room with friends? A rowdy nightclub? A cozy lounge? Don't worry, we've got all your options covered—even for the folks who'd rather play backup dancer than Beyoncé.
This classy cocktail lounge on the second floor of Japantown's Kinokuniya building feels like it could be the smoke-filled setting of an old-school movie rendezvous. Maybe it's the soft glow of the red lights or the over-the-top red chairs. But despite the seductive swank, the place doesn't feel pretentious. It's quite small: a cozy spot for a first date or to gather a few friends. Be prepared to pay $2 a song, which you can choose to sing in English, Japanese, Korean, Chinese or Spanish.
The size of the bar in this club-like karaoke spot is pretty impressive: It spans nearly the entire establishment, so you're never more than a few steps away from your choice of vocal-enhancing elixir. The stage, with its array of flashing lights, is perfect for exhibitionists, and there are plenty of screens flashing lyrics around the bar so the audience to chime in too. Note, there's a two drink minimum here, but no cover.
This spacious and dimly-lit dive bar packs a crowd on the weekends, but is a more chill spot for soon-to-be superstars (or otherwise) to hone their craft on Sundays through Thursdays. The space is equipped with a stage wide enough for you and a buddy or six, and plenty of tables to watch the action or to sip a drink from the cash-only bar. There's no cover, but you'll have to buy a drink if you want to sing.
Stepping into one of YamaSho's ten private lounges is like being transported to the Tokyo karaoke scene (with songs in both English and Japanese). The rooms have a Japanese feel, with low wooden tables and individual cushions on communal benches. The song machines are easy to operate, plus there's quick access to Japanese food and drink. YamaSho doubles as a restaurant downstairs, so pick up the phone by the door to your room to get an automatic connection to the staff for sake, sushi and more. Warning: No hard liquor here, in case you need that extra dose of liquid courage before stepping up.
The three private karaoke rooms at this restaurant-bar combo are stocked with songs in several languages, including English, Korean and Japanese. Be prepared to order food and drink if you want to sing—options include a variety of Korean cuisine, including the popular Korean BBQ. The rooms range in size, with the largest boasting a capacity of up to 20 guests.