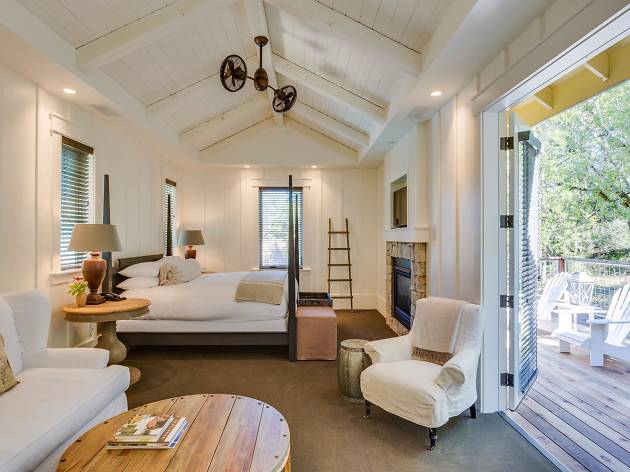 Is there a place more romantic than Farmhouse Inn in Forestville? The 25-room boutique hotel looks like something ripped straight from the pages of Town & Country, with white clapboard cottages arranged in a neighborhood-like community. Room sizes start at a Queen Standard and go up to a King Luxury, but there are blissful touches in every room: wet/dry saunas, personal woodburning fireplaces and jetted tubs to relax in after a day spent wine tasting. Speaking of relaxing: the Spa at Farmhouse Inn is a destination in its own right, with talented massage therapists and facialists who work their magic until you feel like you're walking on air. Each treatment ends with a hot or cold infused tea, which changes with the season. Also seasonal: the top-notch cuisine that can be found at the Farmhouse restaurant, where Michelin-starred chef Steve Litke utilizes ingredients from local artisans, offering dishes like spring pea ravioli and Old World Farms poussin. One of the best amenitities, though, is the free breakfast guests receive each morning during their stay. You'll need to make a reservation, but the three-course, complimentary breakfast is worth waking up for, with dishes like strawberry shortcake, pea panna cotta and huckleberry waffles.
Venue name:
Farmhouse Inn
Contact:
Address:
7871 River Rd
Forestville
95436

You may be interested in:
Rating Breakdown
5 star:

1

4 star:

0

3 star:

0

2 star:

0

1 star:

0
This is an incredibly lovely and thoughtful place to stay. It's beautifully designed, the service is top notch and the food, oh, the food! Breakfast is included and it was probably one of the best meals of our stay. The pool and hot tub area are lovely, complete with fire pits and s'mores fixins. There's an amazing spa, fashioned after a modern, bright and airy barn, where services are slow, sweet and soothing. Look out for the inn's friendly cat, and don't forget to cut your own block of soap (pick from three or four different, freshly made kinds) when you check in.