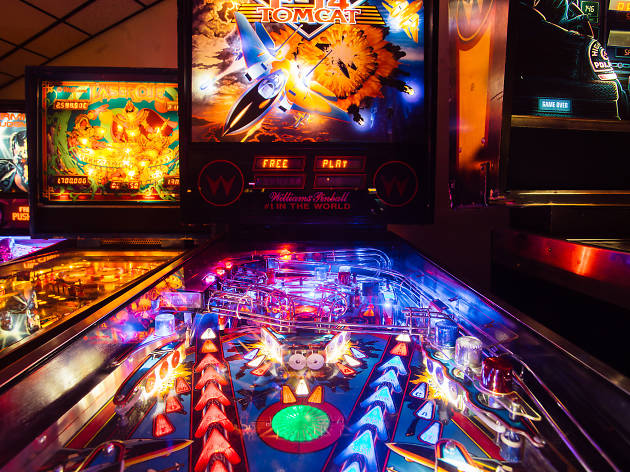 Get the ball rolling at Outer Orbit, San Francisco's new pinball destination
Posted: Wednesday August 22 2018, 10:19am
Better start blasting The Who, because you're about to become a pinball wizard.
Outer Orbit, SF's newest gaming center-slash-food hall, opens on August 24, featuring retro and modern pinball machines, a vinyl jukebox stocked with oldies, 12 beers on tap and a menu full of Hawaiian comfort food. It's a dream come true for owners and "pinheads" Christian Gainsley and Elisabeth Kohnke.
The opening roster of nine games has a little bit of everything: Guardians of the Galaxy, Total Nuclear Annihilation, Monster Bash, Tron, Creature from the Black Lagoon, Fishtales, Theater of Magic, World Cup Soccer, and Zodiac.
For eats, executive chef Sam DeCamo (Gibson, Finn Town Tavern) serves up Hawaiian barbecue-inspired snacks, bites and mains like the Lomi Lomi guacamole (shio koji-brined McFarland trout with guacamole and housemade taro chips), housemade spam, and the Kalua Pig Melt with guava-smoked pork shoulder, wasabi-lime aioli, provolone, and house-pickled shallots on toasted brioche.
To drink is a rotating list of beer and wine for adult gamers including 12 beers on tap. The list favors sour selections, which pair well with Hawaiian food, as well as wines by the glass and bottle, plus a few schochu and vermouth-based low ABV cocktails.
Outer Orbit is open Wed–Thu 4–10pm; Fri 4pm–midnight; Sat 11am–midnight; and Sun 11am–10pm.
Share the story