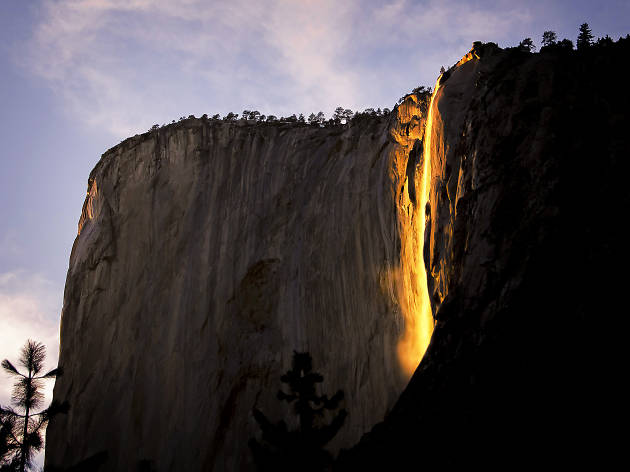 Yosemite is closed indefinitely due to California's largest ever wildfires
Posted: Friday August 10 2018, 9:50am
California's recent wave of forest fires are unlike any the state has seen before. Due to higher-than-normal temperatures and parched forest growth, even sparks from a car rim scraping the road can serve as a catalyst to widespread devastation.
In recent days, the Ferguson Fire in Mariposa County has burned 95,104 acres, causing large parts of nearby Yosemite National Park to indefinitely close. The fire is currently blocking three major entrance roads into the park and smoke is obscuring visibility in the area and making breathing difficult.
"Over the past 48 hours, fire has impacted all of the roads used to access Yosemite Valley, burning dead and downed trees that can become very explosive and fall without warning," the Park Service wrote in a statement.
In addition to the Ferguson Fire, there are dozens of other fires simultaneously burning across the state, many of them also reaching massive sizes: the Carr Fire near Redding has burned 177,450 acres and the Donnell Fire in the Stanislaus National Forest has burned 21,097 acres. The Mendocino Complex Fire is the largest fire in California history, scorching 283,800 acres in just one week and 304,402 acres total (a figure that would stretch across the Bay Area from Marin to Hayward)
"It's unprecedented to have so many sustained demands for so many resources over such a short amount of time," said Jonathan Cox, a battalion chief and spokesman with Cal Fire.
The following areas are closed in and around Yosemite:
Big Oak Flat Road

Crane Flat Campground

El Portal Road

Glacier Point

Tamarack Campground

The Mariposa Grove of Giant Sequoias

The Merced Grove of Giant Sequoias

Wawona Campground

Wawona Road

Yosemite Valley
While the majority of the park remains open, the closure of Yosemite Valley is a big hit during high season, since views of Half Dome and El Capitan are major draws to the park. Yosemite is one of the United States' most visited and profitable national parks, attracting more than 4,000,000 visitors in 2017.
Hopefully, the fire will soon be extinguished and the park will reopen soon. The Ferguson Fire is 79 percent contained with 1,889 firefighters and support crew working to control the blaze.
Share the story