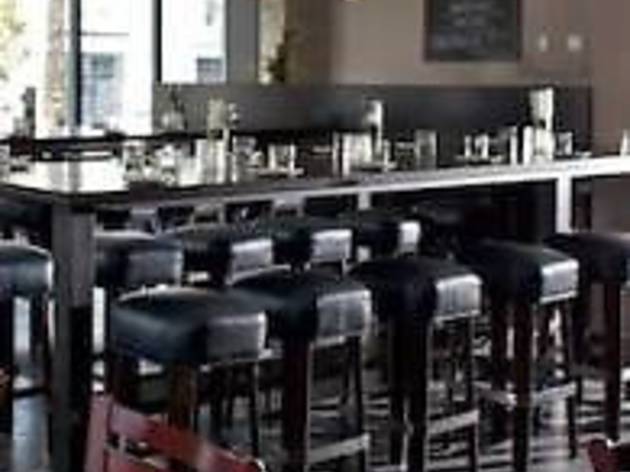 Details
Rating Breakdown
5 star:

1

4 star:

0

3 star:

0

2 star:

0

1 star:

0
I visited here on two separate occasions - Sunday for brunch and on Monday for happy hour - and both visits were exceptional. I made reservations on Open Table both times to ensure seating.
On Sunday, as we waited for H&R to open, I was happy to have made reservations as crowds of people were encircling the entrance closer to opening time. Once seated, my friend and I ordered the mimosa carafe. This is definitely a good choice for those who like bottomless mimosas. You can serve as you go and the carafe comes with a refill. Two for the price of one: not bad. Before diving in on an entree, we wanted to sample some small bites while we enjoyed our drinks. We ordered a half-dozen of the Painted Lady oysters which were discounted (only $1 each) and the deviled eggs. The oysters were delicious and fresh. The deviled eggs were topped with a fried oyster nugget and a sliver of country ham. This bite embodied their monicker as it had both: hog and rocks. A perfect bite. Three come in a serving but I was tempted to order another. Luckily I didn't, because we shared the shakshouka and mushroom & grits. I've never had shakshouka but I'm familiar with the flavor of harissa. It was total comfort food with hints of spice and slices of flatbread to sop up the juices. The mushroom and grits was a giant pool of grits smothered in a mushroom medley and topped with jus, poached eggs and pecorino shavings. A bevy of flavors and textures. I took a bite of my grits with the shakshouka and it was perfection! Reminded me of eating polenta.

On Monday, we came back for happy hour. As it was our last day in town, we trekked in with our luggage. I know, we were one of those people. But lucky enough, we were seated by the corner so we had enough room to store our bags and make a quick escape through their side door when we left. I appreciated that as I didn't want to inconvenience anyone with our baggage. For a Monday night, they have a decent crowd for happy hour. There was enough space between groups of people yet it was still lively. Their HH menu has different options for drinks and small bites and I was in the mood to sample more off of their menu. For starters, a smoky margarita and a dozen oysters. The Painted Lady oysters are also on special during HH for $1. Such a great deal. The huitlacoche corn dogs sounded interesting enough to try. I've had huitlacoche before, but I wasn't sure where it was on the appetizer. I believe it was in the batter for the corn dogs as it had a dark, almost black color. They were three tasty little morsels that came with a dipping sauce of beer mustard and chorizo ketchup. Chorizo ketchup. Wow. This is a game changer. It had a sweeter taste than their normal ketchup and it's addicting. It went perfect with their french fries, which is what I ordered next. The french fries can be either spiced or topped with a egg yolk glaze. Unless you have a preference, order the half and half. Both are great. Although they have great dinner options I went with their burger. At first glance it looks like a normal burger, but to my surprise it had two patties. Two very juicy patties. I added a fried egg on top because I always do that when given the option. The burger came with more fries although they were neither spiced nor glazed. You can judge a place by their burger and the H&R burger is one to be rivaled.