The best coffee shops and cafés in San Francisco
Impeccably sourced, small batch, locally roasted… San Franciscans expect a lot more than caffeine from a cup of joe—and the city's best coffee shops deliver.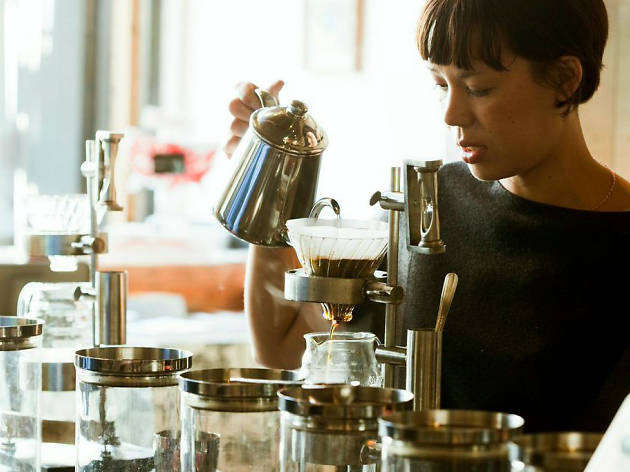 Finding the perfect cup of coffee in San Francisco falls right below artisan toast and parking spots in the Mission District as an all-consuming local obsession. And local coffee shops rise to the task. Long before Seattle opened its first Starbucks, 19th-century San Franciscans were perking up to coffee pioneers Folger's and Hills Brothers. By the time Alfred Peet opened the first Peet's Coffee in 1966, the java revolution was in full brew. Today, as you might expect in this geek-tech capital, the hunt for the latest, greatest, darkest, freshest, most perfectly brewed cup doesn't just rely on word of mouth. In San Francisco there's also an app for that. Acceptable Espresso provides connoisseurs with an up-to-the-moment list of cafés serving "espresso worth ordering." (Their motto: We drank a bunch of crappy espresso, so you don't have to.) Coffeeratings.com assesses the best coffee spots in San Francisco on a ten-point scale, with ratings based on aroma, body and flavor, as well as ambience and presentation. Happily, caffeine devotees have no shortage of places in which to indulge their obsessive-compulsive habit. From über-hip cafés and roasteries where the freshness sell-by date is an hour from now, to cozy neighborhood coffee shops where your cup of joe is accompanied by Beat poetry or operatic arias, San Francisco is coffee nirvana.
San Francisco's best coffee shops
See the best coffee shops in America
Restaurants, Coffee shops
These coffee shops take the humble cup to new heights with select beans and new brewing methods, appealing to coffee nerds and casual caffeine seekers alike