Downtown San Francisco neighborhood guide
Find the best restaurants, bars, shops, attractions and things to do in Downtown San Francisco with our insider's guide to the area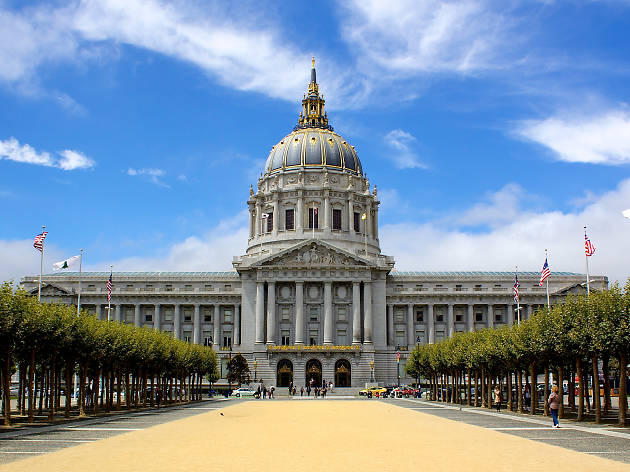 By

Time Out San Francisco editors
|
San Francisco's Downtown area saves the city from being seen simply as a series of villages. With a high concentration of cultural attractions and a substantial shopping district, its cosmopolitan character exceeds its modest size, yet the compact urban center is easy navigate on foot. Once a pro-Union rallying point during the Civil War, Union Square is a handsome plaza surrounded by upscale hotels and department stores; shoppers gather on its benches and lawns for retail respite. Just east of Union Square, Maiden Lane, once a notorious red-light district, is now a decoratively gated alleyway lined with designer boutiques. Further west, tech money is funding much-needed revitalization projects on long-neglected mid-Market Street, with new high-rise offices, luxury condos, high-end restaurants and ACT's renovation of the historic Strand Theater due to open in 2015.
To the east, the Financial District has been San Francisco's business and banking hub since the 1849 Gold Rush. Its northern edge is overlooked by the iconic spike of William Pereira's 1972 Transamerica Pyramid (600 Montgomery Street) and the Jackson Square Historical District, the last vestige of San Francisco's notorious Barbary Coast, once a seething mass of low-life bars and brothels.
There are two competing stories as to how the gritty Tenderloin district got its name. The first is that police who worked the beat there in the 19th century were paid extra for patrolling the tough neighborhood, so they could afford to buy better cuts of meat. The second is that the cops got their extra cash in the form of prime-cut bribes from local hoods. Panhandlers and drug addicts still cluster on street corners, but the area's character is changing with the ever-growing presence of trendy bars, music venues and excellent ethnic restaurants.
Southwest of the Tenderloin, Civic Center is a complex of imposing government buildings and immense performance halls grouped around manicured Civic Center Plaza. Beaux Arts 1915 City Hall stands on its west side, capped with a gilded dome modeled on St. Peter's in Rome. Lying opposite is Gae Aulenti's spectacular Asian Art Museum, carved out of what was once the city's Main Library (the library is now around the corner in a modern-day Beaux Arts edifice designed by James Ingo Freed). On the edge of Civic Center, United Nations Plaza hosts a regular farmers' market and the gourmet food-truck coalition, Off the Grid.
Things to do in Downtown San Francisco
Restaurants and bars in Downtown San Francisco
Music and nightlife in Downtown San Francisco
Shopping in Downtown San Francisco
Hotels in Downtown San Francisco