Heads up! We're working hard to be accurate – but these are unusual times, so please always check before heading out.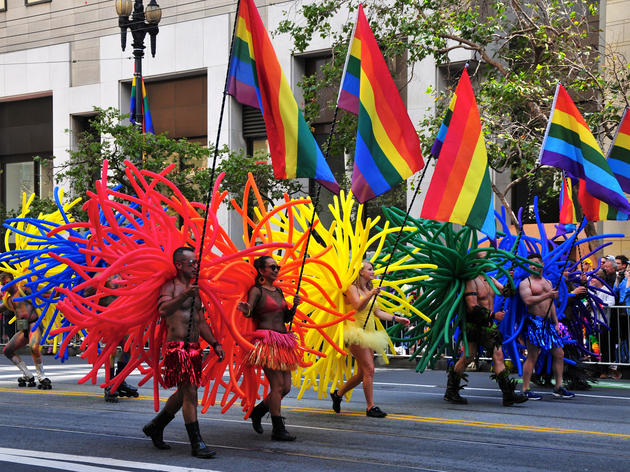 San Francisco events calendar
Plan ahead with Time Out's guide to the biggest and best annual San Francisco events, festivals and concerts
Welcome to our guide to the biggest and best annual San Francisco events and festivals. Our hand-picked month-by-month selection will provide inspiration for things to do in the city year-round, but events are subject to change so check individual websites or contact the venue before making plans. Further essential dates on the calendar include weekly farmers' markets and food truck gatherings.
January
Martin Luther King Jr. Birthday Celebration
The 1.5 mile march in memory of MLK and Alabama starts at San Francisco's Caltrain station and ends with festivities at the Yerba Buena Center for the Arts and Gardens downtown. Civil rights advocates, singers and other performers mix in, bringing King's message back to life. norcalmlkfoundation.org
The San Francisco Comedy Festival started as a way to check out local Bay sketch and improv troupes, but has since expanded to a national showcase including comedians from Saturday Night Live and discussions with Onion writers and Portlandia directors. Sketchfest spreads the laughter over two and a half weeks and 20 venues. sfsketchfest.com
February
San Francisco Tribal, Folk & Textile Arts Show
This event is part-show, part-sale: Upwards of 100 folk and ethnic art dealers congregate to sell a wide variety of pottery, baskets, textiles and jewelry. caskeylees.com/SF_Tribal/SF_Tribal.html
The start of the Lunar New Year offers the Chinese New Year Parade, the city's best procession that doesn't involve public nudity (instead, there are acrobatic dragons and stiltwalkers). It's also the occasion of the enormously popular annual Treasure Hunt, which gets nearly 1,600 people scurrying around Chinatown. But Lunar New Year is not limited to the Chinese: The Tet Festival, the Vietnamese celebration of the New Year, takes place at the U.N. plaza on Saturday that same weekend, and also draws Cambodian, Latino and African-American families that turn the city center into a multicultural carnival.
The first ever SF IndieFest showed 85 films over 14 days and prompted organizer Jeff Ross to create three more festivals: Another Hole in the Head highlighting the horror genre, DocFest in the fall, and the Winter Music Festival. IndieFest now runs concurrently with the Winter Music Festival, and with more music-themed films added to the schedule, there's always a lively crowd for screenings. sfindie.com
March
Ask a Scientist's Pi Day Puzzle Party
Give your inner nerd an airing at this outdoor event hosted by the San Francisco Science Café. Participants compete solo or in teams of up to six people to solve math and logic puzzles. Your prize? A round of drinks and eternal geekdom. Bring your own scratch paper. askascientistSF.com
At one point, the Irish made up over a third of the city's population. While that's no longer the case, everyone has smiling Irish eyes in this green-hued parade. The procession, which kicks off at 11:30am, is led by a formation of kilted bagpipe players and followed by floats, marching bands, labor unions and Irish dance groups. Afterwards, walk a couple blocks to the SoMa Streat Food Park for a food truck party with plenty of Guinness-infused dishes. uissf.org
June
Thanks to Rosalie Stern, who gifted this eucalyptus grove to the city for the performance of music, dance and theater in 1931, the Stern Grove Festival fills the small valley with free performances— everything from ballet to hip-hop to opera—on Sundays from mid-June to mid-August. sterngrove.org
This rain-or-shine weekend street fair draws big crowds each June to Union Street, where historic Victorians house shops and art galleries. The festival offers gourmet booze and food pairings (for a price), bands and artists' stands, plus don't miss Sunday's waiters race, when the city's best servers run up and down a hill trying not to spill a tray of wine glasses. unionstreetfestival.com
Haight Ashbury Street Fair
It's the Summer of Love all over again, and as if the Haight weren't a flower child's haven already, be ready for more than 200 vendors of food, bongs and hippie craftwork in so many rainbows the rest of the world will seem drab. Live music comes courtesy of local acts. haightashburystreetfair.org
San Francisco Jazz Festival
The saxophones never stop in San Francisco's biggest jazz event of the year, featuring more than 40 big-name shows (past acts have included Herbie Hancock, Dianne Reeves and Juan De Marcos and the Afro-Cuban All Stars) in just under two weeks. If you don't want the groove to end, SFJAZZ Summerfest continues with free weekly outdoor shows in the South Bay at the Stanford Shopping Center in July and August and at Levi's Plaza off Embarcadero in September—all sponsored by the big guns of the SFJAZZ Center. sfjazz.org
Take your furry and feathered friends to this festival to be blessed by a priest in this "Little Italy" neighborhood's shrine of St. Francis Assisi. Other elements that harken back to the area's European roots include elaborate Italian street art done in chalk or pastels, a wine and beer garden and, of course, cannolis galore. sresproductions.com/north_beach_festival_entertainment.html
Annual World Naked Bike Ride, San Francisco Edition
This NSFW event starts off in the Financial District, part of a global environmental protest against dependency on oil. Since 2004 these Bay Area riders have been forgoing shirts and pants for body paints and watercolors, joining forces with fellow naked bike riders in 70 cities and 20 countries around the world. sfwnbr.org
San Francisco's pagans meet on the year's longest day to drum, dance and celebrate another journey around the sun. At sunset, pound along with a drum circle in Justin Herman Plaza at the Embarcadero, or join the unofficial Baker Beach bonfires—traditionally burned to ward off spirits, which roamed free as the sun turned south, but in a San Francisco "summer," especially helpful against the ghoul of cold.
San Francisco LGBT Pride Parade
San Francisco, one of the first cities in the country to pass a gay rights ordinance back in the '70s, has much to be proud of, and drag queens, leather daddies and dykes on bikes all take the opportunity to show off their true rainbow colors. Don't miss the Pink Saturday block party the night before the parade, when most of the Castro is closed off for one of the city's largest after-dark street parties. sfpride.org
July
Fourth of July Waterfront Festival
You'll find plenty of live entertainment and food stalls on the waterfront during the day, but be sure to stay for the spectacular fireworks display that gets under way after dark around 9pm. (Note: summer fog does often make viewing fireworks more of an auditory event; you might have better luck heading across the Bay to catch some in Sausalito or other parts of Marin.)
Fillmore Street Jazz Festival
In the 1940s, the jazz clubs on Fillmore Street hosted jazz stars like Ella Fitzgerald, Duke Ellington and Billie Holiday. During this free two-day festival, the strip comes alive with performances on three different stages and two additional performance areas, and more than a dozen blocks of vendors selling food, paintings and pottery. fillmorejazzfestival.com
September
Ghirardelli Square Chocolate Festival
Keep reminding yourself that doctors say a little chocolate is good for you, as you sample chocolate-covered strawberries, decadent mousses, brownies, and all manner of over-the-top indulgences. Proceeds go to charity; calories go straight to your belly. ghirardelli.com/chocolatefestival
The Queen Mother of all BDSM street fairs, the Folsom affair is a gawkfest for visitors and locals alike. Don your studded jockstrap and be prepared for masks, whips, leashes, chains and—that old favorite—public fellatio. Needless to say, this might not be suitable for the whole family, or anyone without a strong stomach. If you can't wait a whole year for Folsom again though, be sure to check out July's Up Your Alley leather fair—also on Folsom Street. folsomstreetfair.org
Alice's Annual Now and Zen Fest
Local CBS radio station Alice 97.3 has thrown a free end-of-summer pop/alternative rock party since the late '80s (2013 acts included OneRepublic and the Goo Goo Dolls). The Zen element comes in the form of tents encouraging "mindful music meditation" and a Wheel of Karma booth for spin-to-win prizes. radioalice.cbslocal.com/show/alices-now-zen-fest
November
Marchers gather at 22nd and Bryant Streets to celebrate the Mexican Day of the Dead. After a traditional blessing, the music starts and the procession begins: Aztec dancers, children in papier-mâché skeleton masks and women clutching bouquets of dead flowers. Things wind up in Garfield Park, where people leave candles at a huge community altar (you can also make your own personal altar among the hundreds that line the perimeter of the park). The dress code is dark but showy. If you really want to blend in, paint your face a ghoulish white and bring a noisemaker. dayofthedeadsf.org
Holiday Lighting Festivities
The lights go on all over town, including Union Square and Ghirardelli Square, as the holidays approach. At Union Square, a 67-foot living white-fir Christmas tree is decorated with 2,000 lights, 400 ornaments and 500 bows. A 22-foot wooden menorah is also lit as part of Hanukkah celebrations.
December
If you've ever wanted to know what it's like for Santa to have a little too much to drink and start seeing Santas everywhere, this pre-Christmas pub crawl is for you. Though everyone starts at Union Square, you can choose from over six routes in the city depending on your favorite bars. The main rule is wearing a full Santa suit, though preparing some carols is encouraged; you don't want the elves after you, do you? santacon.info/San_Francisco-CA
While Union Square and Ocean Beach are traditional gathering spots to ring in the New Year, in recent years, the city has sponsored free midnight fireworks along the Embarcadero. This is usually preceded by a cavalcade of bands performing in tents.