The best graffiti in San Francisco
Look around—there's lots of impressive graffiti in San Francisco you've probably been missing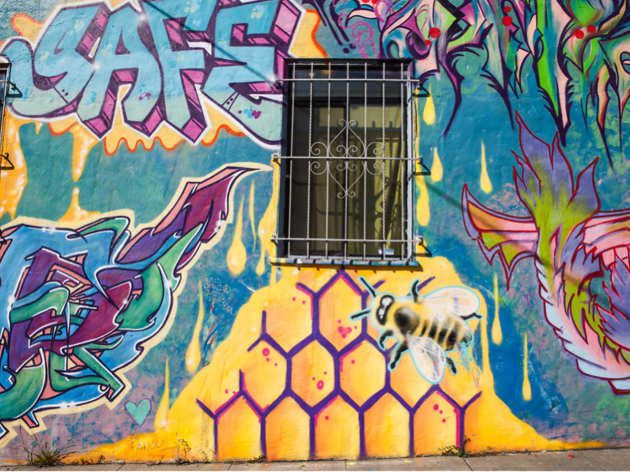 Although the city of San Francisco recently announced new regulations to heavily fine graffiti artists who tag public property, the street art community here is still thriving. Graffiti—everything from Do Not Enter signs covered with stickers to intricate, full-color murals that take up entire city blocks—can be found in every neighborhood of the city's 49 square miles. While most people are familiar with the stunning murals in the Mission district, to experience the best of SF's street art you'll also want to look around elsewhere. Simply walk the streets and keep your eyes peeled to discover some of the best original art pieces around; once you start to notice the city's graffiti, new and unique pieces will pop out at you all the time. To get you started, here are ten great creations for graffiti lovers to seek out in SF.
The best graffiti in SF
Twisting colors on Turk Street
In downtown San Francisco, where Market Street meets Turk and Mason, the scene is somewhat seedy. However, walk up Turk and you'll be treated to a stunning rainbow-colored display of graffiti; a series of three large murals run the length of the entire block. The backdrop is painted black to let the series of swirling colors stand out, and there's a real sense of fluidity and motion. The design was created by SF-based graffiti artists APEX, also known as Ricardo Richey, who uses spray paint to craft vibrantly colorful abstract artwork. Each of the three pieces is different, but has layers of colors interlocking and wrapping, almost as if a hundred satin ribbons were twirling in the air.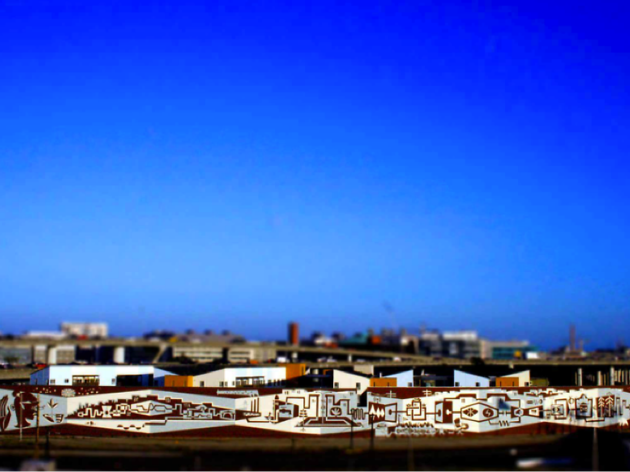 Groovy systems along the Caltrain Line
Another elaborate art piece not to be missed is by muralist Brian Barneclo; known as "Systems," Barneclo's mural is the city's largest at 600 feet wide and 40 feet tall. Thework of art runs along the end of the Caltrain track near the final stop at Townsend Street and 4th in South Beach, and greets incoming guests as they arrive by train to the city. There are three contrasting colors in the mural; a rusty brownish red, a milky white and a bluish slate grey, which are combined to create a series of connecting boxes. The piece is both retro and modern, with a hint of cubism. If you like Barneclo's work, you can also find it at popular Divisadero restaurant Nopa.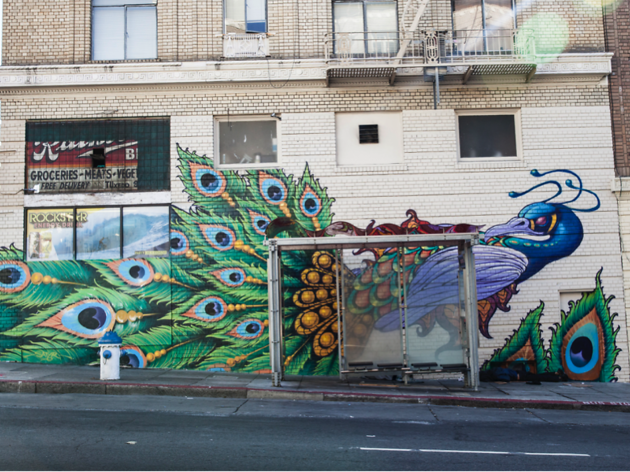 Pretty feathers on Leavenworth
Bird watchers, head over to the corner of Leavenworth just before Geary. This is the home of San Francisco's oversized angry peacock; a work of art with giant green feathers taking up half the wall and a red-eye glare from a brilliant blue head. The peacock looks as if an enemy has just called his name and he's turned to stare the nemesis down. It's a metaphor that can be used to describe the painting's artist, Satyr; after years of fighting the system as a tagger, Satyr took one last look over his shoulder and made the difficult transition from street art to commissioned projects approved by buildings' owners.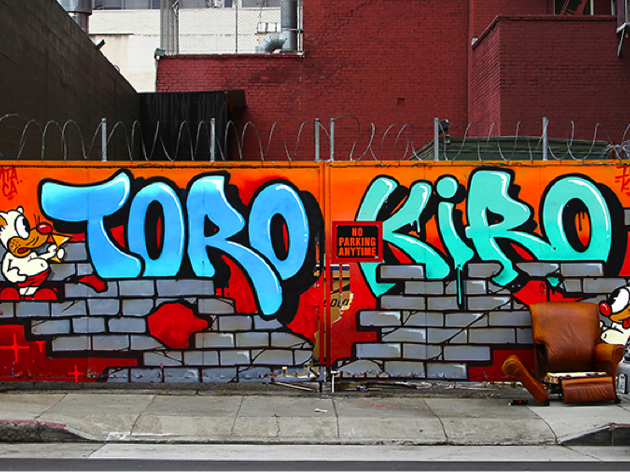 Modge podge at Franklin and Market
Turn right off Market onto Franklin Street near the Civic Center and you'll find a slew of entertaining graffiti pieces. There's a bright orange wall with the tags Toro and Kiro written in sky blue and turquoise bubble letters. Directly next door is a piece by Daniel One painted onto a storefront's overnight shutters. It features a blue background, with a curved pattern of round shapes in yellow, green and purple. Around the corner is a parking lot filled with intricate designs: one of walls has a black background with a series of four different pieces—all triangular shapes, funnels, bubbles, dripping paint, abstract designs, points and stars. Neon colors, glowing letters, a giant skull are also a part of the mix, and the artists responsible include Jurne, TGE, and YME.
Fruitvale Station's other claim to fame
Fruitvale Station, a stop on the Bart tracks in Oakland, first came into the spotlight thanks to an unfortunate shooting that took place on New Year's Day in 2009. A Bart police officer shot and killed Oscar Grant, a young passenger, whose story is chronicled in 2013 movie, Fruitvale Station. What most people don't know is that the station has since been transformed into a memorial by a select group of commissioned artists—Evan Wilson, Doty, Koleo, Brett Flanigan, and Polka. Their immense, long mural features an assortment of vignettes; there are rolling hills, colorful birds, a menacing-looking tiger, a multi-colored wolf, psychedelic trees with branches that look more like rainbow smoke and a starry night sky.
Simpson-esque doodles at Faction Brewery
Faction Brewery is a relatively new brewery at Spirits Alley on Alameda's old Navy base. There's a small beer garden, a tap room with bar seats and a massive warehouse—where Lauren Asta's black and white mural lives. It looks like a gigantic grouping of doodles that bring to mind The Simpsons and Fox's other animated series. There's so much going on that it's hard to be drawn to any one part of the piece, but you get the gluttonous, excessive feel instantly. A second mural, by Madeleine Tonzi, will also catch your eye. This great painting has a beer bottle filled with hanging hops, polka dots and dripping liquid.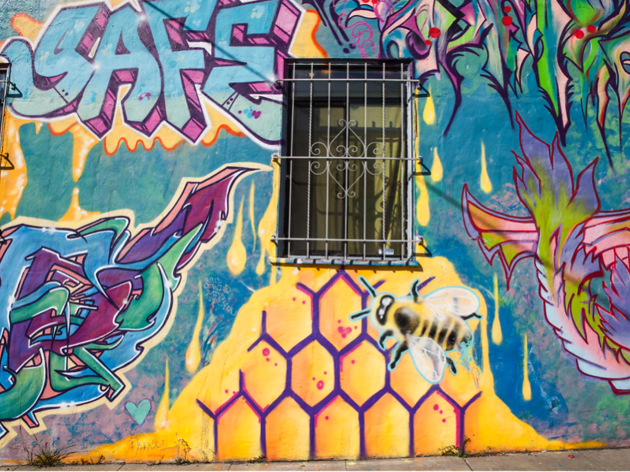 Busy bees on Taraval Street
On the corner of 17th Avenue and Taraval in the Sunset is a breathtaking mural under the Parkside Cleaners sign, with a subtle bee theme. Large yellow honeycombs grow up from the ground against of sea of blue sky. A nasty-looking bee flies to the left of a tag, while a more friendly bee rests on a honeycomb underneath a window. There's an assortment of vague images that at first glance look like one thing, but at length reveal something totally different. Find the swirls of blue, purple and pink fur in the lower right-hand corner of the mural—do you see a dragon breathing fire?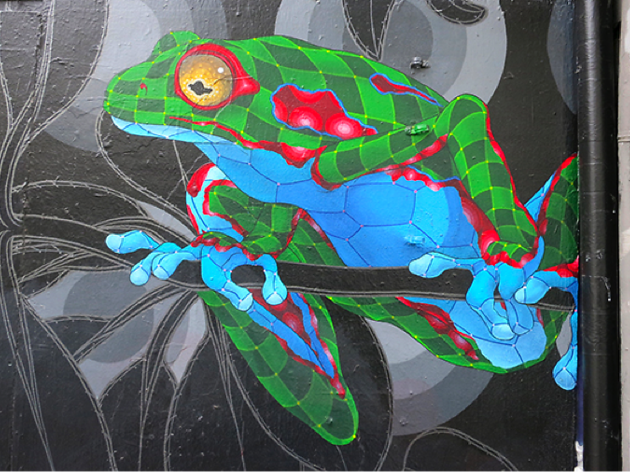 Geometric frogs in Upper Haight
Graffiti is everywhere in the Upper Haight, but the piece that stands out most is at 1301 Haight Street, featuring several pixelated-looking frogs. The colorful tree frogs live against a background of black and gray leaves and silvery flowers. One is jumping, while another sits, crouched, waiting for his friend to join him. A third rests quietly in a corner of the piece. Known as Bosque de los Alebrijes, which translates to "forest of fantastical creations," the frog mural was created by artist Jet Martinez, commissioned by a nearby piercing studio's owner. The mural has been enjoyed by Haight Street dwellers and visitors since 2012 (as has a classic painting of Bob Marley bordering the side of Martinez's forest).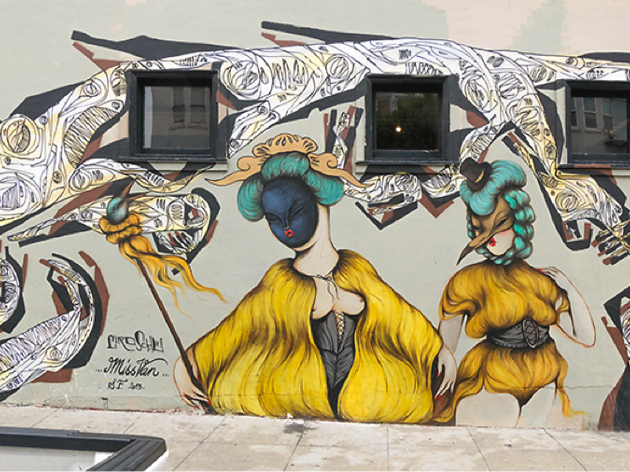 Masked ladies in Lower Haight
Down in the lower Haight on Steiner Street is an intricate mural of two delicate-looking ladies in dark masks, teal wigs and yellow clothing that looks like it's made of blonde hair. The piece is filled with little details, like the girls' red nails and lips, and you'll need a bit of time to take it all in. The females are encompassed in a tree-like archway made of black spirals and peach wood. The piece was created by Barcelona based Miss Van and Brazilian Ciro Schu. In fall of 2013, taggers ruined a mural that previously lived on the wall, so building owner Manny Alferez asked Van and Schu to cover the old mural with a blank canvas and create a new image.
Mosaic of stairs in Lincoln Park
A piece remnant of Barcelona's most famous artist, Gaudi, can be found at the Lincoln Park Steps near the California Street entrance. It took seven years for the mosaic-like design that appears on the sides of the steps to be approved by the city. Local artist Aileen Barr was hired to design the image by a group of parents who hoped to make the park a more inviting and safe place for their children. Made completely of tiles, the piece features a muted and warm color palette of oranges, reds, yellows and greens, and debuted at the end of May 2015.