San Francisco's best attractions both tourists and locals will love!
Must-see sites showcasing San Francisco's incredible beauty and unique history.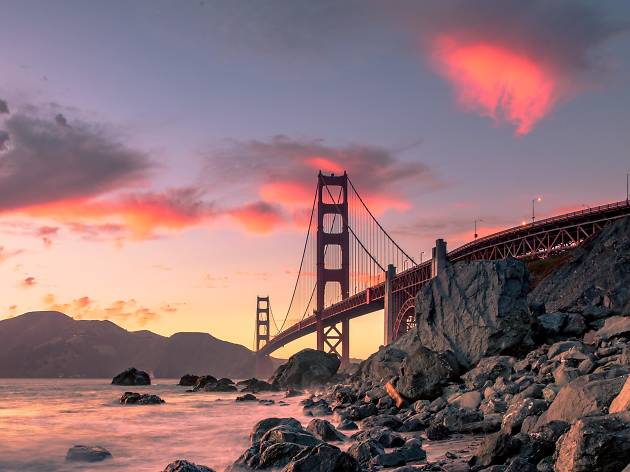 San Francisco is small, just seven miles squared, but it packs a mighty punch. From the brightly colored 'Painted Lady' homes to the iconic orange towers of the Golden Gate Bridge, the city is one of America's most instantly recognizable. In San Francisco you'll find the largest Chinatown outside of Asia, incredible vistas, world-class museums and some of the best restaurants and bars in the world. Whether you're a wide-eyed tourist taking it in for the first time or a San Francisco resident, this city never fails to impress.
RECOMMENDED: Full guide to the best things to do in San Francisco
San Francisco points of interest
The City's most iconic structure has stood proudly over the San Francisco Bay since 1937. As you'd expect from the world's most photographed bridge, it's an impressive sight even when shrouded in fog. Catch a glimpse of the 746-foot tall orange towers from within city limits (try Crissy Field, Fort Point and Baker Beach for spectacular views), the Marin Headlands or when passing over its span. Bikes and cars are permitted access across the bridge 24-hours a day and walkers can cross using the east sidewalk between 5am and 6:30pm (5am to 9pm during Daylight Savings Time). Make sure you wrap up well, though - Karl the Fog doesn't mess about when it comes to the Golden Gate.
Things to do, Walks and tours
Probably the most famous prison in the world, the island fortress of Alcatraz once held some of America's most dangerous and notorious prisoners. Converted from a lighthouse station into a military prison back in 1870, its legend grew when it was upgraded to a maximum security facility in 1934. The likes of Al Capone, George 'Machine Gun' Kelly and, of course, Robert 'The Birdman' Stroud were interned here. These days Alcatraz is one of San Francisco's most popular tourist attractions and you can jump aboard a ferry from Pier 33 for a self-guided audio tour of 'The Rock', narrated by former inmates and guards. You'll hear about escape plans, prison riots and other harrowing tales. For the ultimate creepy experience, try a night tour.
Shopping, Markets and fairs
A food mecca that rivals Seattle's Pike's Place Market, the Ferry Building hosts both the city's largest tri-weekly farmer's market and provides a permanent home for some of the region's most beloved artisan products. Indoors, you'll find merchants ranging from Cowgirl Creamery and Dandelion Chocolate to Fort Point Beer Company. Behind the Ferry Building on Tuesdays and Thursdays from 10am to 2pm and Saturdays from 8am to 2pm, regional farmers and ranchers sell vegetables, flowers, meats and other small batch bites. When your shopping is done, enjoy a meal at one of the itinerant food stalls on market days or at a brick-and-mortar restaurant like Charles Phan's beloved Vietnamese juggernaut the Slanted Door or the popular Hog Island Oyster Company. And if you're feeling slightly overwhelmed, San Francisco City Guides offer regular free tours of the entire plaza.
Twenty percent larger than New York's Central Park and just as iconic, Golden Gate Park is 1000+ acres of rolling hills, groves of trees, gardens and hidden treasures. Stretching from the "Panhandle"—the long, skinny section of the park that once served as an experimental planting area—to the edge of Ocean Beach, Golden Gate Park contains a number of San Francisco's best landmarks including the Japanese Tea Garden, the Conservatory of Flowers (a Victorian-era glass greenhouse) and the ultra-green, ultra-brainy Academy of Science. Recreational options in the park include hiking trails, a disk golf course and bocce ball courts. Kids will go crazy for the enchanting playground at Koret Children's Quarter and its century-old carousel.
San Francisco boasts hundreds of "Painted Ladies," colorful Victorian and Edwardian domiciles featuring three or more colors that enhance elements of their architecture; the most famous can be found in NoPa, the Lower Haight, Haight-Ashbury and Cole Valley neighborhoods. But there's one row, in particular, so recognizable that it's simply referred to as "the Painted Ladies" (or sometimes "Postcard Row"). The houses of 710 to 720 Steiner street at the corner of Hayes street have appeared in an estimated 70 movies, ads and television shows including the 90s juggernaut Full House. You, unfortunately, can't enter the Painted Ladies (real people live there) but you can get a great view and your own photo from the east-facing hillside of Alamo Square across the street.
Things to do, Walks and tours
In a city of hills, cable cars were once one of the most efficient ways to get around town. When San Francisco's cable car network was at its peak in the late 1800s, there were 23 routes running around the cities seven square miles. These days, there are quicker and easier ways to get around town, but riding on one of the three remaining lines is still a classic, must-do San Francisco experience. Jump on board for views of Fisherman's Wharf, Russian Wharf, Nob Hill and the San Francisco Bay. Stop by the Cable Car Museum at Washington Street to learn more about the history of this unique form of transport and to get a glimpse of the giant underground workings that power the cars.
Things to do, Event spaces
Yes, Fisherman's Wharf caters almost entirely to the city's visitors but there are good reasons for even the most hardened San Francisco resident to visit including the charming vintage arcade Musée Mécanique, the National Maritime Historical Park's fleet of restored vintage sailing ships and the USS Pampanito submarine. At Pier 39, ride visit the raucous California Sea Lions at K Dock, shop or ride the merry-go-round. When you've had enough harbor excitement, grab a meal of local seafood and sourdough bread at Pier 45's simple stalls and historic restaurants just feet from where commercial fishermen bring in their daily catch. Afterward, indulge in a decadent dessert at Ghiradelli Square, home of the famed chocolatier.
8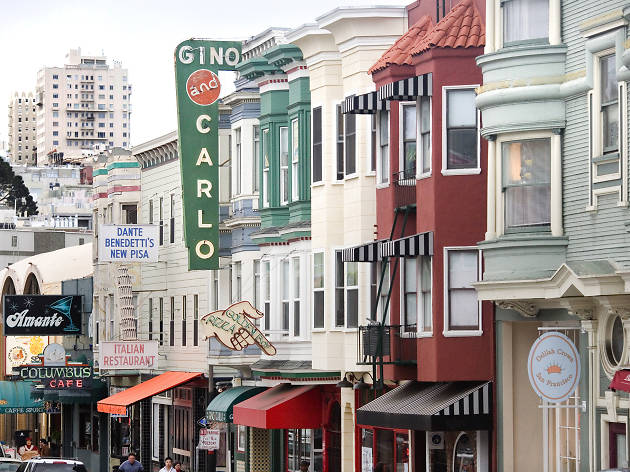 Photograph: Courtesy Creative Commons/Flickr/Thomas Hawk
Once the land of the lawless where gambling, vigilante justice and prostitution reigned, today's Barbary Coast, though considerably less raucous, still bears scars from its early days. Overlapping the neighborhoods of Jackson Square, North Beach and Chinatown, a meander down the Barbary Coast trail places you at the doorstep of a number of historical sites including beat-era hangouts like City Lights Bookstore and Vesuvio Cafe, Saints Peter and Paul Church where Joe DiMaggio and Marilyn Monroe were photographed in 1954 after getting hitched at City Hall and Jackson Square's gold rush-era architecture. If you're on the lookout for something more raunchy, a number of strip clubs and other mature entertainments continue to carry the torch for the often sexually transgressive entertainments that dominated the neighborhood in the first half of the 20th century.
9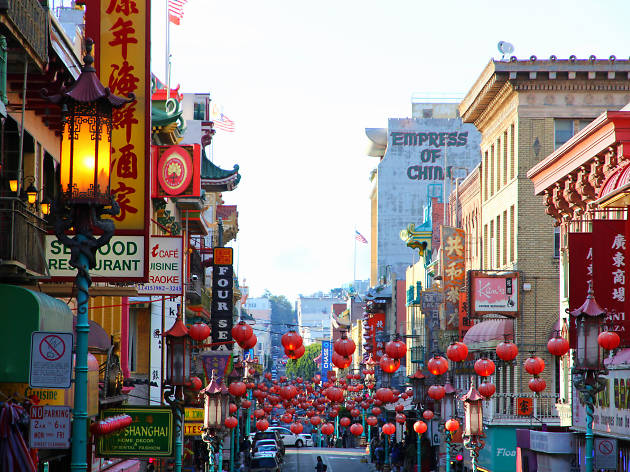 Photograph: Rebeca Anchondo/Flickr
There are Chinatowns in cities all over the world, but San Francisco's is home to the oldest and largest enclave of Chinese immigrants outside of Asia. If you can believe it, San Francisco's Chinatown draws more tourists than the Golden Gate Bridge! While there are four distinct Chinese neighborhoods in The City, the one centered on Grant and Stockton Avenues is where you'll find a thriving community of shops, restaurants, and storied buildings rich in life and history. Head through the ornate Dragon Gate at the corner of Bush Street and Grant Avenue and explore the area credited with inventing American Chinese culinary classics such as Chop Suey and Fortune Cookies - and stop for food at one of the many fantastic restaurants like Hunan Home's Restaurant or Good Mong Kok Bakery.
Things to do, Event spaces
Added to the San Francisco skyline in 1933, this monumental love letter to the city remains a welcome for travelers westbound across the Bay Bridge. Named for Lillie Hitchcock Coit, a wealthy eccentric whose $118,000 bequest to the city resulted in the tower's construction, the tapered, fluted tower stands 180 feet tall at the crest of Telegraph Hill. At the top is the tower's observation deck with 360-degree views of San Francisco and the SF Bay. A rotunda at its base is covered in Depression-era WPA murals depicting not-so-subtle socialist images in scenes of California agriculture and industry painted by over two dozen artists, some of whom studied under famed Mexican muralist Diego Rivera.
Show more
The best hotels in San Francisco