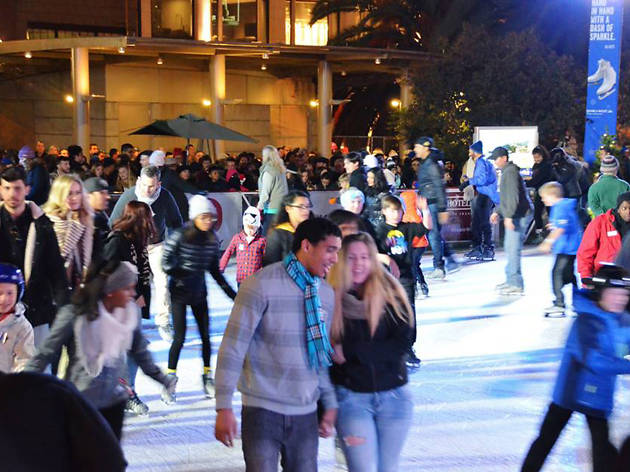 Celebrating ten years of holiday fun (and embarrassing falls), the holiday season officially kicks off on November 1 with an opening day ceremony featuring special performances from the cast of the Aladdin musical. Two days later, the rink is throwing an epic birthday-themed community party on November 3, including free skating, birthday cake and more special performances.
And for those lucky San Franciscans whose birthdays fall between November 3 and January 15, the rink will honor your special day with free admission and skate rentals!
The opening of the rink also brings back some of our favorite holiday traditions, including Drag Queens on Ice (December 7), Flashback Fridays (November 10, December 8, January 12) and Polar Bear Skate (January 1). This year, the ice rink will also showcase a San Francisco-based nonprofit each week.
Worried you'll embarrass yourself in skates? Kaiser Permanente is expanding the Learn to Skate program to every Saturday and Sunday this year. Professional skate instructors will teach beginner skaters of all ages from 8:30–9:30am every weekend for free.
The ice rink will be open daily from 10am–11:30pm; $13–$18 (includes skate rental). Advance tickets go on sale Monday,
October 23 at 10am at unionsquareicerink.com. Starting November 1, tickets will also be available at the ice rink ticket window in Union Square Park (333 Post Street).
See the rink's event schedule below:
Ice Breaker Opening Celebration | Wednesday, November 1 | 9:30—10am
Break the ice with a special performance of "A Whole New World," by Bay Area native Adam Jacobs (Aladdin) and Isabelle McCalla (Jasmine) from Disney's Aladdin.
Ice Rink Birthday Celebration | Friday, November 3 | 10am—11:30pm
An all-day celebration featuring free ice skating, performances and birthday treats! Complimentary admission and skate rental will be available from 10am–11:30pm.
Learn to Skate | Every Saturday and Sunday | 8:30—9:30am
Skaters with little to no experience can learn from professional skate instructors every weekend. Lessons are free
(including skate rental) to those who sign up in advance. Space is limited to 50 participants per session.
Flashback Fridays presented by iHeart80s @ 103.7| Nov 10; Dec 8; Jan 12 | 6—7:30pm and 8—9:30pm
On the second Friday of each month, iHeart80s @ 103.7 personalities will spin hits by Duran Duran, Pat Benatar, Madonna, Lionel Richie, and more! Skaters are encouraged to don their favorite legwarmers and unitard.
Drag Queens on Ice | Thursday, December 7 | 8—9:30pm
Some of San Francisco's fiercest Bay Area drag queens lip-sync and skate the night away for the eighth consecutive year.
Polar Bear Skate: San Francisco Edition | Sunday, January 1| 2—3:30pm
San Francisco's take on the popular Canadian tradition encourages skaters to put on their bathing suit, grab their shades and "take the plunge" in the ice rink for this New Year's Day Union Square tradition. Prizes will be awarded for the chicest, wildest, and most inventive beach attire.